This year, immersive themed events are hotly tipped to be the way to give your guests an exciting and memorable celebration and importantly – end the year with a bang! Some event themes are classic and will always inspire, while others trend alongside popular culture. This year Christmas event styling is focusing on creating immersive events that 'tell a story' with festive flair.  Immersive events are about going above and beyond your typical styling treasure trove to embracing audio visual solutions that transform your venue.
We want to give you a taste of what is hot this year in event styling and our top tips for really bringing your theme to life.
HOLLYWOOD AWARDS
Turn an old favourite into an on-trend event experience. Bring the Hollywood award party theme to a new era and enhance with a range of stylish and decorative props and decor.
Create chill out zones with funky furniture, photo opportunities with photo booth backdrops and props, or even create zones to break up the room. To create intimate and unique areas within the venue space, we recommend using curtains, lush velvet drapes, or crystal curtains. These divide the room and inspire interest.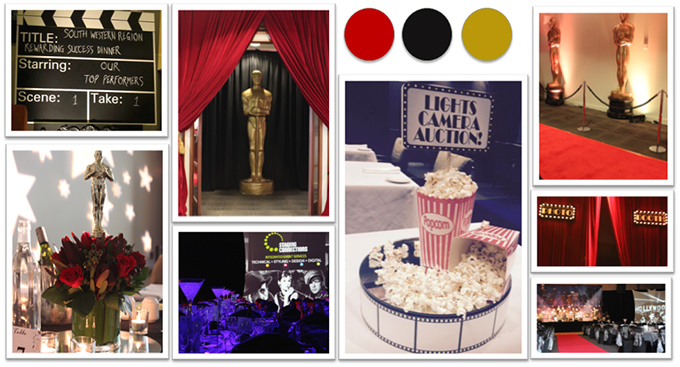 Hollywood Awards theme moodboard and props
The overall aim of this interactive end of year party theme is to make all guests feel like a true star. Strut your stuff on a glamorous red carpet entrance and strike a pose in front of a custom designed illuminated Hollywood Event Backdrop. We can even set up a lighting sequence, to imitate the flashes from the paparazzi cameras.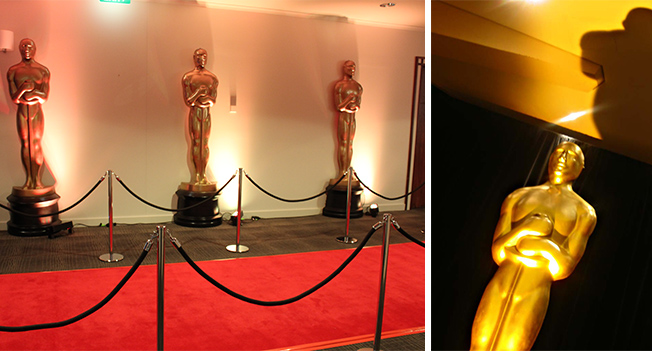 Red carpet arrival for guests with Event Backdrop at the end.
Whether a professional photographer is taking shots, or guests are doing their own 'Selfies', it's a fabulous way to keep your guests excited and entertained. But don't let all of your hard theming work go to waste! Encore's audience engagement platform, Event Feed, captures your event's Tweets, Facebook and Instagram posts via a designated hashtag and displays them instantly on-screen. Now everyone can have their 15 mins of fame.
Event Feed used at a recent gala dinner
Nothing creates atmosphere better than sound. And with this event theme you are like a kid in a candy shop – with so many well-known soundtracks and movie sound effects to blast throughout the room all night.
Use large impactful props like awards to create a Tinseltown sized impact and create a high end feel. Team the event styling with theatrical lighting such as moving spot lights on the red carpet, Hollywood inspired gobo projection and ambient up lights.
Bring the styling to life with unique entertainment such as interactive Hollywood actors who perform through the crowd in costume. Or use Encore's audience polling platform, Event Poll, to vote on Best Dressed. You can also use this for your end of year staff awards.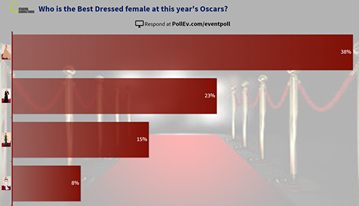 Event Poll was used to vote on Best Dressed at this year's Oscars.
Top tips
Be bold and create a large ceiling installation which can be a cluster of chandeliers, crystal curtains hung in interesting patterns or a cluster of large exposed globes.

Fresh floral centrepieces are very popular at the moment, so create a sophisticated low line centrepiece.

Simple, sleek table linen will compliment this theme and the table centrepiece.

For a little extra attention to detail, create movie reel menus for each guest or place small movie clapper boards as a gift at each place setting.

For something more grandeur, use height in your centrepieces such as oversized candlesticks, and use it over and over. Repetition makes a statement.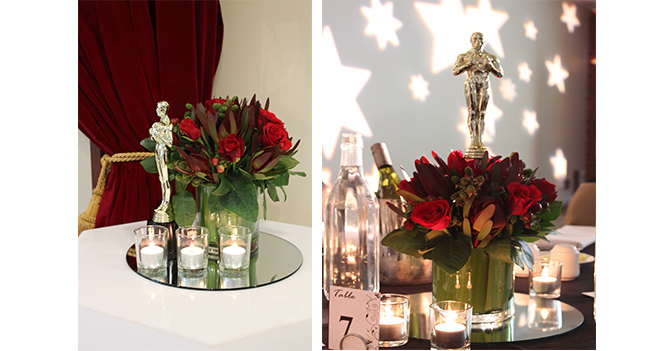 Foreground: Table setting with mirrors for dramatic effect, Hollywood colours and Oscar statue. Background: Gobo 'Star' projections across the wall.
Want to see what other predictions we have…