Welcome to Part One of our four part blog series, giving you a sneak peek into what event themes you can expect on the festive circuit. This year, immersive themed events are hotly tipped to be the way to give your guests an exciting and memorable celebration and importantly end the year with a bang!
Some event themes are classic and will always inspire, while others trend alongside popular culture. This year Christmas event styling is focusing on creating immersive events that 'tell a story' with festive flair.  Immersive events are about going above and beyond your typical styling treasure trove to embracing audio visual solutions that transform your venue.
We want to give you a taste of what is hot this year in event styling and our top tips for really bringing your theme to life.
VINTAGE CIRCUS AND CARNIVAL
A vintage circus creates a sense of fun and festivity, perfect for an end of year celebration. This theme is versatile and can be applied as either theatrical and moody or as rustic and vintage carnival.
For a theatrical effect use draping with velvet textures and rich, deep colours such as burgundy or purple. Alternate these with white drapes to surround guests in a circus tent feel. Don't leave the drapes bare, add highlights of gold tassels and fringing and light the drapes from the base to add drama and depth.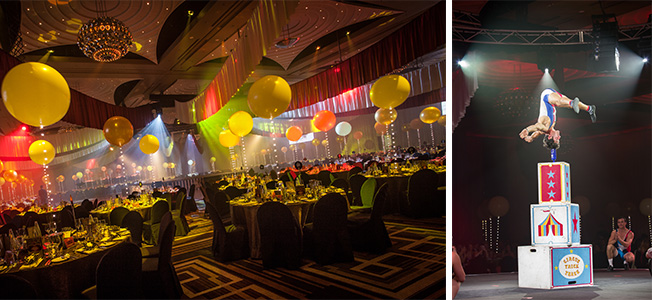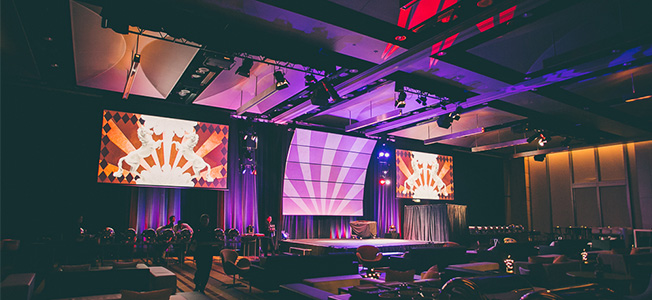 Create a dynamic audio visual display with a curved screen and themed content.
An outdoor carnival look is achieved by incorporating rustic elements and textures like timber crates, barrels and bentwood chairs, or even good old hay bales.
Marquee lights are a must and give energy and sparkle, while bold graphic shapes such as stars, hearts and arrows add character. These lights are very fashionable so your event will be both immersive and on-trend.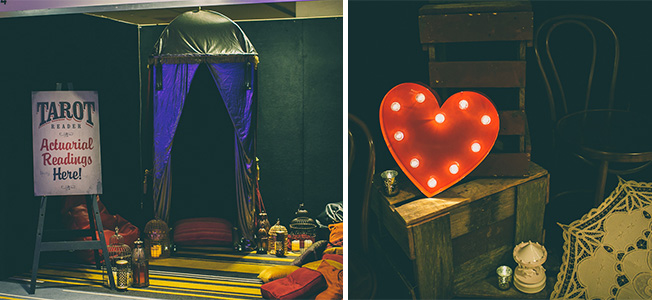 Rustic props emphasis the vintage feel. Incorporate live experiences like the Tarot reading tent.
To really provide that unique touch, tailored vignettes tell little stories that provide interest and intrigue. Add clusters of room props and bespoke table centres such as mini menageries of circus animals. Try painting these gold such as giraffes, tigers and elephants, and place in a rustic cage. They'll cast alluring shadows on the table tops and the gold brings the theme on-trend with metallic highlights.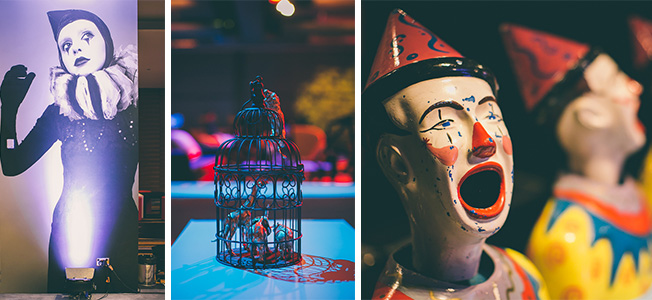 The perfect props: Uplights on wall decals, mini menageries of circus animals and vintage clown faces.
Now to pull this all together, we recommend installing large screens either on the walls or on stage to project some great animation or graphics onto, such as circus acts.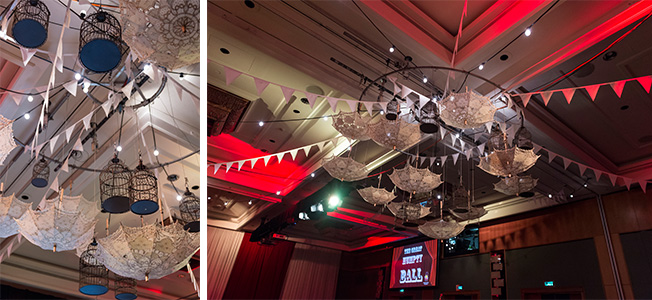 Create a dynamic ceiling installation by anchoring styled props upside down amongst bunting.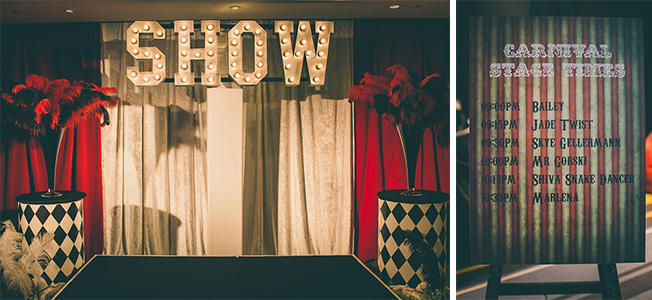 Invite performers and interactive experiences to immerse your audience in the Vintage Circus theme.
A step-up from this, is projecting animation across the walls, ceiling or even across constructed fixtures. This is where projection mapping comes in, which is the magic behind Sydney's Vivid festival and what we used to launch the latest Alienware:Area 52 product (a bit off topic, but a fantastic video to watch!).
Top tips
An illuminated "SHOW" sign over a stage teams perfectly with roving circus performers.




Scattered old-world circus props bring touch of old world charm.




Lace parasols, hoola hoops and feather plumes allude to aerial artists and show performers.




For a personalised touch, use vintage ticket rolls with your company or event name printed in old world font. It's these details that will stand out.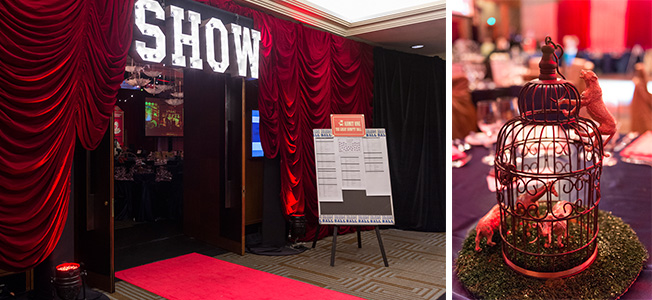 Dramatic deep red velvet curtains with the icons internally lit 'Show' sign.
Want to see our other event theme predictions for end of year celebrations?