This year, immersive themed events are hotly tipped to be the way to give your guests an exciting and memorable celebration and importantly – end the year with a bang!
Some event themes are classic and will always inspire, while others trend alongside popular culture. This year Christmas event styling is focusing on creating immersive events that 'tell a story' with festive flair.  Immersive events are about going above and beyond your typical styling treasure trove to embracing audio visual solutions that transform your venue.
We want to give you a taste of what is hot this year in event styling and our top tips for really bringing your theme to life.
12 DAYS OF CHRISTMAS
Undeniably a favourite Christmas carol, we share how to bring the '12 Days of Christmas' to life as an immersive event theme. With the application of the latest in digital technology, we are nearly boundless in ways to make a real impact with this theme.
Imagine your event room becoming a live countdown to Christmas, where every 15 minutes the entire room transforms to bring to life the day's theme.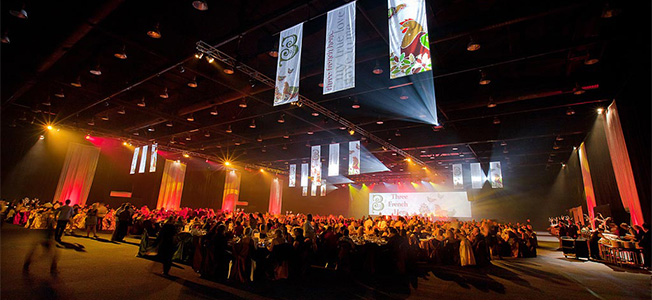 Audio visual equipment used to transform the room theme every 15 mins.
Through the use of various audio visual techniques, we can literally make it appear as if there were '6 Turtle Doves' flying around the room! Large hanging banners decorating the walls and lining the ceiling can change appearance as graphics are projected onto the fabric. Custom designed gobos can illuminate the floor to coordinate with the countdown and are a great way to brand your event.
The full story can be told via digital screens lining the room, all showing content designed to work harmoniously with the other digital elements around the room. The key to being immersive is creating a space where everything works together.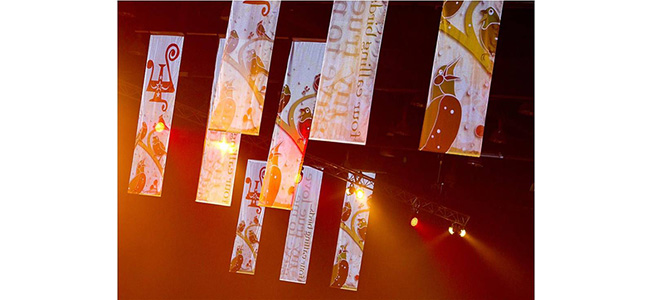 Banners which change design every 15mins via image projections
When it comes to decorating the tables, don't detract from the magnificent light show with over-styled centrepieces. Instead go for modern interpretations with traditional colours such as chocolate, bronze and gold with accents of burgundy or dark hunter green. Combine these with some natural Christmas flora such as mistletoe, or tree pine brush to add warmth to the centrepieces.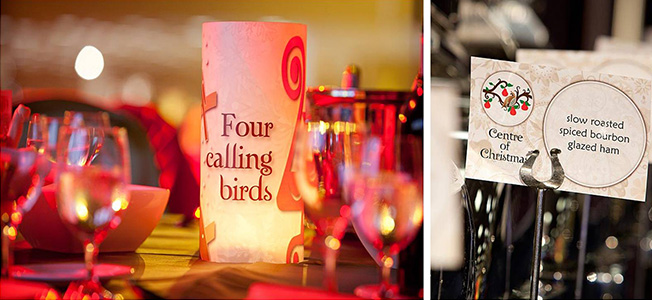 Left: LED candles wrapped in music sheets. Right: Themed menu and table cards.
First impressions count and you'll want to wow your guests from the moment they arrive. Incorporate props, interactive photo booths and entry decorations to tease the theme. A simple and cost effective way to decorate the entry way is with Encore's versatile product – Event Backdrop. We can create a custom design that integrates your branding, the event name and the theme to create a beautiful illuminated mural to set the scene.
Top tips
Whilst the AV is working to transform the room, it's the little details at ground level which tie it all together.

Including elements that give a sense of subtle nostalgia interpreted in unexpected ways such as wrapping old Christmas music sheets around tall LED candles turning them into elegant lumieres. Candles create the perfect ambience for a Christmas event.

Use vintage Christmas holiday postcards as a novel way to leave personal messages for guests or table naming place cards.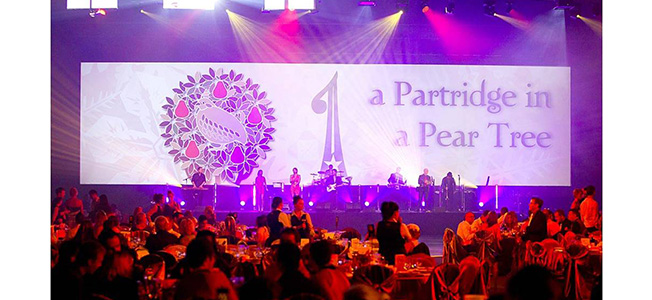 Want to see what other predictions we have…