See how we used custom table projection mapping to create an underwater dining experience like no other; delivered technical solutions to give over 1500 guests at this year's Flight Centre Ball a new, dynamic and visually spectacular experience; and in it's 11th year we delivered a first at this year's Men In Black Ball held in Perth!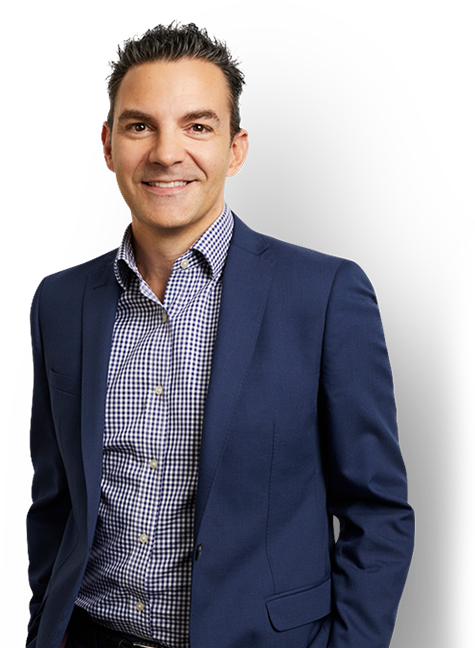 Welcome to our first edition of AMP as Encore Event Technologies!
We share our AMP Newsletter every quarter to inspire your next event by showing you the great work that's been happening across our regions. In this edition we highlight an unforgettable projection mapping experience we delivered in Cairns, a Vintage Circus themed gala and Perth's Men In Black Ball turned 11!
Our new Kinetic Lights have also made waves so make sure you watch the video to see them in action. Encore were also thrilled to be named Best AV and Best Event Technology Company for another year in the Spice Hot 100 Services and Suppliers so thank you to every one for your support.
Michael Magafa | National Sales Director

Below you'll see a snapshot of some the amazing work our teams produce to help inspire your next events! If you have any questions about the events or our solution please get in touch with me.

---
QUEENSLAND

An unforgettable dining experience like no other
Venue: Pullman Reef Hotel Casino Cairns
Imagine seeing a lobster crawl across your lunch plate,  waves crashing against your wine glass and schools of fish swimming beneath your plate as you dine. It's an unforgettable experience that would last a lifetime and that was exactly the brief to Encore Event Technologies.
Encore Event Technologies partnered with the team at Pullman Reef Hotel Casino Cairns to host an exclusive VIP famil for 12 clients. Guests came from across Australia to experience the stunning tropical Cairns region and the Pullman's premier conference and event offerings.
As the long-standing in-house event services partner, Encore delivered a complete event staging solution from concept to execution. The reef-inspired concept was developed around the viral sensation 'Le Petite Chef' – a unique dining experience that uses projection mapping to turn the table into a canvas for story telling.
The experience of the Encore team ensured the activation was executed seamlessly. We overcame several obstacles to ensure the table projection mapping was mapped with pixel perfect precision and feasible within the venue's parameters.
The accuracy and precision of the table projection mapping left guests speechless; in wonder at the level of detail the projection achieved, feeling as though they were under the sea. Even the crockery was included as part of the execution, with sea life crawling over the guests' plates while waves rolled over the table.
To ensure a polished sensory experience, the visual elements of the project were matched with immersive audio effects and a sumptuous locally-sourced menu. The combination was incredibly impactful, with guests requesting the content be replayed four times over to absorb all of it.
Louise Matthews, Director of Sales, Pullman Reef Hotel Casino, was ecstatic at the response,
"The Encore team really enabled us to create an event with maximum impact within a tight timeframe. We couldn't have asked for a better result."
---
NEW SOUTH WALES

Flight Centre Annual Gala Ball
Venue: Luna Park, Sydney
cievents produced an incredible night of entertainment for Flight Centre's annual NSW retail ball, bringing a different kind of circus to The Big Top at Sydney's iconic Luna Park. Over 1,500 of Flight Centre's management and staff gathered to recognise its high-achieving team members, and celebrate in grand carnival style.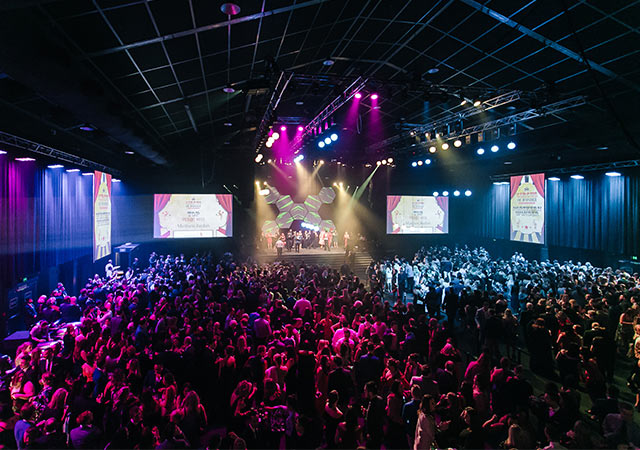 cievents once again engaged the technology services of newly rebranded Encore Event Technologies, who used the opportunity to pull out all the stops for their progressive client, featuring their latest lighting innovation, kinetic lighting.
Responsible for the technology solution, Encore Event Technologies amplified cievents' theme with creative lighting design for a flawless, high-impact experience.
Visitors were welcomed at Luna Park's Big Top by a visual feast of dynamic, colourful lighting, using Encore's latest Kinetic Lights which appeared as kaleidoscopic "dancing" spheres suspended from the ceiling as guests were absorbed in the carnival atmosphere. Hexagonal panels were configured in a dynamic formation and dramatic content projected as the backdrop for the stage performances. Six supersized-screens also projected with custom designed visual content to create a cohesive visual experience for the stunning event.
The kinetic lighting technology was choreographed to change colour and move in sync with a breathtaking opening performance by well-known aerialist, Debonair, leaving the crowd mesmerised.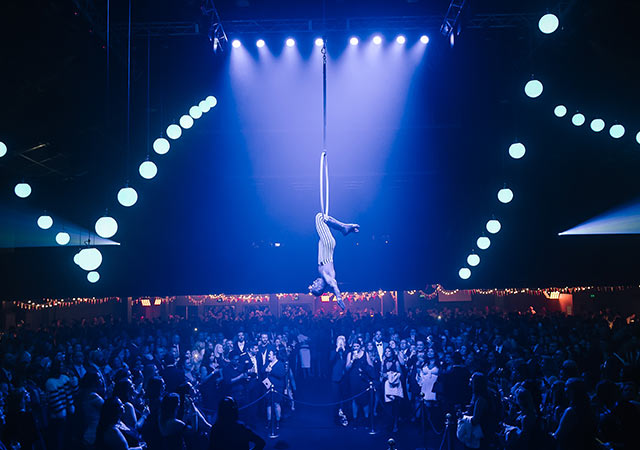 The esteemed annual awards were presented to recognise the team's achievements, broadcast across the room via the large-screens underneath the festoon-lighting, bunting and animated projections.
Jonathan Leggett, from cievents, says the production team are ecstatic with the night,
"We trust Encore to understand our brief and deliver seamless technology every time. We are constantly impressed with what the Encore team bring to the table."
Michael Magafa, National Sales Director, Encore Event Technologies, agrees the team outdid themselves,
"Using our newest technology offering, kinetic lighting, gave us the opportunity to really elevate cievents' vision for this event. We're thrilled with the positive feedback we've received."
This event represented Encore Event Technologies' first major foray under the new brand since it was announced on July 1, 2018.
---
WESTERN AUSTRALIA

Men In Black Ball 2018
Venue: Pan Pacific Perth
Momentum for Australia hosts the annual Men in Black Ball for Perth's social elite in support of men's mental health and suicide prevention. As Pan Pacific Perth's in-house AV services provider, Encore Event Technologies were tasked with creating a sophisticated, classy set design to complement the event's 11th year anniversary.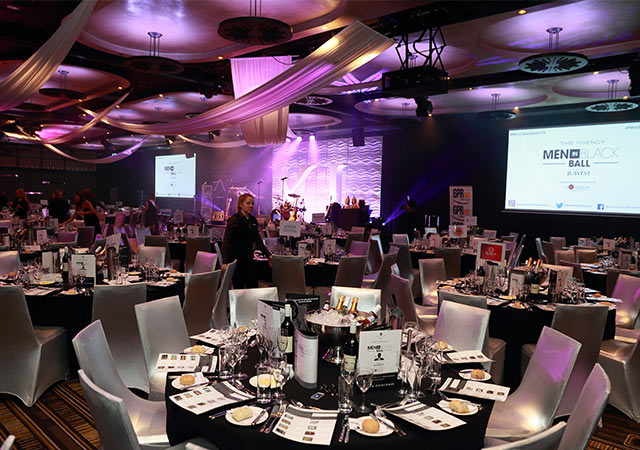 On the back of a successful 10th year celebration in 2017, the Encore team pushed new boundaries to welcome another decade of this significant annual fundraising event in 2018.
Encore provided a complete event production solution including all audio, vision, and lighting, set design, styling and production management. This year we saw event technology play a larger role in enhancing the attendee experience – from an interactive seating chart using Touch Kiosk to generating social buzz using Event Feed.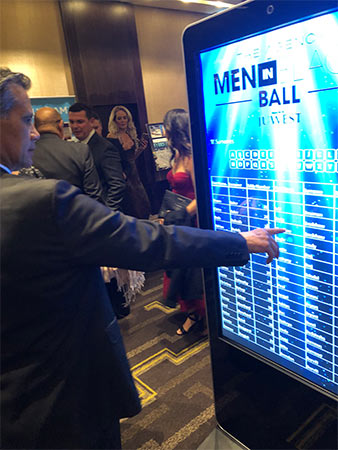 It was the first time we used an interactive seating chart for this event using our Touch Kiosk product. The touch screen made the tedious task of finding your seat amongst the masses a streamlined, convenient and enjoyable experience – a simple and clutter free improvement from the A3 print outs that used to line the entrance. Once the event started, the screen was then used to display sponsor content and messages, enhancing both the attendee experience and sponsor exposure.
"It was great to see guests instantly drawn to the Touch Kiosk and keen to have a go. They were able to quickly find their table with a single touch, allowing them to get back to the very important business of mingling," says Carly Melderis, Event Staging Manager at Pan Pacific Perth.
Drawing inspiration from the glamorous black-tie dress code, the Encore team adorned the ceiling in flowing, luxurious silks to create a fluid, textural element within the space. This also supported and embraced the meaningful, raw nature of the content shared onstage, encouraging men to be open about their struggles with mental health. The styling team created an elegant stage backdrop utilising 3D Scenic Panels in the Contour pattern and constructed a giant "X" and "I" Roman numerals to signify the event's 11th year of the Ball.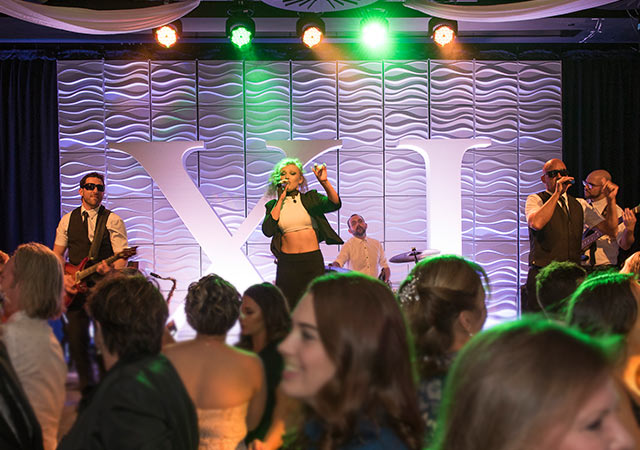 The stories inspired support in the room and on social media, with Event Feed providing a key platform for guests to share their thoughts and selfies of the evening with the hashtag #meninblackball2018.
The event included a spectacular three-course dinner, with glowing testimonials from local Perth stars, a presentation of the coveted Most Inspiring Man of The Year award, live entertainment and a charity raffle and auction.
Daniel Kerr, former AFL footballer for the West Coast Eagles, and Sean Thomsen, reality TV star, were among those who shared their personal experiences. Michael Lloyd-White, General Secretary of The World Kindness Movement, was named Momentum's Most Inspiring Man of The Year to raucous applause.
---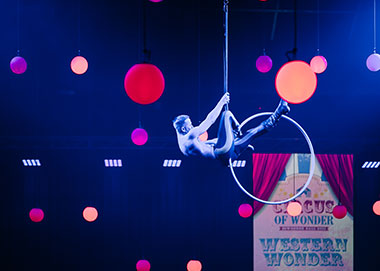 Have you seen our new Kinetic Lights? Watch the video and see the Kinetic Lights in action here.