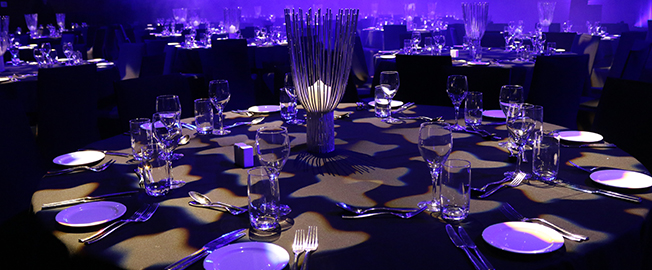 Think lighting your event means simply flipping on a light switch? Think again. Our event lighting experts share how you can make your event look stunning with the use of pinspot lighting.
What is pinspot event lighting?
A Pinspot light is an individual computerised table light that can change colour, patterns and position throughout the event. They're a great option for gala dinners, weddings and social events and add extra wow-factor to dramatically change the look and feel of the table décor.
How pinspot lighting can add drama and style to your event
From a simple white light focused onto the centrepiece, to a highly choreographed schedule for each table to change colour or patterns, pinspot lighting gives you endless opportunities to get add some drama to your event. Suspended above each table is an LED light that is capable of moving and focusing to wherever the table may be placed. Its colour can then be chosen as one set colour or can change throughout the night at pre-determined times. On top of this, clients can choose to have an open circle of light or choose from a selection of striking patterns to cast beautiful shapes onto the table and centerpieces, making the table a styled feature.
Awards nights can utilise the changing colours of pinspot lighting onto the tables to increase the exctiement levels and anticipation of award announcements. Weddings will benefit from subtle moving patterns on the floral centerpieces. And social events can have corporate or club colours projected onto every table. The combinations and creative concepts are endless! 
Here are our top tips for using pin spots to put your event in the spotlight. 
1. Pre planning with your AV experts
When considering table lighting options, it's important to visit your venue at a similar time of day to when your event will be held. That way you will get a clear idea of what the light will be like in the room on the event night. Look around the room and see where the fixed lighting is focused. Lights that illuminate the walls, windows, and ceiling can draw attention away from the centre of the room. Pinspots help to keep your guests' focus on the tables and each other. This is one part of the lighting design process Staging Connections team of AV technicians goes through in planning for each event. As each venue provides a different environment, each event requires a tailored lighting solution. Therefore, it's important you consider partnering with an AV provider who knows your venue well so you can be sure you're getting the best lighting solution that will meet your expectations.
Recommended: Explore Staging Connections' venue partners via Venue Locator
2. Use colour 
Think outside your event colour palette when you use pinspots. For example, if you've used a particular colour throughout the event, you may like to avoid this colour with your pinspots as it may be too much of one colour and wash away the impact. It's also a good idea to consider colours that complement all skin tones, like magenta or a soft rose, rather than yellow or green.
Take advantage of the effect colour can have on the atmosphere by changing the shades through the course of the night. For example, if your cocktail hour starts around sunset, you can splash your room with golden tones. During dinner, consider soft lighting that will mimic flickering candlelight.
3. Programmed lighting changes
A great way to add excitement and anticipation, particularly at award ceremonies is to use programmed lighting changes in the count-down to announcements. It's a great way to highlight tables where winners are sitting as their award is presented.
4. Event styling with pinspots
Lighting your centrepiece with pinspots can make them look like pieces of modern art. This works particularly well if you centrepieces have glass or reflective elements to add an interesting glow to each arrangement.
Work with your Staging connections event designer to figure out which type of pinspots will best suit your event. You'll get an event environment that's bound to impress.
Additional lighting options
If you need to raise the profile of your company brand or message at your event, you may like to consider additional lighting products like gobos. These can be used to create illuminated logos on your dance floor or entrance feature. For weddings, gobos can also be used for the bride and grooms initials, wedding date, or any other wedding motifs.
Recommended: What is a gobo?
Quality counts when it comes to event lighting
When it comes to event lighting it's vital you can be sure of a quality, dependable safe product. Encore only uses the best quality lighting equipment and manufacturers for our events and events held at our partner venues. This is important because these products are dependable and give a far superior effect to lower quality brands offering simple wash lights which can cause problems or safety issues in the long run.
Watch our showcase of pinspots at the InterContinental Adelaide  on Vimeo.
Staging Connections showcase of pinspots at the InterContinental Adelaide from Staging Connections on Vimeo.