The 2018 NRL Grand Final saw 500 guests invited to an exclusive event at Sydney's ANZ Stadium where they enjoyed a dinner, 2 VIP discussion panel sessions, half time entertainment and post-game wrap up.
Taking this year's match day experience up a knotch, the NRL engaged Encore Event Technologies to devise a crowd engagement solution that was simple to implement yet fun and interactive. Encore delivered the perfect solution – Event Poll – our exclusive live audience polling platform that connected the spectators and encouraged lively discussion.   The concept was to use the platform for a competition for 'Who will score the first Try?' and also capture questions from the audience for the panel of NRL celebrities.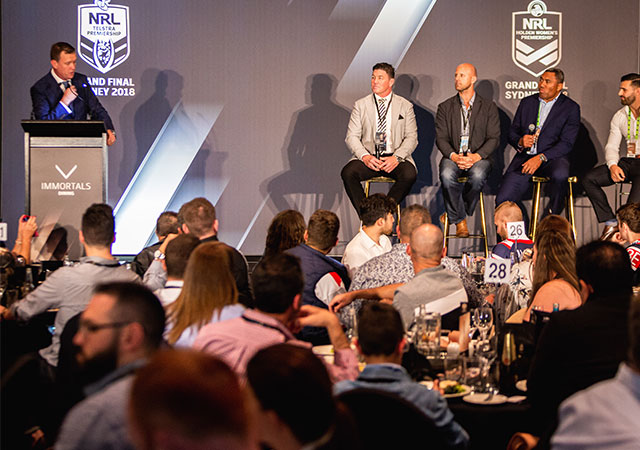 The MC Andrew Voss introduced the Q&A and competition which built excitement in the room while guest submitted their questions and predictions for first try. In 10 minutes over 200 guest names and questions were posted to screen.
Rebecca Portors from the NRL commented,
"Event Poll was a great addition to our game day function, it was so simple to use and provided a new level of engagement with our audience, I was impressed with how many people used their phones to enter the competition and submit a question to the panel without having to run microphones around the room."
Get involved and follow the conversation:
#NRLHospitality
hospitality@nrl.com.au
—