It's all hands on deck when you're delivering one of the biggest events in the Australian corporate events calendar. On 27 March, the our team delighted 1,150 Amway Taiwan VIPs with a breathtaking, Australian-themed gala dinner as the pinnacle event of the 5 day major Asian incentive. The incentive gave Staging Connections the opportunity to showcase our ability to deliver technically demanding live events encompassing the breadth of our event services. With so many seats at the table, it was crucial the table styling also left a lasting impression and did justice to our beautiful country.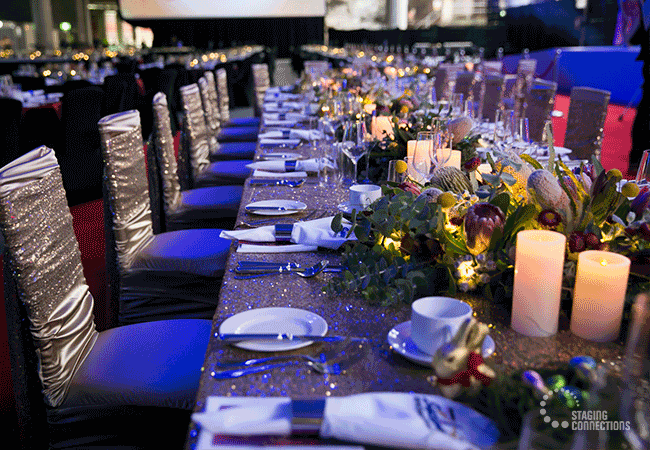 Creating Australiana-themed centrepieces and table styling for 1, 150 guests
The brief was big, an Australiana-themed spectacular for the people of Amway Taiwan. The team accepted the challenge to create an incentive event to outshine and out-sparkle any other we'd ever seen. Naturally, how everything looked was going to be an essential part of it.
Therefore our talented styling team had a big role to play in getting it right.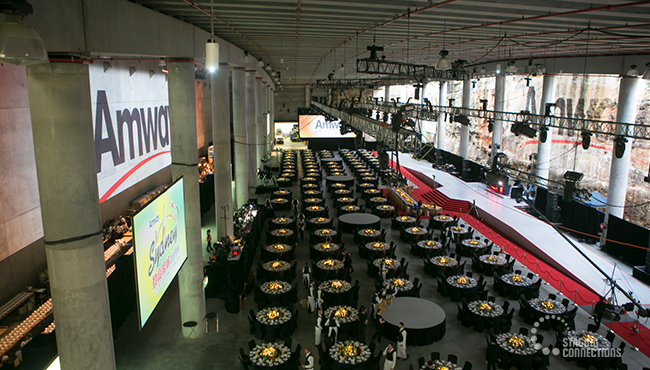 Aside from all the incredible acts and dazzling performances – the gala dinner was a crucial element of the whole event. It was more important than ever that the styling was carried out across every element of the evening, so the Amway guests continued to be immersed in the spirit of the theme at every opportunity.
That's exactly why the event styling and centrepieces had to integrate perfectly with the Australiana-theme as well as be a feature, all on their own.
Each table had unique Australian-themed centrepieces with textural native flowers. The miniature bud lights in the flower displays twinkled and there was an LED light in the center of the arrangement, which also made the flowers glow. We even had a nod to Easter, with a few little eggs and bunnies making an appearance too.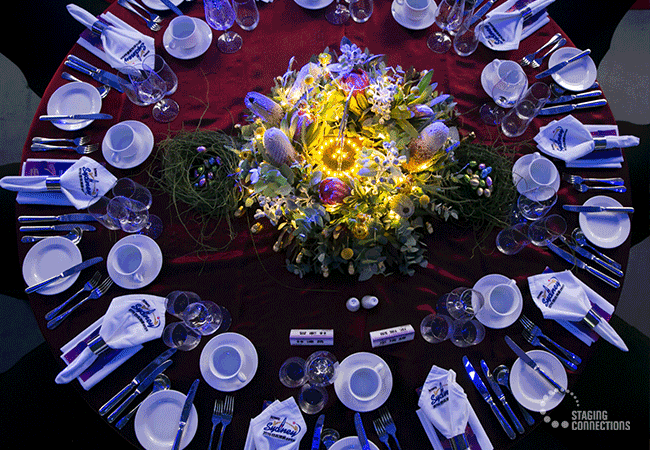 Not only was the theme reflected throughout the event styling, but as with any corporate event, the Amway brand had to feature strongly too. The styling team designed custom-embroidered napkins with Amway branding as well as engraved napkin rings, some of which were produced overseas, requiring even more attention to timing.
Another element of the event styling brief was to create a special section for Amway's VIP guests. Positioned directly at the foot of the stage and over the red carpet, the VIPs were treated to an oppulent table setting. 
The brief was to create a luxurious table that made the VIP section stand-out from the rest. We draped the tables in gold sequin cloth and covered the chairs in pleated gold satin. In keeping in theme, we used the same wreath base for the main guest centerpieces but added more styling elements such as clusters of pillar candles which created a stunning warm glow reflecting off the sequins.  Each VIP guest also received their own individual chocolate gifts, comprising a gold Lindt bunny and basket of Easter eggs.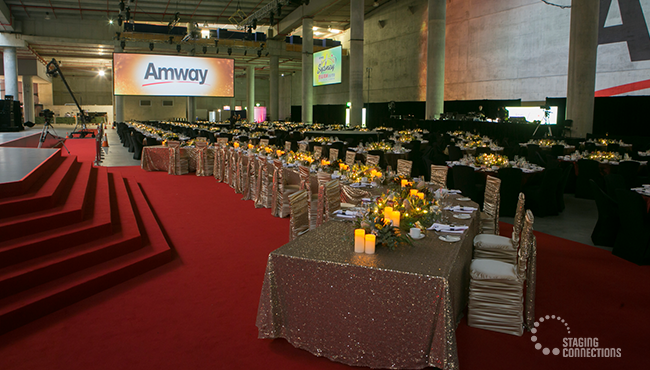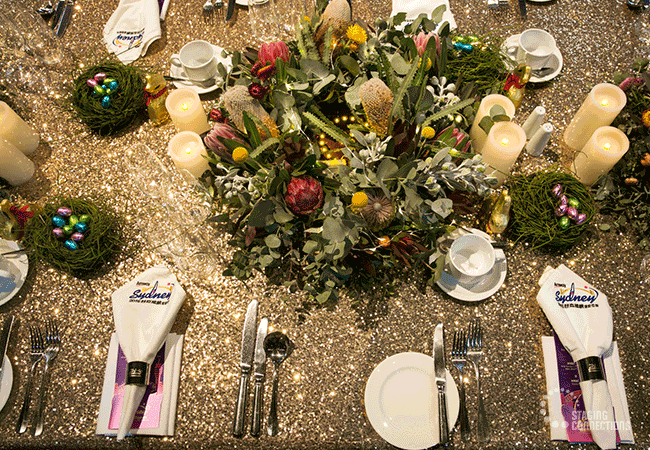 Tips for creating a winning table style and centrepiece design
Every event planner knows in order to run a successful event preparation is key. For stylists, with so many objects and materials to coordinate, preparation is paramount. It's about ensuring you have everything you need, looking the way you intend so every guest has the same experience right down to the finest detail. Those small details, whether they're LED lights or the right shade or texture on the tablecloths, are what our style teams thrive on.
Order more than you need. If you have wriggle room in your budget it's always best practice to over order so you have plenty of back-ups just in case. This applies to table runners, chair covers, napkins, centrepiece elements and more. For large events, repetition in styling is what creates a beautiful event landscape so you'll want to avoid having anything missing or looking  out of place.

Treat all of your elements separately. Calculate the time and people needed to create all of the individual pieces. Give vendors notice and be sure to over-estimate time to give yourself as much leeway as possible.
Know who your styling for. Consider styling implications for working with different cultures as the aesthetics and customs are likely to be different than that of your own.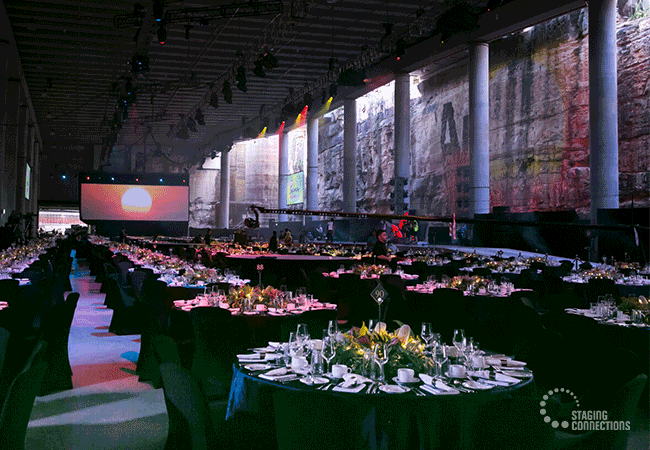 The reward of delivering an event of this scale
An event like this certainly takes hard work – and when the centrepieces and table décor takes 32 staff (and counting) to create, it's clear our event stylists had their work cut out for them.
But as anyone in events will tell you, there's nothing quite like seeing it all come together on the night – and that's exactly what happened for Amway.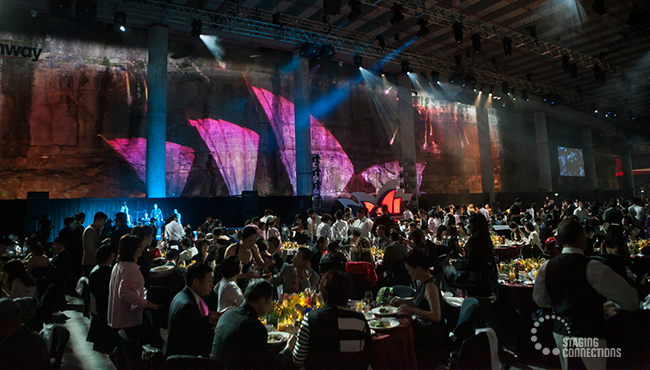 Tony Chamberlain, Managing Director, Encore APAC commented on the impact that this type of major incentive has on Australia's reputation for hosting spectacular business events.

"Asian incentives look to Australia to offer their guests experiences that they cannot have anywhere else in the world and this market is experiencing major growth, contributing massive economic benefit to our country, based on our international reputation for excellence.
"We have delivered a range of international events, from the G20 in Brisbane, to the Rotary International Convention, Joymain Incentive and the IUCN World Parks Congress in Sydney, and now the Amway Taiwan Leadership Seminar. Our teams have excelled in delivering superior results for these clients, putting their events in the spotlight on the global stage and delivering lasting memories for attendees, which have all contributed to Australia's strong reputation for delivering world class events," said Mr Chamberlain.
Partner with Encore for your next incentive
Encore has been the name behind some of the biggest international incentives in APAC for over 35 years. We're the preferred event services provider for corporate events due to our proven-track record for first-class events as well as our unrivaled breadth of event services and in-house venue partnerships. Speak to an Encore representative today to start planning your next corporate event by calling 1800 209 099 or sending an enquiry.