Australia is a destination like no other. Blessed with breathtaking scenery, rich culture, amazing cuisine and unique flora and fauna – it makes for an unforgettable event theme. Perfect for all types of events, from gala dinners and awards nights to conferences and destination incentives – an Australian event theme can be scaled up or down using event production elements to suit your event size and budget.
Whether you want to pay tribute to your stunning sun burnt country, or you aim to give foreign guests the true blue Australian experience, here are 5 creative ways to produce a ripper Australian themed event.
1. Start with a Down Under event location
Australia is renowned for its spectacular landscapes so getting outdoors is going to be one of the best ways to create an amazing Aussie feel. Nothing says 'Australia' quite like hosting your event in the vast and beautiful Outback. For a more coastal Australiana vibe, set yourself up on a beautiful white-sand beach or along one of our picturesque harbours. If you don't have the luxury of hosting the Aussie themed event in such exotic locations, with some clever event production you can recreate these settings in an outdoor location or within a venue.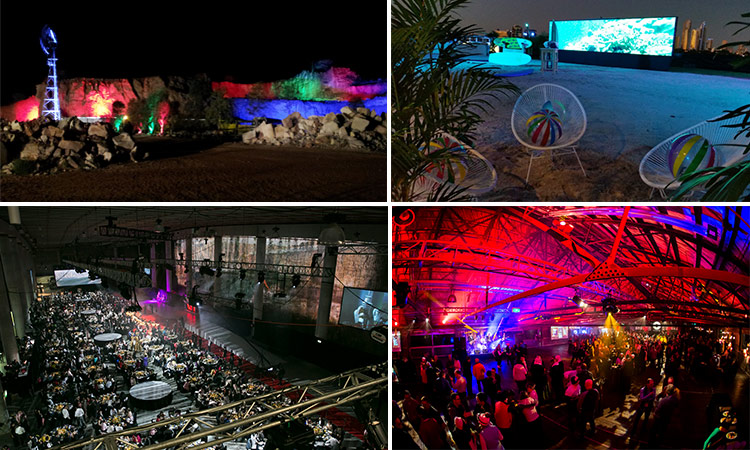 Pictured: (Left to right clockwise) Host your event in the Outback | Recreate a beautiful sandy beach | The Cutaway, at Barangaroo on Sydney Harbour | An event held in a shed in rural Australia.
If you want to host your event in a more urban setting, try any one of these iconic Aussie locations, such as the beautiful Sydney Harbour, the Melbourne Cricket Ground, Adelaide Oval, Alice Springs, or the Gold Coast.
Luckily you don't have to travel far to take advantage of Australia's beautiful scenery. Hosting the event at a local venue with a breathtaking view will leave a lasting impression on your guests. Organizing your event through a venue can be a great way to save time and take some of the pressure out of event planning. Many venues are equipped for hosting events large and small and you can work with their event services provider to theme and style to your liking.
2. Use creative AV to immerse your guests in an Australian themed event
Creative use of audio-visual equipment and event production are very effective ways to simulate natural Australian environments. Clever AV production can be your best friend when it comes to transforming a venue space into a themed event. Depending on the style and location of your event, you can use an audio system to play sounds of the Outback, waves crashing on the shores of a beach, calls of native wildlife, or native Australian music.
To immerse the senses further, combine visual creations with the audio playing in the background. Create custom, onscreen content and videos for your theme using traditional Australian scenery, classic characters like Crocodile Dundee, or native flora and fauna. Projection map this content along the walls, across the tables, or on objects to bring them to life and give your guests an amazing 3D experience!
Pair your visual images with complimentary event lighting inspired by the colours of the Australian and Australian Aboriginal flags. Use up-lights or wash lighting to spice up venue walls, or use moving pin spot lighting with various shapes and colors to decorate tables.
Design your stage set to replicate landmarks such as the Sydney Opera House, or simply creating interesting shapes for images to be projected upon, are more great ways to enhance the visual landscape of the Australian themed event.
You could also go all-out by creating a cinematic experience with a wide screen and blended projections of Australian vistas. Make the scene come to life with audio cues and sound effects to match, and combine with props of animal and plant life for added effect.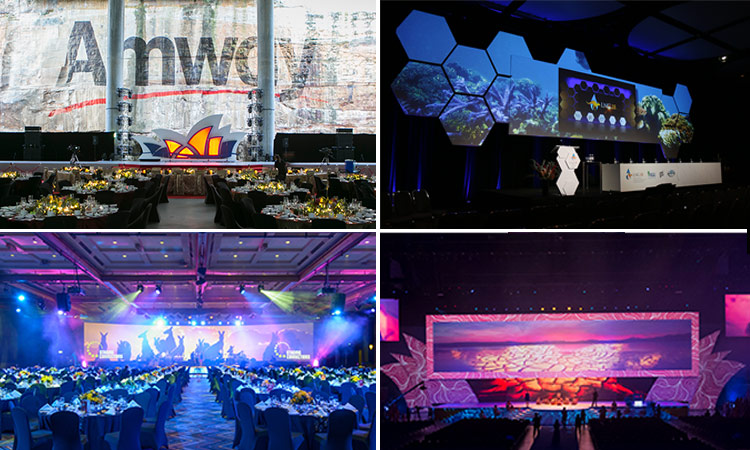 Pictured: (Left to right clockwise) Custom set design of Sydney Opera House | Hexagonal panels with projection mapped content | Widescreen stage design with Australiana imagery | Custom set design using Sydney Opera House shapes and widescreens.
3. Styling ideas to infuse the Australian theme into your event
With any event theming task, styling and props will always be your best asset in bringing the theme to life. The event begins the moment a guest arrives; so, wow them from the first moment by creating an aw-inspiring Australian themed entryway. A "red carpet" created from sand, an impactful event backdrop printed with an Australian setting, a corrugated iron archway designed to give a rustic outback feel, vertical gardens hung for touch of greenery, or bouncing kangaroos or life savers positioned to greet the guests, are all excellent ideas to create that "WOW" factor you want from the very beginning.
Continue the spectacular scene inside; Warratahs, Poppys, Leucadendron, Wattles, Proteas, Banksia, Gumnuts, and Kangaroo paws are but a small portion of the large variety of native Australian flora available to use in creating unique and beautifully rich floral table centerpieces.
Adding candles to a clear glass or a color votive can add warmth to the table, while gold satin or sequin tablecloths can add a bit of decadence to the affair. Crisp white tablecloths, although prone to stains / dirt in the outdoors, are the epitome of sophistication and set a classic and classy scene.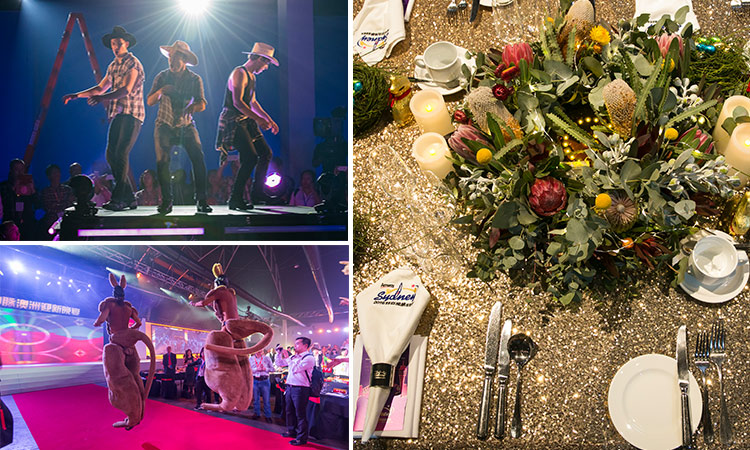 Pictured: Top Left; Tapping Dancing Bootmen, Right; Centrepieces using Australian native flora; Bottom Left: Bouncing Kangaroo actors.
4. Entertain the taste buds with an all-Aussie menu
Food is central to people relaxing and enjoying themselves at any social gathering. Delicious food options for a scrumptious, Aussie experience include: surf and turf, kangaroo burgers, sausages, meat pies, lamb, and prawns. Intriguing and delectable food options will have your guests saying, "Throw another shrimp on the barbie!"
5. Surprise and delight your guests with Aussie entertainment
Make it a day or night to remember by hiring an MC or presenter that is a true-blue Aussie larrikin, such as Shane Jacobson; or, look into having an elite Aussie superstar or celebrity chef come and dine.
Australia is home to some of the most unique animals in the world. Hiring a petting zoo can be an intriguing and interactive feature; allow guests to interact with native Australian animals and make them feel as if they are out in the wild. Or, bring a different authentic Australian element to your gathering by hiring an Aboriginal dance group, which is a fantastic way to showcase the rich Australian history and culture.
Pictured: (Left to right clockwise) Life Savers on Stilts, Aboriginal Dance and Didgeridoo performances, Petting Zoo featuring native Australian wildlife.
Keep your guests entertained with an Australian themed trivia game! Whether you have 10 or 1000 guests, Event Poll is an audience polling platform that guests can use to answer questions from their tables. It's a great way to test and educate their knowledge with the answers displayed instantly on the screens for all to see.
Continue the fun and keep the atmosphere lively by using an event social media platform like Event Feed to capture and share guests' tweets, instaphotos, and Facebook posts live at the event. Seeing updates gives guests a chance to laugh, create new conversations, and continue enjoying the festive energy of their surroundings.
Partner with a leading event services company in Australia!
Encore Event Technologies has been the name behind some of the biggest events to hit our shores, so when it comes to pulling off a cracking Aussie themed event – we're the experts you can trust. Whether you're after a total event production solution or simply after audio visual and lighting design, we have Australia's largest range of event services on offer and can tailor our solution to your needs and budget. Events start with a conversation, so get in touch with us today to see how we can make your next event the best one yet.