The Mad Hatters Tea Party brief was for a fun filled room with props and teapots that created a Mad Hatter environment. We knew that the guests were going to be dressed in theme, giving us confidence to really get creative with the quirky side of the Alice in Wonderland story. The client expanded the brief by allowing us to style further into the space than what was originally given, allowing us to really immerse every area of this quaint venue.
The challenge with this event was the tight turnaround for the set up meaning that a team of over ten people were required to run around the venue and set up this prop heavy, and detailed styling approach.
For a playful approach, tea cups, hats, playing cards and candles were arranged upside down, sideways and on top of colourful candlestick pedestals. Arrangements of bell jars and tea cups, birdcages and candles, and rabbits and hats were scattered throughout the room providing detailing to larger items such as the Alice in Wonderland backdrop, fairy lights and lanterns hung in the dance area. The theatrical feature of the room were the marquee letter lights spelling "TEA" and so clearly setting the scene, yet adding a theatrical statement feature.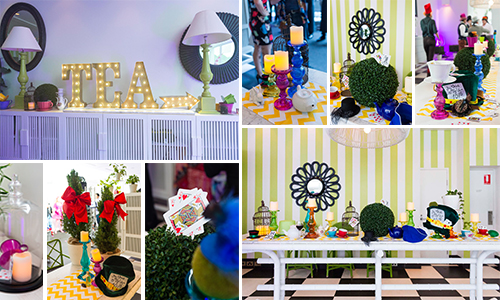 Both this and the Carnivale themed event provided the perfect opportunity to introduce our new coloured glass candlestick range. Where colour features, yet style and class are desirable, these candlesticks not only display our rustic pillar candles, but in the case of our Carnivale event they showcase vividly coloured feathers for a festive look that also mimicked the clients event logo.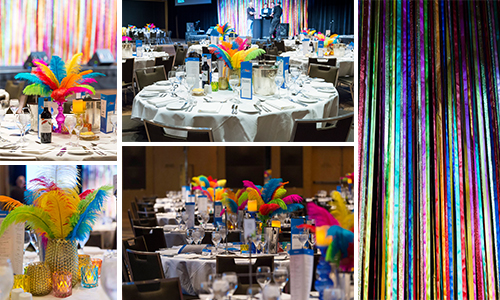 Event Styling Profile: Intimate Dinner Settings
On the other end of the spectrum – far, far away from the colourful realms of Carnivale – we're seeing a range of stunningly intimate dinner looks where it's all about mixing textures, florals and festoon lighting.
A recent styling highlight for us was this intimate dinner at Cockatoo Island's Naval Store. Our client wanted to create a memorable and intimate dinner for their special guests.
Our team of Account and Event Managers together with a Technical Director and Stylist worked together to overcome location challenges and heritage listing parameters to create a bespoke solution.
The decadent tablescape starts with an elegant furniture selection and develops through beautifully juxtaposed textures of smooth, glossy elements and rustic detailing. The venue's timber cog tables made beautiful display pedestals for customised vignettes of soft, warm pillar candles and petite bud vases with blooms. With a sunset palette, the flowers colourfully adorned the tables and brightened the worn, yet delicate space. Completing the look were festoon lights strung across the ceiling space over the table and making an intimate glow.
In addition, the long king table allows for real impact in the space as table decor repeats with varying levels to create interest. The mix of textures on this event made for a very enjoyable and satisfying event to style and was a fresh look to inspire for 2015.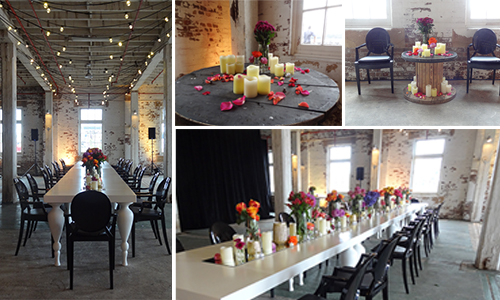 Our stylists search the globe for what's trending so they stay ahead of the game. They're inspiration comes in all shapes and sizes, from what's happening in the fashion, movie and music industries to website designs and home wares.
Want your next event styled like this or have an idea you want brought to life, get in touch with us today!
Get your daily dose of event inspiration by following us on Instagram.
Want to stay up to date with industry trends? Browse our range of downloadable Event Insights papers