It is more important than ever for the events industry to stay connected to not only clients, but also speakers and talent, so as COVID-19 restrictions on live events are reduced, producers are charged with new ways to entertain and engage.
We recently collaborated with ODE Management to deliver the Global Speaker Showcase Reboot! for the first time online. The solution utilised Encore's latest hybrid event technology to reach a global audience with presentations produced live from their Sydney and Melbourne streaming studios as well as other global locations.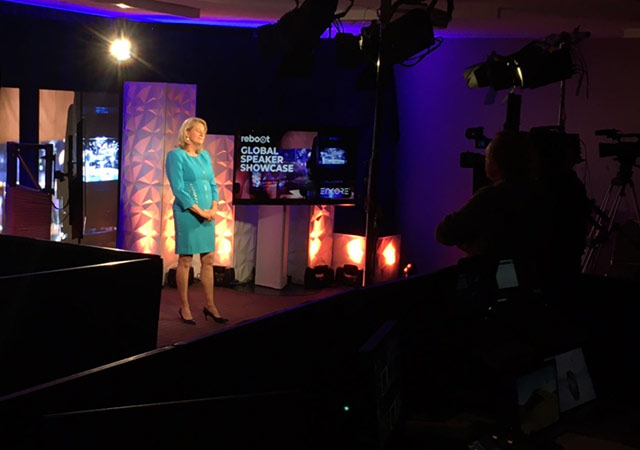 The production team enabled online viewers to watch presentations just as they would in the live environment and seamlessly switched between each of the virtual speakers located around the world. Key to this was supporting the MC with precise instructions and second-perfect production. The green screen was used to show beautiful, unique virtual backdrops and also content for the speakers presentations creating a dynamic virtual stage for the event.
The solutions enabled ODE Management to provide a platform for their international speakers to send a message of hope and forward planning to a global audience. The multiple studio solution allowed the MC to introduce speakers from either location seamlessly as if they were all on the same stage.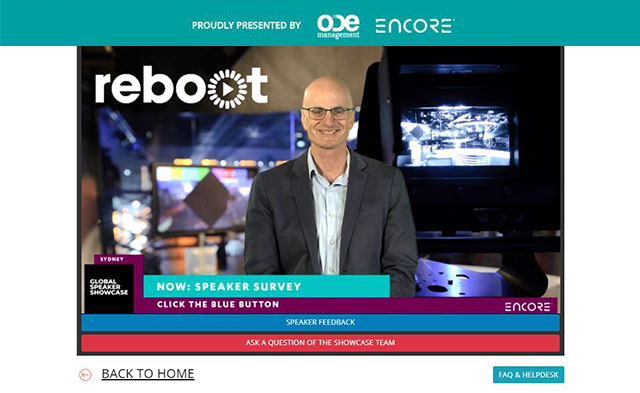 ODE Management created a network of speaker bureaus and national associations, providing the event a truly global audience. Over 2,000 online viewers from more than 50 countries tuned in during the three day program.
Viewers watched 12 globally renowned presenters, including James O'Loghlin, Keith Ferrazzi and Yossi Ghinsberg who presented from a yurt in Tel Aviv. Each speaker provided an energetic 15 minute talk delivering a highly engaging 2 hour session over each of the three days.
The event's theme Reboot! conveyed the message that listening to thought leaders, disrupters and futurists is now more important than ever. Their motivating presentations encouraged viewers to strive for greatness and face the challenges posed by COVID-19.
The event was a major success in terms of attendee numbers, seamless connection with live presenters around the world and requests from hundreds of viewers for more information.
Leanne Christie, founder of ODE was delighted with the result commenting,
"Encore was the perfect partner to produce Reboot! They had the expertise, the resources and creativity not only to deliver a live, global broadcast, but also with humour and a level of calm professionalism that kept each speaker confident they could simply focus on what they do best, deliver inspiring content. I am truly proud of this collaboration and know it will be a successful partnership for years to come."
Encore's National Sales Director, Michael Magafa was equally pleased with the team's efforts to ensure the event was delivered seamlessly around the world.
"The team did a fantastic job of delivering an engaging an entertaining hybrid event online. There were many live elements and they ensured that each segment connected perfectly. The team created an event design with a focus of providing inspiration to the audience, even though they were not able to be in the room."
Click here to watch the presentations.