Sydney will be put in the spotlight once again later this month for the 10th annual Vivid Sydney.
Even if you haven't experienced Vivid Sydney first-hand, it's highly likely you've seen the mind-blowing images of their signature lighting installations and projections, entertainment and masterclasses, splashed across the news and social media.
Originally devised as an engaging way to highlight energy efficiency, Vivid has evolved dramatically in its relatively short 10-year history. The festival is now internationally recognised as a destination in itself, with visitors enjoying a dazzling array of lights, music and intriguing ideas during the three-week program.
In 2017, the event saw a record attendance of 2.33 million, with intrastate, interstate and international visitors injecting approximately $110 million into the local economy.
There are so many elements of the Vivid festival event planners can learn from and incorporate into their own work, even without Vivid's grand scale or budget.
Be bright and bold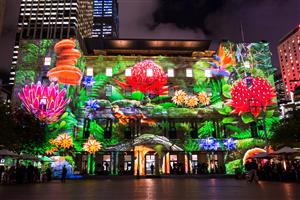 Vivid's bright installations and beautiful animations which are perfectly projection mapped onto iconic buildings enthrals visitors. These effects can be used events both large and small to amaze your guests. You can project onto stage installation and 3D objects using lighting or multimedia and event project direct onto dining tables to take gusts on a visual journey. Gobos are another simple but highly effective way to communicate your brand or theme in a visual way. (Picture Credit: Destination NSW)
Creating a theme
The Vivid festival remains relevant and engaging by renewing its theme each year. This ensures the event enjoys new and returning visitors year on year. As an event organizer, a well-thought-out theme can anchor your message, whether for a conference, annual meeting, launch event or gal. A theme can reflect the objectives of an event and reflect the purpose.
Interactivity
At Vivid, visitors are encouraged actively participate with interactive lighting and art installations as well as workshops and seminars encouraging passionate, thought-provoking discussion between presenters and attendees. Encouraging attendees to be part of the event keeps them engaged. Driving engagement can take a number of forms, from taking photos in front of a branded backdrop at a gala and posting photos on social media, to asking questions via a polling platform or completing a quiz on a digital Touch Kiosk screen.
Business opportunities
Vivid has created opportunities for businesses and tourism operators with exclusive Vivid-themed degustation menus, cruises and special offers. Even big corporates have used it as a platform, in 2016 Intel took to the skies of Sydney Harbour with a fleet of LED-lit drones to showcase their latest technology in an engaging way.
If you event has a sponsor, it's a great opportunity for them to showcase their brand or products. If they do it in an engaging way that integrates with the event the benefits can be far greater than just playing a dull corporate video at the start of the event, or using pull up banners in the entrance.
Social Media
Social media has also been instrumental in taking Vivid Sydney to a world-wide audience. It's a great illustration of how 'brand Sydney' is reaching a global audience and enticing both domestic and international visitors to come to our stunning city.
Encourage your attendees to share the event via their social channels is a great way to take your event to a wider audience. Ensure you create and share an event's hashtag and use products like Event Feed to unite your attendees' photos on screen.
Working in an event services company, we understand that conceptualising an event begins with a blank canvas that we grow into colourful experiences to surprise and delight attendees. What Vivid Sydney has done so well is create a visually, musically and intellectual engaging event, that keeps attendees coming back each year and communicates the message – Sydney is fun, beautiful and innovative.
Be inspired to make your own Vivid-like experience by viewing our Recent Work