It was a sensory overload at Encore Event Technologies' (then Staging Connections) latest 'Event Masterclass', hosted by the South East Queensland events team at Hilton Brisbane. The exclusive Masterclass was attended by 150 event professionals and industry elite, and showcased the latest event trends, and new products and technologies designed to engage all five senses.
WATCH VIDEO
Studies have proven attendees have greater brand recall and a more memorable experience when all five senses are engaged. So, the theme behind the Masterclass was "Multi-Sensory Experiences". The presentations demonstrated how powerful it is to engage all senses and the many different techniques and products that can be used to achieve this to make events more memorable and messages more effective.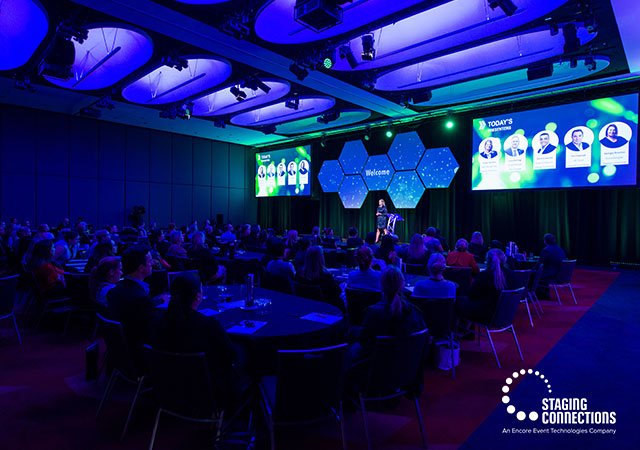 Covering all angles, the presentations were divided into three main sections: Next Gen Technology; Digital Engagement, and Styling and Design. Each section was jam-packed with new products and practical ideas for engaging the senses which event planners could walk away with and action tomorrow.
Showcasing everything from the latest in projection mapping, motion graphics and set rendering software through to motion control, virtual reality, interactive presentations and cutting-edge digital engagement, the Masterclass gave attendees an invaluable insight into the latest trends and techniques.
Whilst the Masterclass was rich in content, it was also rich in design. The Hilton Ballroom was divided in two, providing tailored settings for each half of the event. For the presentations, a unique stage set was created to deliver a sensational visual feast. A custom stage set was constructed using a combination of seven of our latest hex panels, flanked either side by two large screens. The end result was a beautifully interconnected projection canvas. Custom-designed multimedia content, visually representing the five senses theme and designed by Encore's in-house motion graphics designer, was projected seamlessly across all 9 surfaces.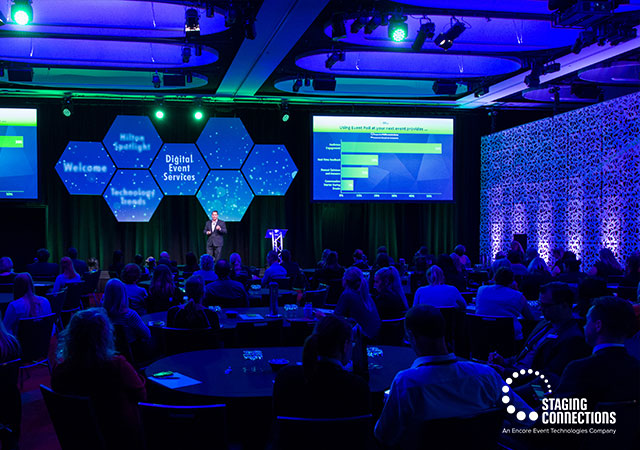 Sound was a key component of the Masterclass to ensure the sense of hearing was tantalised. All audio was delivered with impact via the custom designed sound system we recently installed the Hilton. Giving attendees a first-hand experience at our new products, the team opted for our new Catch Box microphone and Event Poll to spice up the Q&A session, in lieu of the traditional handheld microphones.
Decorative Scenic Panels, up-lit with new battery-powered LED lights, were installed as a unique textural room divider separating the main presentation area from the styled networking zone.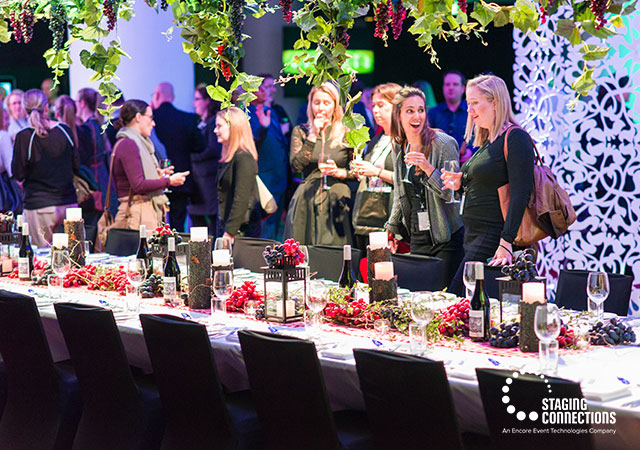 Following the presentations, attendees were invited to stay and talk to the Encore team in the networking zone. The styling and design team presented a beautiful Tuscan-style vineyard, using a cellar door design illuminated 3D Event Backdrop, complete with wine barrel cocktail tables lit with lanterns and draped in ivy. The extra long central table was beautifully themed with Italian linen, log-based candelabras, twisted willow, lanterns, and real grapes. More faux grapes and foliage cascaded down from a vine suspended above the table to ensure the theme was all-encompassing.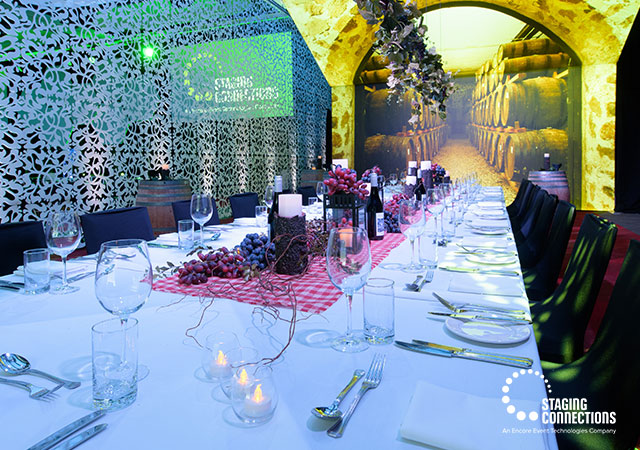 As a final touch, Hilton Brisbane served a delicious selection of canapés, charcuterie and cheese boards to tantalise the sense of taste.
The attendees not only walked away with some great ideas and techniques, but some also walked away winners, with lucky door prizes kindly provided by local suppliers and partners of Staging Connections.
Tim Chapman, General Manager, Digital – Encore was excited to showcase the latest technologies and digital innovations in event production.
"The Masterclass showcased everything that is hot and new from Encore and our parent company Freeman. It is a great way to engage with top event professionals and demonstrate how these products and technologies, like gesture control and the latest examples of projection mapping could be integrated into their future events. Everyone loved our new Scenic Panels product too.
"The team are always on the lookout for the latest and most innovative products and technologies globally, and this annual event enables us to share our findings and insights and provide our clients with the knowledge and tools to deliver world-class events," said Mr Chapman.
Chris Partridge, General Manager, Hilton Brisbane, commented on the success of the event and the opportunity to work with the exclusive guest list.
"Working with Encore is always easy; the team are seasoned professionals who know how to deliver above and beyond expectation. Being able to showcase our newly renovated function rooms to an exclusive group of event organisers was a great opportunity," said Mr Partridge.
The Masterclass enabled Encore to give back to the events industry by sharing their insights and knowledge into current and future trends and showcase one of their valued venue partners, Hilton Brisbane.
Built on the success of our Backstage Event, Event Masterclass is aimed at more senior event professionals and is designed to go deeper into the technology and more sophisticated trends hitting the market.
With another highly successful Event Masterclass all wrapped up, we'll be looking to take it on the road to other major Encore locations.
See more recent event work
Get more event ideas and insights from our Event Blog