Event stage production has progressed in leaps and bounds over the past decade, and while event organizers are constantly looking for new and inventive ways to present their event, it's all about one thing – engagement.
From dynamic new ways to showcase your content on the stage to creative set styling ideas, amplifying your event and its messaging is all about up-to-date and eye-catching execution.
Looking to add a little oomph to your next corporate or social event? We've asked our event staging experts to shine a spotlight on a handful of new (and re-imagined) set design and set styling products, to inspire your next event's stage design.
Here's our insight into the six products currently trending in the staging and set design arena, and how to make best use of set styling products.

Hexagonal panels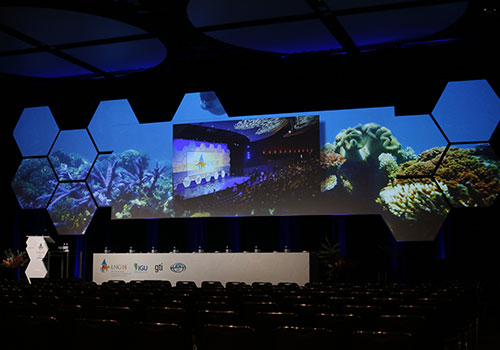 Pictured: Hexagonal panels used in this custom stage set design for the LNG18 Conference.
Amp up your set design with dynamic hexagonal panels
Make an impact and craft custom designed stage designs using hexagonal panels as part of your next set or stage design. Measured at approximately 1.6m in the middle and 90cm at the base, these creative display panels are designed to fit a range of venues and can add a spark to any dull stage set-up.
Best of all, individual hexagonal panels can be joined together to create unique shaped walls to project onto. You also have the ability to projection map and show different content across individual panels, meaning they're an incredibly dynamic addition to any stage's design.
Showcase content in a multi-dimensional display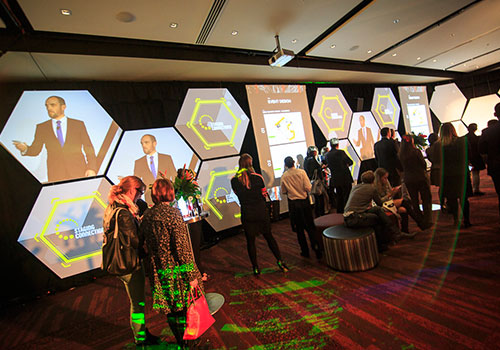 Pictured: Projection mapping different content onto individual panels at the MCG Evolution showcase event.
Hexagonal panels were a key stage element of the Melbourne Cricket Ground's Evolution event, a showcase held to demonstrate the capabilities of the MCG and promote its use as a multi-purpose venue. Different content was projected onto individual hexagonal panels – with Event Poll on one panel, while another panel housed a live feed of the presenter. The other panels included the speakers' presentation content, creating a mural effect – allowing our event experts to present a variety of different content in one well-executed display.
Encore Event Technologies can also match your table styling with complementing matching hexagonal terrarium centerpieces, creating a nice touch for themed events or glamorous gala dinners.
Scenic Panels
Add a touch of elegance to your set dressing with Scenic Panels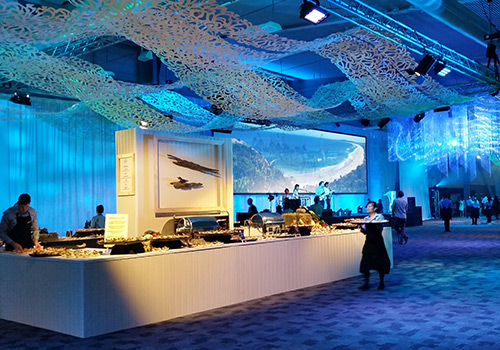 Pictured: Scenic Panels used to create a 'wave' ceiling installation at the Australian Tourism Exchange on the Gold Coast.
Draw eyes to your stage set, add flair to your gala dinner's ceiling installations or create a lovely entry feature or room divider with the addition of Scenic Panels.
These panels are a cost effective and stylish event addition; available as individual panels or screens, meaning they can be incorporated to events of any scale and size.
Set the scene and give personality to your event venue
With the ability to project different coloured lights across its surface, Scenic Panels are incredibly versatile and can set the scene whether you're hosting a corporate conference, a stylish product launch or an immaculately styled gala dinner.
As a ceiling installation, Scenic Panels can be rigged to the ceiling to create beautiful styling feature, such as a wave effect showcased at the Australian Tourism Exchange.
Scenic Panels can also be used as room dividers, entry features, event draping, media walls, and stage backdrops, framing your stage with a unique textural panel display.
Pictured: Scenic Panels used as room divider a The Million Dollar Lunch 2015.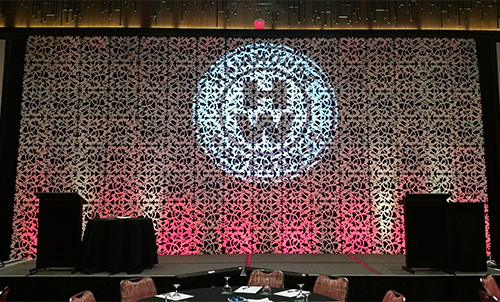 Pictured: Scenic Panels used as stage backdrop with a branded gobo projection.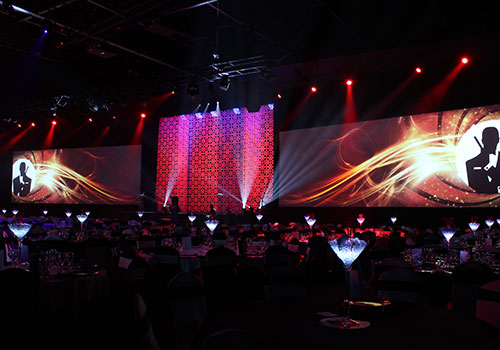 Pictured: Scenic Panels used as a stage backdrop for a Spy themed gala dinner.
4. Digital Banners
Re-imagine your stage design with digital banners 
Immerse your guests and draw focus to different sections of your stage with the use of digital banners. Digital banners aren't the new kids on the block however with the increase in projection mapping at corporate events we're seeing them used more and more. With the unique ability to be hung vertically or horizontally in a row, content and visuals can be projected across or mixture of horizontal and vertical displays.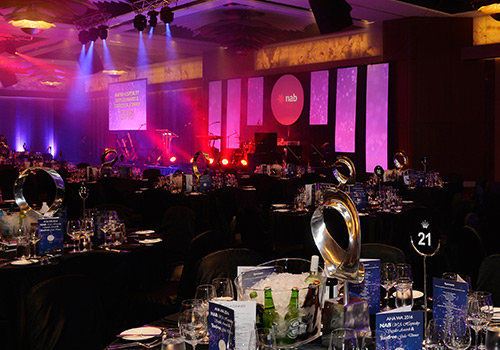 Pictured: Digital banners used in a custom set design for an awards night.
Digital banners can also be used in combination with other set design elements, such as the fleur panels, hexagonal panels and other stage set design elements. Their size and versatility make them perfect for a range of venue sizes, from smaller events to large incentive events.
Showcase your business' content in inventive new ways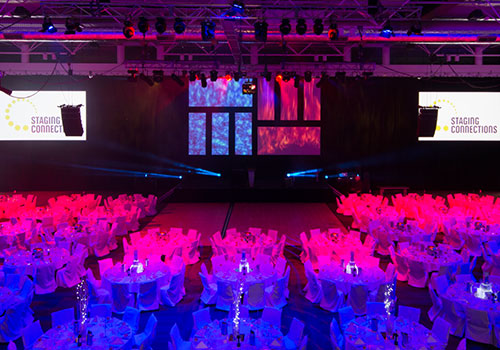 Pictured: Digital banners housing themed content for the 2015 Greencross Ltd annual gala dinner.
For Greencross Limited's annual gala dinner, Encore Event Technologies made great use of digital banners. Our event specialists projected different themed content across each panel, keeping in the theme of 'Fire & Ice' and creating an immersive event setting.
Pictured: Project animation and moving sequences across an array of digital banners.
Digital banners are a cost effective way of set styling, with the unique ability to house different content, or project a series of images across each banner, making it suited to a range of event purposes.
5. Widescreens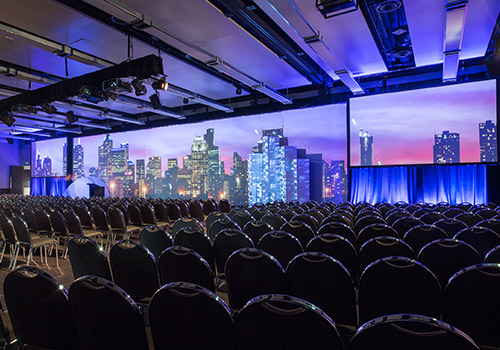 Pictured: A widescreen makes for a dramatic stage design with projection mapping of the city skyline at a conference.
Incorporate a cinematic element to your stage design with widescreens
If the content you're showcasing is extravagant in scale, give it the screen it deserves with a stage widescreen. Perfect for high impact videos, widescreens are best used for presenting a memorable opening sequence, a winners montage, tribute videos, branded product announcements or attention-grabbing hype reels.
You can also add interest by combining widescreens with other set design elements, such as digital banners and fleur screens, to give your event stage even more punch.
Pictured: Widescreens and Digital Banners used together in a custom set design to house different content and live feeds.
6. Circular Truss
Command your guests' attention with circular trusses
If you're looking to expand your set styling beyond the stage, another great way to promote your brand's content or add a ceiling installation is through event rigging. Circular trusses can provide a fixture for an impactful ceiling installation and can be rigged around the venue, meaning they're great for projection mapping when you have a canvas attached.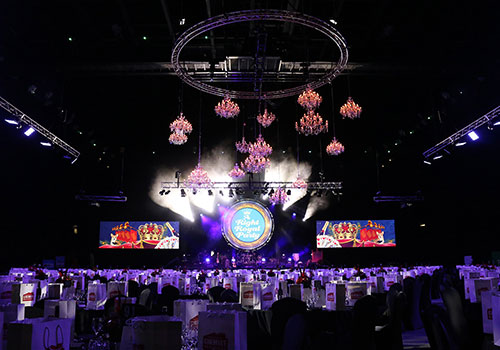 Pictured: Projection mapping content onto a circular truss for the Adelaide Crows Gala Dinner 2016.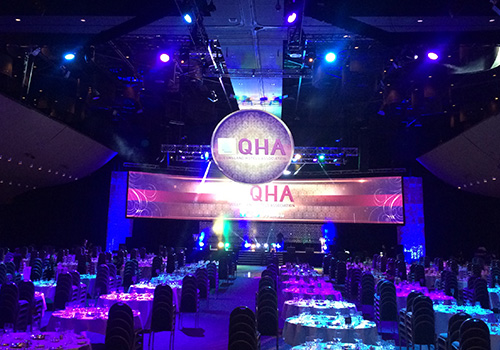 Pictured: Projection mapping content onto a circular truss for the Queensland Hotels Association Awards 2016 at Brisbane Convention and Exhibition Centre.
Our event experts used hanging chandeliers for a gala dinner fundraising event for the Adelaide Crows; although they can also be used for further set styling. You can attach crystal beaded curtains to trusses to create a dazzling ceiling installation, like showcased at the Auto & General Gala Dinner which leads us to our final set styling trend.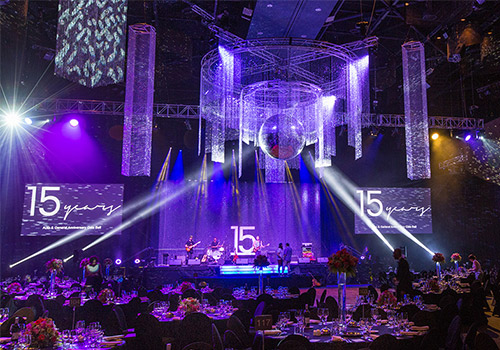 Pictured: Circular truss used to rig chandelier curtains at the Auto & General Gala Dinner 2015.
7. Crystal Curtains
Include an element of extravagance to your event
Provide your guests with a sense of luxury and cast beautiful rays of light around the venue by installing crystal or beaded drop curtains. These stunning backdrops can be used to provide a simple yet elegant backdrop for stages, or can be rigged to create a stunning ceiling installation.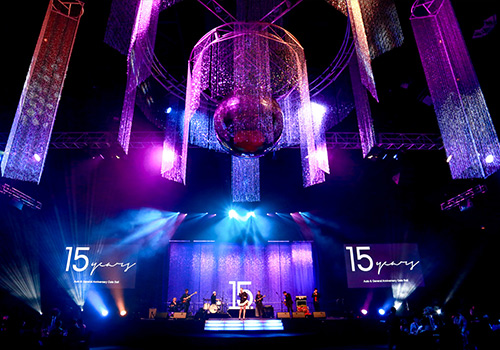 Pictured: Chandelier beaded curtains used as a ceiling installation and stage backdrop at the Auto & General Gala Dinner 2015.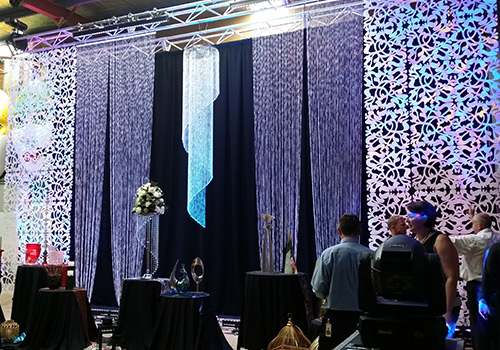 Pictured: Crystal curtains are a simple yet effective way to create a luxurious feel to your set design.
Discover your stage's potential with our set design team
Encore Event Technologies has been designing spectacular stage looks for over 30 years. Whether you want to create a city skyline, an iconic landmark, or bring your logo to life we have the people, the ideas and the tech tools to make it happen. That's why renowned brands like Amway, ANZ, Auto & General, NRMA & Westfield chose to partner with Encore Event Technologies to design, build and style their stages. With all eyes on your stage for the entire event, it's important you give it the attention it deserves. Find out more about our Stage Set Design services or get in touch with us to see how we can work together for your event. CALL 1800 209 099 or Send an Enquiry.