The job of planning the company Christmas party can often feel very overwhelming. To add to the stress levels, there are often time and budget constraints, despite expectations for it to be bigger and better than last year. Fortunately we're here to help. Below are 6 insider tips every Christmas party planner needs to know.
1. Create a hype plan for your event
How will you get the word out there and make sure everyone is excited for the event?
Send a 'Save the Date' calendar invite as soon as your venue is secured.
Create posters to stick around the office.
Invest in an awesome invite design that really captures the theme or mood of the event.
Plan when you're going to send reminders and what they're going to say. Each email should contain some new information and create intrigue and excitement.
2. Find a venue with an AV partner
AV is often left to the last minute – even though it is the most important element for transforming your event and bringing to life the theme. Being smart with your AV can often save you a lot of money in theming and styling because you can easily create an event theme with great content on screens, lighting projected onto the walls and floors, smoke machines, sound effects… the list goes on. External AV hire can also quickly chew up a lot of budget as you'll need to cover operation costs above the equipment hire. Most premium venues do have in-house AV so you're likely to get a much better deal, as well as the peace of mind knowing the audio and vision is taken care of.
3. Make sure your theme and styling is on trend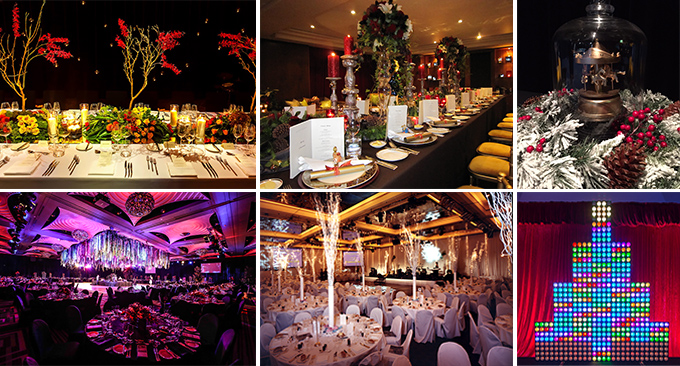 Styling and theming isn't just about the odd draping here and there, it should be integrated throughout every aspect of the event. We're experiencing a shift towards immersive events where AV and styling become one, creating an unforgettable experience for your guests. To maximise your budget we recommend bundling styling with your AV and venue so make sure you ask this when reviewing your venue and AV partner.
See what themes our stylists are predictions for this year.
It's also important to consider your guests' journey –
What will the entrance look like?
What do they first see when they enter the room?
Are the toilet facilities themed?
Can we design a themed menu?
4. Balance your styling and branding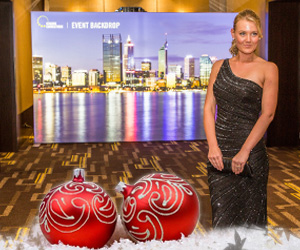 Pictured: Event Backdrop used at a recent awards night in Perth.
One of the hardest things event planners face is striking the right balance between styling and branding. If you go too far towards styling your brand gets lost, but if you go too heavy towards branding your event loses the festive vibe. Encore offers a versatile branding solution, Event Backdrop, which allows you to get the best of both worlds at the price you hoped for. Now your branding can be integrated into a stunning custom designed backdrop, printed in photographic quality onto canvas. It's the perfect way to marry your styling and branding and guarantee your branding features in photos.
5. Make it interactive
The entertainment on the night can be one of the most talked about aspects of the whole event and is something that can really help bring people together and help iron out those potentially awkward moments of stilted work chat between colleagues.

Pictured: Event Tweet entertaining guests at styled events.
Integrating a live social feed into your event is very popular. Event Feed allows you to capture your guests' tweets, Facebook and Instagram posts via a dedicated hashtag and displays them instantly on screen for all to see and comment. It's great for encouraging that festive cheer and if everyone's going to be posting anyhow, why not take advantage of that?

Pictured: Event Poll is great for asking feedback and fun questions like "Who's Best Dressed?"
Award-giving is a fun way to recognise employee achievement and reward their hard work for the year. We're seeing a trend for social events using our audience polling platform, Event Poll, for more entertainment purposes rather than instant audience feedback. For example, you can use Event Poll to ask your guests who is best dressed or who they tip to win 'Most Valuable Player'. There are so many ways you can engage your guests with Event Poll and it's a cost-effective way to keep everyone entertained.

Pictured: Various live entertainers for Vintage Circus, Harry Potter and Enchanted Forest event themes.
A more traditional approach, but still just as effective is hiring performers and entertainers that match your theme. There is no shortage of options here with popular ideas including comedians, magicians, stunt shows, aerial artists, circus acts or after-dinner speakers.
6. Ask for feedback the smart way
Find out what guests enjoyed about the event and what they didn't, this way it will help you to organise an even better party next year. Don't wait and send a survey a few days later because people often won't be bothered or have simply forgotten. With Event Poll you can ask the audience on the spot for their feedback using a variety of question formats to suit your event type and desired response. After the event you can download a summary of the questions and their responses with data that shows who answered what and even who responded the most.
Hungry for more Christmas party planning tips?
Setting the date: The best option is to select 3 – 4 possible dates so that you have flexibility when you find the perfect venue.
Managing the budget: We recommend allocating the budget by what is most important to your guests and always leave some more aside as a buffer.
Packaged deals: Opt for semi-customisable packaged deals offered by venues to ease the stress. This gives you the best of both worlds – whilst you're given the freedom to choose, you can sit back and relax knowing your event is in safe hands.
Guest List: Nominate reps in each dept to help chase RSVP's & dietary requests and answer any other questions. They can also help you crowd source music suggestions.
Setting the mood: Dancing at the office Christmas party is usually a must and it's the perfect opportunity for everyone to really let their hair down. Music is key to your party so ensure it is done properly and flows throughout your venue space – this is where your AV partner can step in.
Capture the moment like a pro: Many people will doubtless be snapping away on their mobile phones but hiring a professional will give you much better quality pictures and reminders of the event. Good shots can also be used on the company blog, website and social media, in marketing materials and put up round the office.
Organise Transportation: Making sure people can safely get to and from your venue is important for ensuring the evening runs as hassle-free as possible.