Want to know what your audience is really thinking? Get inside the minds of your attendees with Event Poll, technology that lets you ask questions and receive feedback in real time. 
#1 Brand your questions
Event Poll gives you the power to customise the polls to suit your brand guidelines. Match your presentation template, use your organisation's logo and colour scheme, or let your own imagination run wild.
#2 Made for Monkeys
Event Poll is designed with the presenter at the heart. From creating your first poll in 30 seconds to importing multiple polls at a time to moderating from an app – it's so easy to use a monkey could use it!
#3 Works with any mobile device
Whatever your audience can carry in, they can use. That means smartphones, flip phones, candy bar style phones, Blackberries, tablets, and laptops.
#4 Post Event Report
Your full history of poll questions and participant responses are available for you after the event and can provide insightful improvement recommendations.
#5 Full Moderation
You can use your laptop or phone to ensure that you're happy with responses before they go live on screen. This also helps you to display responses that illustrate a point you're making and ensures the discussion doesn't go off-topic.
#6 Auto-Censoring
Set-up auto-censoring with a list of keywords so no colourful responses make it on screen.
#7 Ranking and Grading
Once you've created polls with a correct answer, you run a report to calculate how each respondent scored – and how they rank in terms of correct responses and average time to answer correctly.
#8 Run a Competition
Get your audience to compete – for prizes or just glory – on the questions you ask. Announce a winner for a single question, a whole section, or for the overall event. And if there's a tie, we'll break it by showing you who responded the fastest.
#9 Quiz Time!
Figure out who was getting the information you just presented and grade the responses in real time. You can even ask the same questions before and after your talk to see how effective it was.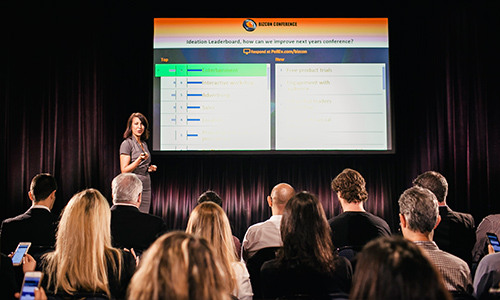 #10 Participation Grades
Event Polls is great for tracking who attended and more importantly measuring the level of their participation.
#11 Multiple Choice Questions
Give one multiple choice question, or several in a row. Use it at beginning to temperature check the room, throw in a ridiculous option to keep the mood light, or keep it all business throughout.
#12 True of False Questions
Fast and simple, put a statement up and ask people if it's true or false. Set up games, do quizzes, whatever you like.
#13 Start a Discussion
Open up the floor with the Open Discourse poll. Let your audience ask questions, suggest topics, do shout-outs or give feedback and recommendations. Of course you can moderate the responses to ensure it's all above board and on-topic.
#14 Q&A / Brainstorming
Let your audience not just suggest topics or questions, but vote on others as well. Create a live updating wall of questions or ideas – provided by and voted on by your audience. Great for structuring group discussions.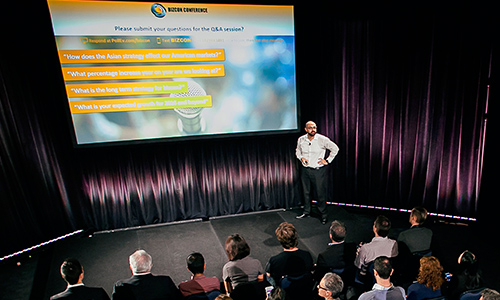 #15 Broaden your engagement, across borders!
Anyone with browser access, no matter where they are, can vote via the web. This means even your webcast attendees can contribute and feel part of the conservation.
#16 Over 12 Types of Polling Formats
We've thought it of it all! Event Poll's range of polling formats means there's a template to suit any type of question. Even better is the templates can be fully customised!
 #17 Mix it up
If you have multiple questions throughout your presentation you can change the polling format to suit.
#18 The Ultimate Ice Breaker
Asking the audience a fun and entertaining question is the best way to start the day or revive the audience after a long session. Voting for 'Best Dressed' is always fun for Gala Dinners or asking 'Where everyone has come from?'  is a nice way to start a conference day.
#19 Manage your Q&A effectively
Get your audience to send in their questions during the presentation so you don't waste time during Q&A. You can also set it up the questions display as a leaderboard with the most popular displaying at the top on the screen.
  #20 WordClouds
Audience responses can be displayed as a branded word cloud. You can ask the audience their goals for the event and come back to the word cloud as a reminder.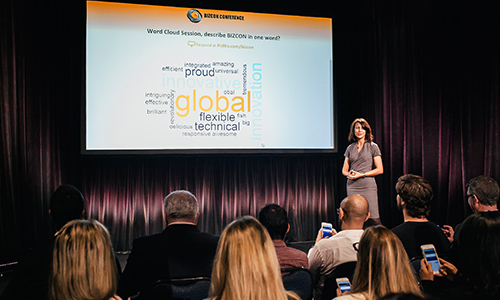 #21 Instant Audience Feedback
Ask your attendees to fill out a quick post-event survey while its fresh in their minds. This saves you having to send a blast email days after the event that might never get answered.
#22 Embed your Poll in PowerPoint
The Pollev Presenter App allows you to easily integrate polls into your presentation so no more fussing between different screens.
#23 Insightful Data and Heat Maps
After the event you can use the poll report to gain insightful data on your audience such as what location they responded from when webcasting, or which group or individual responded the most and what they said.
#24 Grouping Polls
If you have a group of questions that you want to turn into polls, we let you import these in a single copy-paste so no need to go one by one.
#25 Bulk import registered participants
You can immediately register all of your event participants with a simple CSV file and send them a link to have them certify any unknown information.
Love learning the latest in event technology? Download our range of free White Papers today.