For event organisers, delivering a space themed, out of this world experience for guests means your can let your imagination run wild. From glamorous galactic experiences, to Star Wars inspired pop ups and the Milky Way ceiling installations, there's something to appeal to everyone's sense of exploration and wonder, and of course our playful inner child.
Let's explore ways to create an unforgettable, outer-space themed event that will transport your guests to a galaxy far, far away. 
Start with a Space Colour Scheme 
Colours can evoke a mood. Done right, they create mood and emotion and are one of the best vehicles for setting the scene.
Choose blues, blacks with silvers, shiny metallics, purples and all the colours that depict an intergalactic atmosphere.
Additionally, shadows play a part in creating suspense and an unknown environment. Create them with areas of dark and light greys. 
Set The Scene With an Entrance to Another World 
The entryway into an event enables you to create excitement for what is to come.
Our first vision of something out of the ordinary stimulates the brain's transmissions of excitement and curiosity. Set the scene by creating spaceship tunnels, the interior of a rocket ship or even the deck of the Starship Enterprise. For a simple and cost effective entry feature, you can line the walkway with illuminate orb balls in various sizes to mimic the planets in outer space. Cloak the entry walls with twinkling star cloth and you can give guests the feeling they're at the start of an unforgettable journey into an unknown universe. Sounds can be incorporated to enhance the atmosphere. Roaring engines, robotic voices and whirring machines add an auditory experience. 
A Starry Backdrop with Clever Drapery 
Once inside the venue, creative backdrops are the room's decorative foundation.
Create the space effect with the use of star cloth and dark fabrics draped around the walls of the venue both on and behind the stage.
Add a further dimension with the use of fabric with starlight and shimmering materials. This will appear to extend the room's length and create a sense of vast space.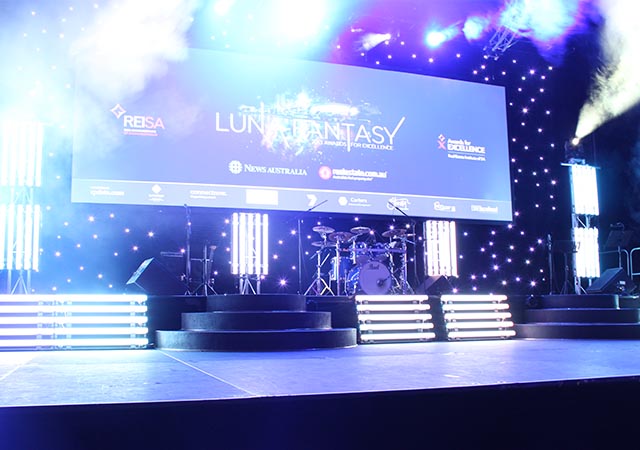 Stunning Space Theme Set Design 
With all eyes on the stage, this is where you have the opportunity to design an incredible stage look for your space themed event.
For a recent The Million Dollar Lunch gala, Encore designed and built a fully custom stage set to resemble the inside of a spaceship. Using an array of Hex Panels and clever projection mapped content, the end effect made the audience feel as though they were peering through the spaceships windows out into space.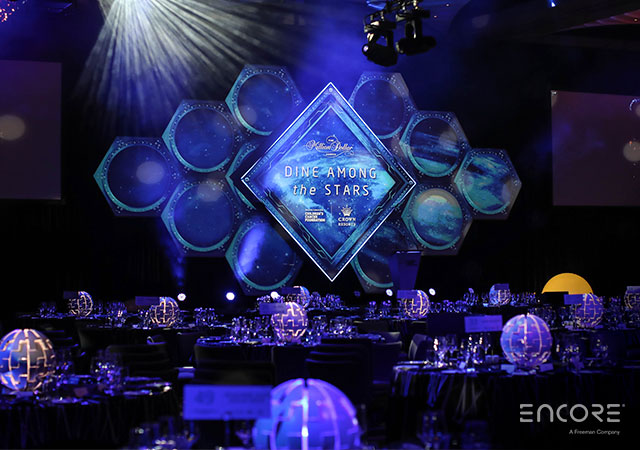 Another space inspired stage set our team designed for the Think Brick awards was inspired by a glamorous, galactic brief and created using 12 LED screens, configured into four arms. The huge screen configuration resembled a futuristic spaceship and was rigged above a central stage, allowing for all guests to have clear site lines of the stage and on-screen content.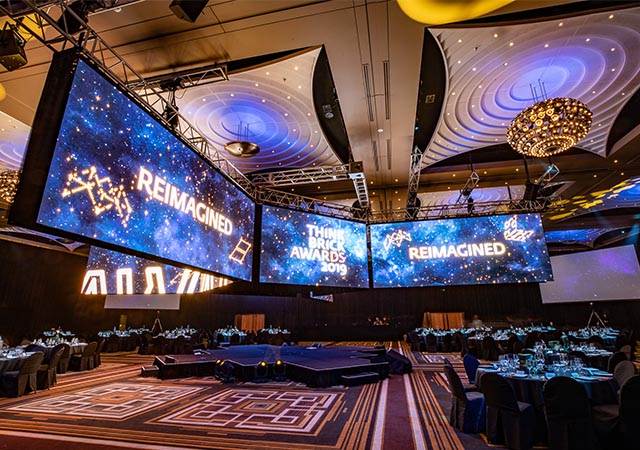 A simple, yet highly impactful stage set for space themed corporate events can involve Encore's Floor to Wall LED Screen. The effect of the content and crystal clear resolution can make the presenter appear as though they're standing on a planet or flying through space. 
At a more basic level a space themed stage set can be achieved by using an internally-lit Event Backdrop, custom printed with stunning space themed visuals which pop in the darkness. Combine your set with up-lighting on 3D Scenic Panels for a futuristic look. 
Use Multimedia / Content 
Multimedia is the most effective way to transform a venue into your perfect space-themed event. Use space inspired designs to make your on-screen content come to life. 
• Use every blank surface and turn them into a futuristic space scene with the use of projection mapping. Project planets visuals onto spheres to create the solar system. 
• To truly transport, use table projection mapping to turn dinner settings into a futuristic odyssey experience. 
Any surface in your venue offers the opportunity to be themed with digital styling. Remember, every piece of content whether it be digital or printed should be on theme. 
Twinkling Galactic Ceiling Installations 
What do people do when they think of outer space? They look skyward.
Don't waste the chance to give your guests an awe-inspiring encounter. Have them looking to the stars with a galaxy inspired ceiling design or installation. 
You can create stunning galaxy ceiling installations using crystal beaded curtains above guests at a space themed gala dinner.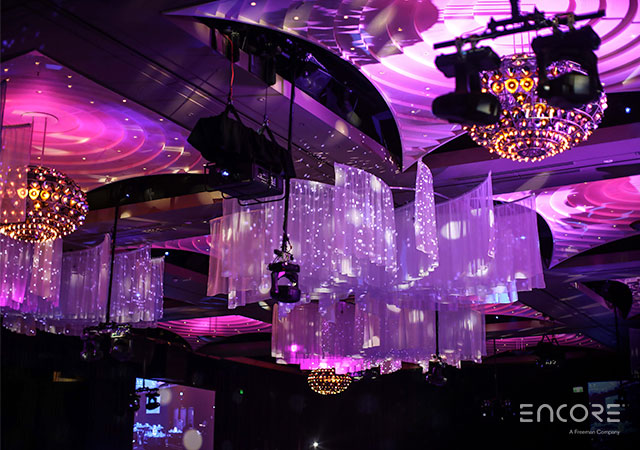 For a corporate end of year celebration in New Zealand, Encore used drapery, star cloth, lighting and fans to emulate the stunning Northern Lights.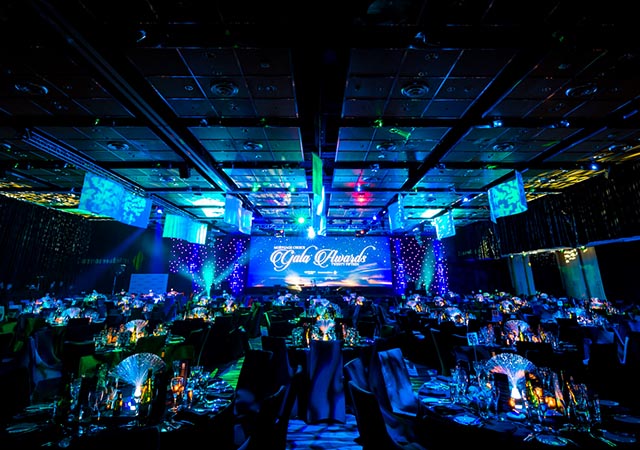 Adding an extra dimension, our Kinetic Lighting system can turn your events ceiling into a moving masterpiece. Use our sphere LEDs to recreate planets or the Solar System. Star Wars fan? Our baton Shaped LEDs make the perfect lightsabre inspired ceiling installation.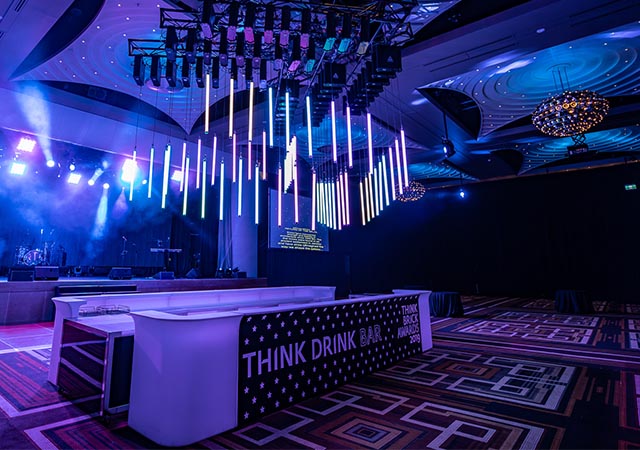 Where the budget is limited, small scale decoration can be just as effective. Use blow up planets and rig to the roof to create a solar system. Combined with the right lighting effects this can be simple yet effective.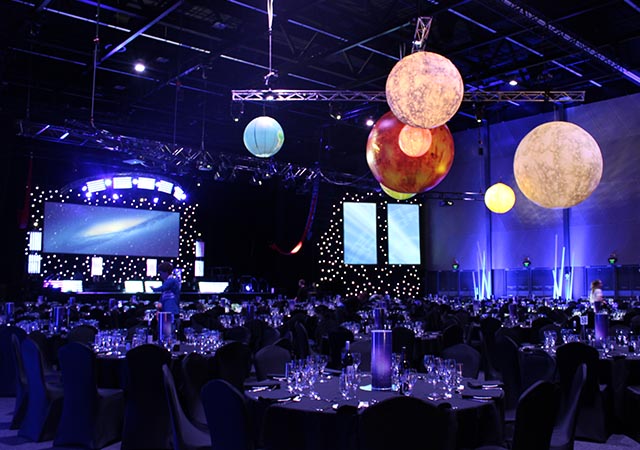 Space Themed Centrepieces 
Depending on how you want your tables to be decorated, the choices for themed centrepieces are numerous. Spaceships or astronaut figurines offer an easy and usually inexpensive decorative option.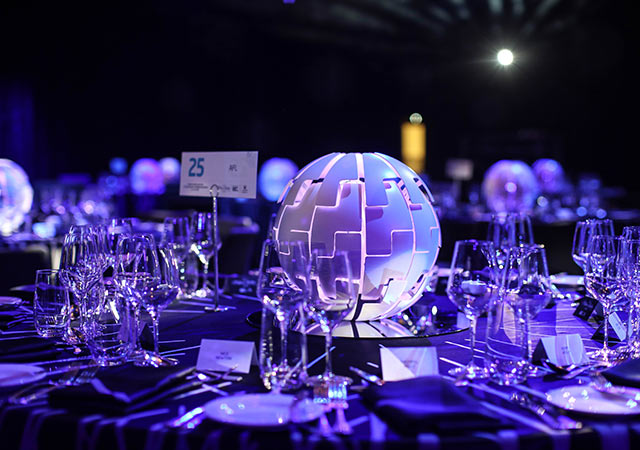 You can't go wrong with Star Wars figurines for an iconic space theme centrepiece. Everyone knows them, even if guests are not sci-fi fanatics, they certainly deliver and on-theme look. 
If models and figurines are not your preference, try using crystal beads in a glass vase with colour pin spots for a cool galaxy-like atmosphere. The idea is to be on theme will all decorative items.
Centrepieces are often an immediate talking point. Guests who may not be well acquainted are given an easy way to break the ice with this engaging theme to talk about. 
Lighting Design 
Here's where things get interesting. The correct use of lighting can seriously ramp up your outer space theme, add mystery and excitement.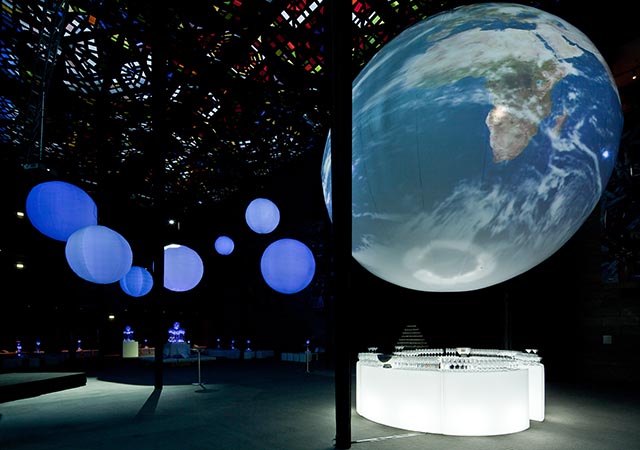 • Lasers, haze and lightsaber installations can be used with great effect to create a futuristic setting. 
• Gobos projecting space-themed objects across the venue walls and floors 
• Add more layering by mixing lighting with smoke and low fog machines for that dancing on the clouds effect. 
• Or even use lighting to create the effect of the ground being moon-like in appearance. 
Whether you're going for a futuristic feel, iconic space or a romantic galaxy mood Encore's lighting designers can create the perfect setting for your event.
Sound FX and Audio Design
There are so many audio options, so listen up! 
Take the time to watch a few episodes of a favourite spaced themed movie or TV show for sound inspiration. The clicks of communicating aliens, the roaring of rockets blasting off, voices from astronauts from days gone by, or just plain spooky atmospheric sounds all work to create a space-feel environment. Use sound throughout the night to build momentum at the start, and add drama and suspense before performances or speeches.
Work with your AV company to implement some clever audio design and play with sounds from different speakers to create that immersive audio effect. The sound of a rocket drawing closer can be achieved through clever audio design. 
Space Themed Performances & Entertainment 
Now depending on your budget, this can be truly an unforgettable experience. Take your guests to another dimension with an alien invasion or a NASA inspired planetary exploration with rockets and satellites abound!
Have your guests greeted by astronauts at the door, or seated by an array of Star Wars characters, the choice is yours.
Encore have even projection mapped beautiful imagery onto dancers turning their performance into a moving part of the visual story. 
Having your entertainment interacting with your set is possible thanks to holographic and gesture control technology. Imagine having your presenter appearing on stage as if they are speaking as a hologram from outer space, or sitting in a rocket, all are possible thanks to our holographic projection screen. 
Neon Tube dancers are also a great way to introduce roving acts which provide colour, light and movement to any event.
Aerial artists can perform with the Kinetic Lights around them to make them appear as though they're in space or surrounded by lightsabres if you're using the baton shaped Kinetic Lights.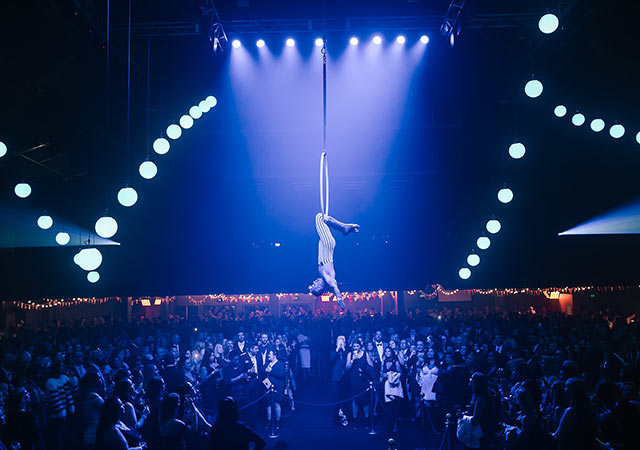 Another form of roving entertainment is, of course, the purposeful attention-grabbing performance by costumed roving actors. Adding roving acts to your event offers next level memories. Whether there to entertain, or roaming among the guests randomly, the interaction level increases dramatically and gives guests a great photo opportunity. 
Speak to the space theme experts 
Encore are experts at designing truly unique space themed corporate events. We combine our state-of-the-art AV technology with our limitless imagination to turn a blank canvas into an immersive and transformative space setting. No matter your type of event, budget or venue, with over 35 years in the business you can count on Encore to design the perfect space inspired event to achieve your objectives. 
Ask us to show you the best ways to transport your guests to a memorable out of this word experience.
Contact us today for an obligation free discussion about your event. 
May the force be with you. (It had to be said).