Virtual Reality (VR) is a hot buzzword in both technology and event circles right now. Like most new technology, it takes some time to understand all the possible applications and determine the best uses for each industry.
Virtual Reality refers to a computer generated or 360° video environment (or hybrid of both) that a viewer can explore freely, usually while wearing a VR headset. VR creates a world the viewer can explore as if they were really walking around in it. When a VR experience is created using a filmed environment, it uses numerous 360° videos stitched together to create a seamless environment enabling the viewer to navigate through the VR experience.
This is different from a simple 360° video, which is a single panoramic video that gives the viewer a fixed, single position to watch it from. Viewers can look left and right, up and down, but not control where they go.
What you see is what you get
Encore Event Technologies has used VR to great effect for pre-visualisation of some of our client's events. When the designs for the stage set, styling, vision, and lighting are completed, we use VR to show our clients a completely realistic and immersive simulation of exactly what their event will look like. Our VR experiences are so advanced, they can even see their video content running on the screen, and watch the lighting effects render exactly as they will during the event.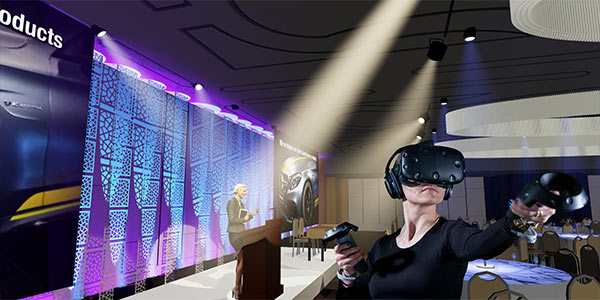 Image of person wearing VR headset viewing with a 3D pre-visualisation of their event.
Using VR for buy-in, budget and expectation management
As an event planner of a large-scale event, a pre-visualisation of the event using VR is the ultimate peace of mind – you will know exactly how everything will look and feel, and you can wander freely through any vantage point in the venue; on stage as a performer, seated as a guest, and anywhere in between. It's also an amazing tool to help get buy-in from within your organisation – marketing can sign-off on brand look and usage, the CEO can be shown what to expect when they walk on stage, and most importantly, whoever is approving the budget can be clearly shown what they're getting for their investment.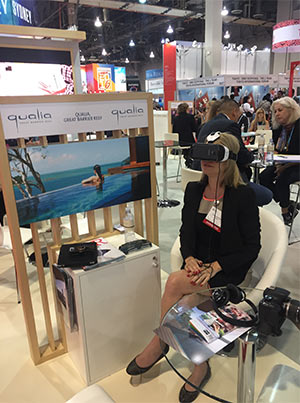 Image of Virtual Reality used at the 2017 IMEX Conference in Las Vegas showcasing a luxury accommodation brand.

For engagement and value-add to marketing, sales and sponsors
Virtual Reality technology has been used to great effect by tourism operators to enable trade show visitors to experience key attractions, or visit resorts. Product demonstrations are also becoming popular at events to give attendees an interactive demonstration without needing them there. This is an especially great opportunity to display large, bulky products where it would normally be hard (or impossible!) to get them to the event.
Partner with the experts for using Virtual Reality in your event
Whether you're looking to showcase, inform, demonstrate or entertain, Virtual Reality provides event planners with a myriad of solutions and uses in both the pre-planning phase and during the event. Encore Event Technologies are leading the way with pre-visualisation in the event industry, and are excited by the possibilities of bringing VR to life for your event. Contact our team today to discuss incorporating VR into the pre-planning phase of your next event.