The second annual and fiercely competitive, Hilton F&B Masters is a multi-faceted competition that encourages Hilton food and beverage employees to showcase their talents to both management and industry colleagues. With a recent $4 million dollar refurbishment, Hilton Brisbane was the perfect venue to host the prestigious event. As in-house AV and event services provider, the event gave Encore Event Technologies (previously Staging Connections) the chance display their own expertise in AV production services and venue management support, and reinforce the fifteen year strong partnership between Encore and Hilton.
Using Audio Visual to create a competitive atmosphere at Hilton Brisbane
Encore were engaged to produce two exhilarating events using world-class audio visual solutions, lighting and multimedia production, providing a 360 degree solution in both the pre-planning and execution of the event. With conceptual planning meetings with Hilton General Manager, Chris Partridge, advising on venue logistics, room design and all technical and styling requirements.
The theme was "The Olympics of Food" showcasing the competitors in a modern and innovative way with the energy and excitement of a reality cooking show demonstrating their talents as culinarians, baristas, cocktail mixers and sommeliers.
Encore installed six robotic cameras throughout the ballroom above each competitor's station to ensure all the key moments were captured. This effect was further enhanced by a roaming camera crew that captured action shots, interviews and 'vox pops' with various industry celebrities. Each competitor pod was complete with its own unique projection design to assist with both defining key areas across the ballroom and also providing a stimulating and engaging execution of visual design content.
The team provided expert on site assistance and audio visual services including, a 30ft screen, six hexagon screens, motion graphics, formatting and Digital Banners to create unique and interesting competitor bios and promotional shots of all the happenings at the event.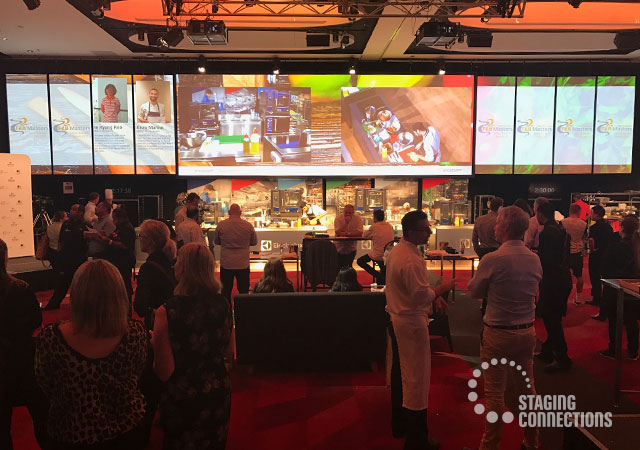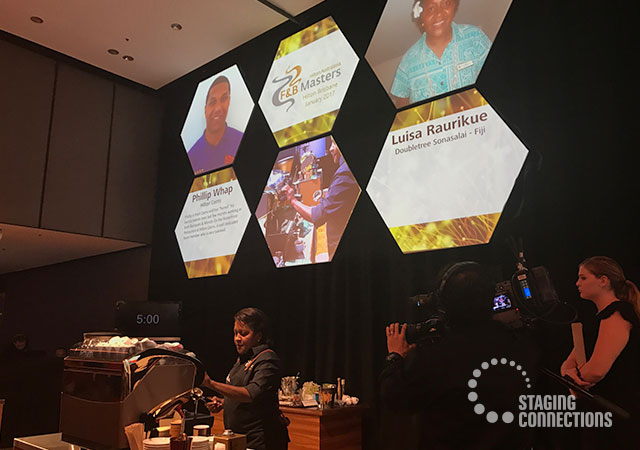 To create an overall stylistic design and guest experience, Scenic Panels were used as a soft room divide between Culinary and Bar Pods, successfully concealing general infrastructure from view and creating flow throughout the room. A beautiful solution to enhancing the Sommelier area, the Scenic Panels were used as a reflective wall panel, increasing the white light creating a dramatic effect in the area.
The Fleur patterned Scenic Panels assisted in not only defining the event space but also providing the desired lighting effect. The space had a cohesive and seamless look and feel, and helped keep the focus on the talented competitors.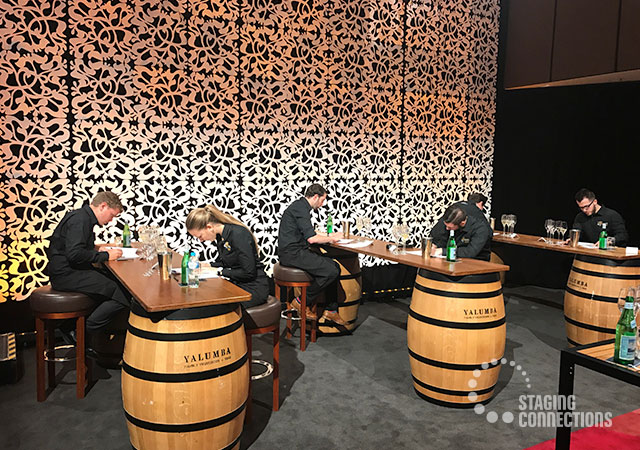 Encore created an inclusive and visually stimulating event space through clever use of design, styling, and digital expertise. It was particularly important the delegates were able to freely roam the rooms which was achieved by ensuring there was a clear line of sight to all projections across the room. Overall the entire solution by Staging Connections resulted in an innovative, engaging and successful event.
What was the result of the event production?
For the second year running the event showcased industry talents, and wowed guests with their skills. Encore helped created an inclusive, informal networking event, capturing the key moments of an event that is unpredictable in its nature.
"From the get go, Encore (previously Staging Connections) applied their expertise and creativity to build up the Hilton Australasia F&B Masters Finals held at Hilton Brisbane in January 2017. The working relationship with both the hotel based team and Technical crew supporting the F&B Masters event enabled a good understanding of the brief for this year's events and contributed to a seamless and stress free project. The brief to showcase four competitions running concurrently in the newly renovated Grand Ballroom with live video feeds on various displays capturing the essence of the event and creating great impact was more than achieved. This was the second regional final and raised the bar to the next level. It is really great to be able to have full confidence in a partner whose ownership of the production was, in my mind, flawless."  Chris Patridge, General Manager, Hilton Brisbane