For this year's annual conference, Capital S.M.A.R.T raised the benchmark when it comes to corporate events. Partnering with Encore and other event specialists, they immersed their leadership team in a themed conference experience over two days, making a lasting impression and setting the bar high for conferences to come.
Clever theming transforms a conference into an immersive event; delivering key messages in a dramatic and memorable way. 
Event Brief
Staging Connections partnered with Capital S.M.A.R.T to assist with delivering their annual conference in 2015 for 120 members of their leadership team. The brief was simple, to support the Capital S.M.A.R.T event team produce an amazing conference experience by providing outstanding audio visual, staging and event design services.
The conference objectives included:
To recognise Capital S.M.A.R.T's recent success and future plans, and
To share the company direction and vision as they enter their 7th year of operation.
Whilst it's important to deliver an engaging experience for attendees, it is vital these key messages are communicated effectively and the best way to ensure this is by transforming a conference into an immersive event.
An immersive event differs from a typical styled event, as the event theme is woven into every touch point, and not just the event day itself – from the invite, to the entrance way, the room environment, catering and post event communications.
Event Solution
Staging Connections worked alongside Capital S.M.A.R.T and several specialised event service providers to craft and deliver an immersive two day event. When these event services are used harmoniously, they truly transform your event into a memorable branded experience.
As the objective underpinning the conference was to recognise the company's achievements of celebrating entering their 7th year of operation and communicating the direction for 2017, Staging Connections worked with Capital S.M.A.R.T to bring their '007 Bond' theme to life. This theme was integrated throughout every aspect and acted as the creative 'glue' tying everything together in one cohesive message across the multi-venue event.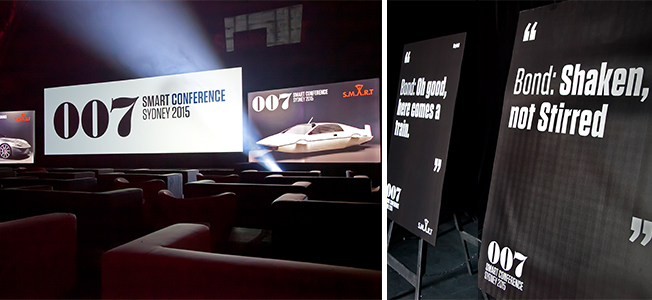 The Welcome Reception and concluding awards night were hosted at Park Hyatt Sydney and The ivy, venue partners of Encore. As the main conference demanded more space to cater for the days' activities, it was held at Fox Studios' Stage 7 – specifically chosen in keeping with the 007 theme.
Working in conjunction with the event partners, the '007 Bond' theme was woven into every aspect of the event and it was our role to enhance this theme via first-class audio visual solutions, staging services and event design.
Right from the Welcome Reception at Park Hyatt Sydney, attendees were treated to a teaser of the 007 Bond theming with eye-catching creative banners and on-screen graphics created in-house by Capital S.M.A.R.T.
It was during the main conference at Fox Studios where the team truly shone. Numerous audio visual, digital, staging, and design elements were employed to create the captivating event environment. The end result of the collaboration was a truly immersive conference where the audience was enveloped in the theme, the brand and its vision, ensuring the event's talkability for months to come. Features of the event included:
Famous James Bond quotes hung on easels lining the red carpet entrance.
A dramatic lighting sequence grabbed the audience's attention and revealed silhouettes of James Bond and his three Bond girls.
A kabuki drop,  which on queue to the Bond music, swiftly revealed the main meeting space, which also housed a dramatically-lit Aston Martin DB9 Vantage hero car with licence plate "007MI6" .
Intelligent moving lights gave the conference a Hollywood film ambience.
Custom-designed furniture in the brands colours were surrounded by black drapes, evoking an intimate feel to the space.
New company branding was revealed with logos projected through gobos.
The main presentation screen was flanked by two 4m x 2.4m internally-illuminated Event Backdrops – which are high-resolution images printed onto large canvas screens.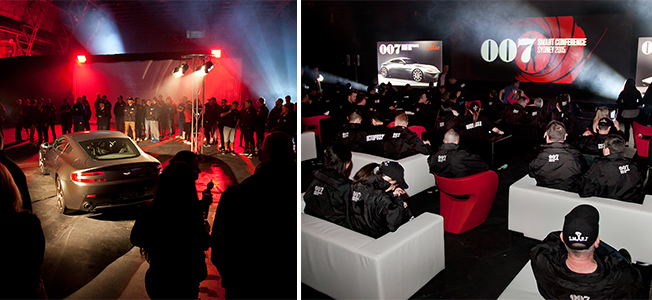 Guests revelled in the continuation of the themed experience at the Awards Night at The ivy, with James Bond movie highlights projected along the entrance hallway. Staging Connections designed custom martini centrepieces overflowing with crystals highlighted with table pinspots to reflect the theme's bold colours.
To maximise the return on investment and ensure the attendees' journey was completely themed, Staging Connections' cost-efficient Event Backdrops were utilised at the conference sessions, and as the stage background and entry foyer feature at the awards night. Guests had their photographs taken in front of the striking 007 Bond themed Event Backdrops, with many sharing their photos on social media, lifting the brand's engagement and social media penetration.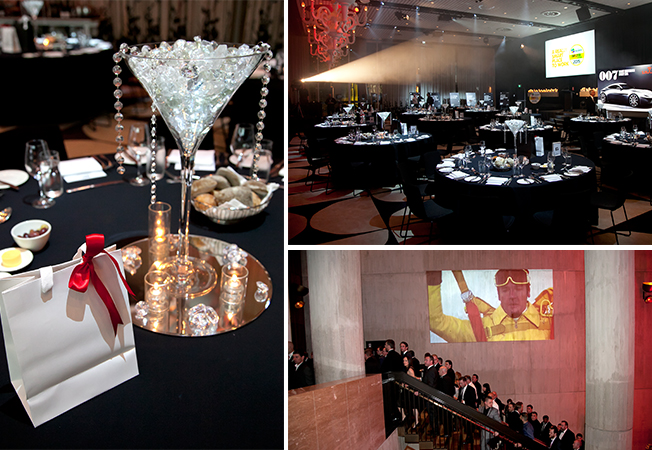 Encore integrated a variety of sensory elements into the conference, focusing the attendees' attention away from everyday life and transporting them to an immersive, memorable environment. By weaving a uniting theme through all parts of the conference, the key messages were reinforced at every stage, delivering a stronger brand experience for everyone involved.
What did the client say?
 "The event was a fantastic experience for our leadership team, and provided a clear message on the future direction of S.M.A.R.T.  The development and execution of the weekend with Staging Connections was a collaborative and efficient process. They were able to turn our vision into a reality with cutting edge technology and industry leading knowledge. The entire team at staging connections were fantastic to work with."  Evan Camilleri, COO – Capital S.M.A.R.T
 "First class service from the whole The Stagging Connections team, the smallest of detail made a real difference.  We were amazed to see how quickly Fox Studio's Stage 7 was transformed from concept to reality so quickly!" Carmel Cannizzaro, Program (Event) Manager – Capital S.M.A.R.T
Organising a corporate event or conference? Contact Encore today to see how we can transform your event into an extraordinary experience.