This year we're shaking things up! Conferences, gala dinners and sales incentives of yesteryear typically seated guests in a formal style. Whether it be banquet rounds, cabaret, theatre or u-shape there was only really one seating option available for the duration of the event. To refresh the formal vibe and encourage networking, event planners are opting to include a new seating arrangement in their mix – introducing the Lounge Zone.
The new seating style: The Lounge Zone
Want a stylish and sophisticated event with a relaxing networking environment? Then let's start lounging around. Turn your next event into a formal event with a difference. With some simple styling and soft furnishings event organisers can easily create a lounge zone within the main event room where guests can enjoy the night after all the formalities have concluded. One of the main reasons guests attend events is to meet and network with colleagues and industry members. Whilst traditional seating arrangements provided effective structure for the main event, they often stifled inter-mingling as you were allocated that seat for the entire event. This is a great to way to provide a comfortable area for your guests to enjoy and relax.
How to create a lounge zone at your next corporate event:
Add sofas, chairs, coffee tables, bar tables and ottomans in clusters to form this creative space. Dress with lots of fresh flowers, candles and even some themed products to add a splash of theatrics to the design. For example add large tassel cushions on the floor for an Arabian Nights theme, or poker and roulette tables for a casino theme. Or introduce colour to the design to compliment a corporate branding colour. Custom branding is also another way to personalise the event. Such branding can include custom decals on bars, plinths, mirror bases or even custom centrepieces. Large non slip floor decals can also be incorporated to the design to create a feature in which a lounge zone can be created around.
Branding is a great way to enhance an event. Use large items such as urns of flowers, plinths with centrepieces and custom bars to add height and highlight the area.
In smaller venues, the sofas and chairs will naturally create an intimate area, but for the bigger venues and spaces you may like to consider making false spaces with the use of sheer curtains, string or crystal curtains and cut print screens. Such items can be hung from over head rigging, or free standing rigging can be erected for venues without rigging available. For a recent event we produced in Adelaide, we used custom designed Event Backdrops to act as a room divider but also to enhance the 'Spy' theming of the event.

Add overhead lighting to enhance the area while adding ambience to the space. Other theatrical lighting such as gobo lighting can be projected onto the area to create texture and style.
Boutique style and cocktail weddings are a rising trend – so get creative and combine a lounge area with all the finer details for modern day weddings.
Here are some examples of lounge zones we've created for various gala dinners, conferences and sale incentives: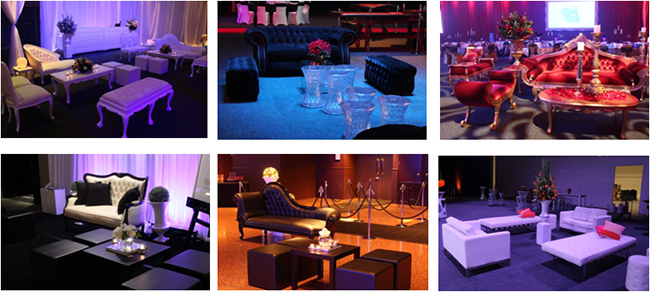 Keep lounge zones tight and neat
Consider zones being viewed from all angles
Add lighting to enhance
Pick a solid colour palette and use small amounts of complimentary colours
Use texture to add style such as flowers, cushions and candles
Add tables for places to sit drinks
Use ottomans to add additional seats without using too much space