Have you ever dreamt of hosting a conference or awards night in New York City, Paris, or even Marrakesh?! Whilst this will always remain a dream for some meeting planners, our talented stylists share some clever ways you can transport your guests for a fraction of the cost!
Destination Styling: Transporting your guests to a new place
Take your guests away with you to an exotic location! Popular 2016 destinations will include Rio, Morocco and San Francisco. Centrepiece and table styling will be key for these destinations! A statement ceiling installation and stage look will tie the look cohesively and make an impact. Remember to give your lighting design some thought as it will create the mood for your event. Soft furnishings will also create a comfortable space for your guests, try using coloured silks to drape over lounge furniture and intricate Moroccan ottomans to enhance your theme.
Time Travel Styling: Go Back in Time
Pick an era and go back in time, popular eras for this event season will include 50's rock'n'roll and 70's disco. 50's style is all about transporting your guests to a time where everyone did the Lindy Hop and wore poodle skirts, try combining checked print with soft baby pinks and powder blue for authenticity. The most important elements for this look are the dance floor, props as well as furniture styling and design.
Disco is king in the 70's! Try combining bright vibrant neon colours as well as a ceiling installation of disco balls to create a sensational event. Remember to include floral patterns and prints into your event and try using multimedia projection to recreate a psychedelic atmosphere. Use 70>'s floral inspired patterned cushions or bold rugs to create statement designs at your next event.
Retro 50's will rely heavy on the set design. Try creating a 50's American diner with a black and white check dance floor. Use red vinyl seating and a jukebox as well as a milkshake bar to really hit it home. Colour palette for this look should consist of pastel blue, pink, yellow and green.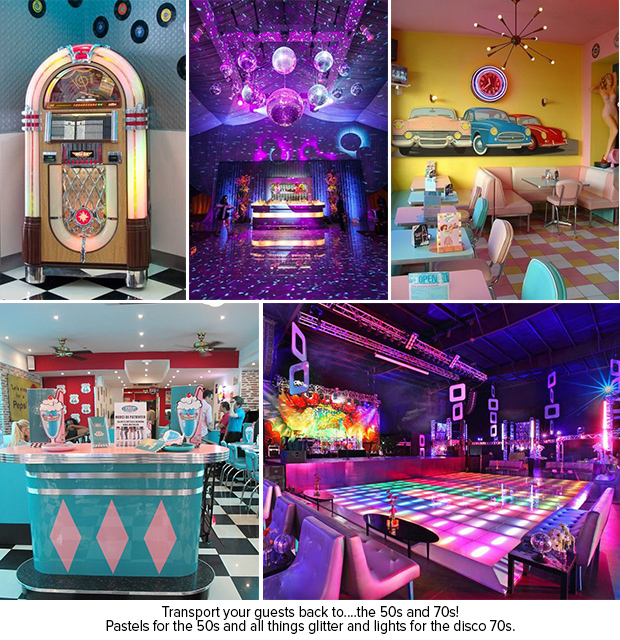 Key Styling Tip: Soft furnishings are your friends!
Soft furnishings are essential in creating inviting spaces. The trick with soft furnishings is to use them in a way which compliments to existing interiors present. This is a cost effective way of changing up your in house venue furniture if you are trying to be budget conscience. On the other hand, printed textiles are fantastic to adding details to your event. Textile choices can include banquet overlays, napkins or even carpet to really elevate the colour palette or corporate branding!
Related Articles
For more styling ideas visit Event Styling and Theming or view examples of our Recent Work.