Celebrities unite in support for men's mental health at the Men in Black Ball. Our team pulled out all the stops to deliver an impactful backdrop to the Men In Black Ball in support of men's mental health and fight against depression with the Momentum Forum Events Australia charity.
The signature black tie event included testimonial speakers, live bands and entertainment, a 3-course gourmet dinner. MCs for the night were Tim Gossage and Chiara Zaffino from Network 10.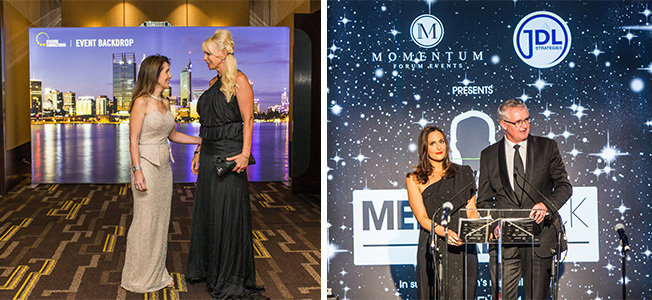 Our team installed their latest design products, Event Backdrop at the event – a striking 6m x 3m illuminated screen with VIPs photographed in front. Guests were invited to 'get social' with Event Tweet – a platform for social media integration onto large format screens. Plus there was Staging Connections' usual array of class-leading technology AV and design and produce the stand-out event at the Pan Pacific in Perth, 12 June 2015.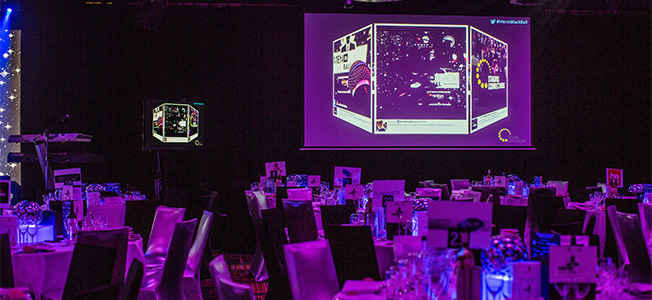 Event Tweet kept audiences entertained and engaged throughout the night and extended the event into the social sphere.
Glamorous celebrity guests and socialites were in attendance and bought the event and the charity into the spotlight.
Carly Melderis, Pan Pacific Perth commented on the stunning event backdrop and the audience engagement throughout the night,
"The impressive Event Backdrop could be seen from every angle and had a huge presence in the room. The team used moving and LED lights to compliment the backdrop and create a dynamic atmosphere.
"The client wanted to increase the events presence on social media so our Event Tweet platform worked wonders. Once the guests saw their photo's and posts appearing on screen everyone was getting involved, posting their photos and comments which was great to see.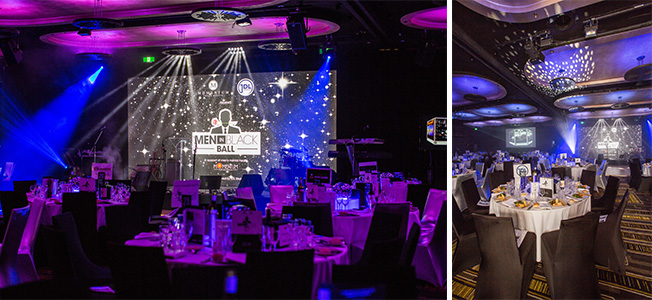 Event Backdrop was used as a spectacular branding solution on stage.
Barbara McNaught, CEO and Founder of Momentum Forum Events Australia was delighted with the result and commented on how the team contributed their event,
"The Men in Black Ball hosted 420 guests and had a five star quality and delivery. The service and food were excellent. The challenging amount of guests were handled very professionally by the team. We keep receiving very positive feedback from the guests. Great acknowledgement for Staging Connections for their contribution to the layout of the room as well as sound and visual."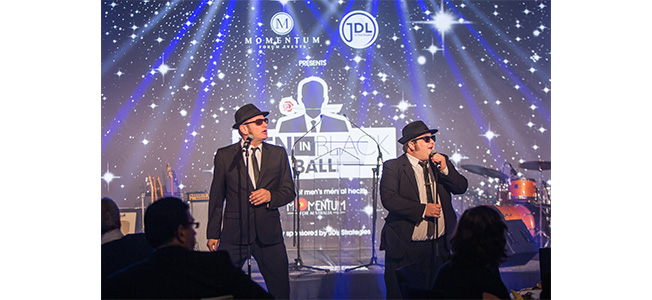 Guests were treated to a fantastic performance by a Blues Bros. cover band.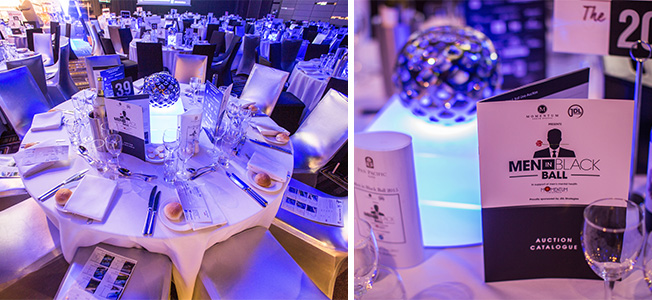 Table settings were clean and sophisticated with a touch of glitz and glamour added with the crystal ball centrepiece.