As Leatrice Eiseman, Executive Director of the Pantone Color Institute commented, "colours this season transport us to a happier, sunnier place where we feel free to express a wittier version of our real selves." We recently discussed how colours are an immensely powerful tool that can influence our event attendees' moods. Taking the lead by the colour experts, we show you just how easy it is to style your next event so it's on trend this Spring!
The 2016 Pantone Fashion Colour Report outlines that the colours this season are influenced by the world of art, new global doors opening and the desire to disconnect from technology and unwind. The designers who selected the colours were drawn towards a palette that is first and foremost calming.
Designers were also inspired by the contrast of urban design and lush vegetation, leading to unexpected colour combinations and collections reminiscent of architecture, travel and nostalgia. By creating looks that truly represent the world we live in, both constructed and organic, designers sought to awaken a sense of reflection, followed by playful escapism.
Taking this influence to the world of events, our Styling team from South East Queensland, have put together a range of exuberant centrepiece ideas and styling ideas to enhance your next event!
1. Event styling with Pantone 'Peach Echo' and Pantone 'Buttercup'
Our fun, groovy Combi Van centrepieces conjure up memories of love ins, surfing holidays and road trips past. The vans come in pale blue, red and yellow. They're ideal as a table centrepiece, combined with scattered shells and votive candles to brighten up a beach theme. Go all out and use personalised thongs as place cards, or make an entry feature out of freestanding Malibu surfboards!

2. Event styling with PANTONE Green Flash and PANTONE Iced Coffee
You just can't beat the calming, reviving influence that plants have on your mood. Combine an assortment of small plants and shrubs on your table in a geometric terrarium. Address issues of global or local importance and make a statement by using greenery at your next event – plants used as centrepieces can be donated to organisations like Landcare after the event and used for rainforest revegetation projects. 

3. Event styling with PANTONE Fiesta and PANTONE Lilac Grey
Custom printing a wrap allows you to achieve any colour combo, or unique brand colour you like! Bring in elements of a James Bond or Casino Royale theme using these red, grey and black centrepieces. Graphics can be used to create the right look, you can even include corporate imagery logos, marketing material or just beautiful pictures and text. Coordinating your centrepiece graphics with printed menus or screen content will create a cohesive story throughout the room. 

4. Styling with PANTONE Limpet Shell and PANTONE Serenity
Use lighting in a range of blue hues to bring an electric atmosphere to any event. Add classic and contemporary crystal centrepieces, to emulate diamonds in a luxurious environment. Classic hurricane candleholders are elegant and understated, or embellish with crystal votives for extra sparkle or heighten the luxury with our dramatic spiralling floral stand with its long facetted crystal drops.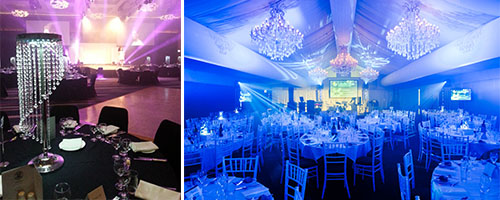 Colours this season transcend cultural and gender norms, so are perfect to liven up event environments. Vivid brights evoke a sense of excitement and optimism, although subtle stability prevails in this season's palette.
Integrate some of Pantone's renowned wisdom on colours into your next event. Ask our team of experienced stylists to create an atmosphere that achieves all your event objectives, whilst looking stunning and leaving a positive impression on your guests. 
Our Brisbane, Gold Coast & Sunshine Coast Events Team
Our South East Queensland events team is based between Brisbane and Gold Coast and comprises some of the most talented design and styling professionals in the industry, offering event excellence across 7 key venues.  If you're looking to host your next corporate event in Brisbane, on the Gold Coast or event at the Sunshine Coast, than we're the  experienced  events team  you  can rely on. We proudly offer Australia's largest range of event services across audio, lighting, staging, vision and extending to styling, multimedia and digital event solutions like webcasting, live polling and event social media. Get in touch with us today or call 1800 209 099 to speak with one of our event experts.
Event Styling by Encore – South East Queensland