We are thrilled to forge our new partnership with Sea World Resort's Conference Centre and invest in the latest technology for events in this new conference centre on the Gold Coast, and all existing function spaces at Sea World Resort and the Paradise Room at Sea World Theme Park.
Sea World Resort Conference Centre recently hosted VIP corporate event planners for their inaugural event, and we look forward to an ongoing commitment to providing unique and outstanding events with our wonderful venue partner.
The Event Brief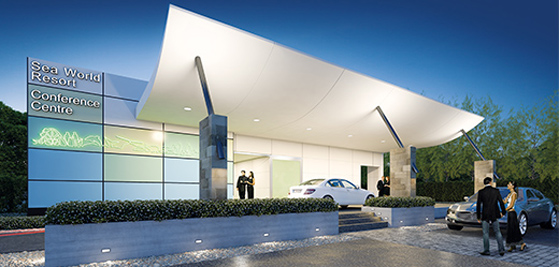 The Staging Connections team were engaged to design, create and deliver the farewell lunch for the Day 3 famil program for Gold Coast Tourism Corporation – setting for 80 VIP guests in the new Conference Centre at Sea World Resort.
Caroline Duveau-Clayton, Sales Manager Conference and Events at Sea World Resort, wanted to create the essence of Sea World Resort, basing the theme on 'Ocean' elements and also integrating 'fun' elements to the lunch to encompass Village Roadshow Theme Parks, the parent company.
The Audio Visual Solution
VIP guests had a memorable welcome at the entrance by various characters from the Village Roadshow theme parks; magnificent horses and cattle dogs from Australian Outback Spectacular, Teenage Mutant Ninja Turtles from Sea World Water Park plus Marilyn, Austin from Warner Bros Movie World with some farm animals from Paradise Country also making an appearance.
A red carpet marked the grand entry, and this newly constructed building was officially opening its doors for their first corporate event!
To add a touch of theatrics to this memorable event, the entrance and spacious pre-function area was lined with black and yellow hazard tape, bright orange witches-hats and workmen who hi-jacked the stage during the welcome speech. With this the workman, started a percussive dance utilising various work tools, culminating in a short tap routine which finished with them announcing the centre is now open for business, tearing off the hazard tape and opening the glass doors.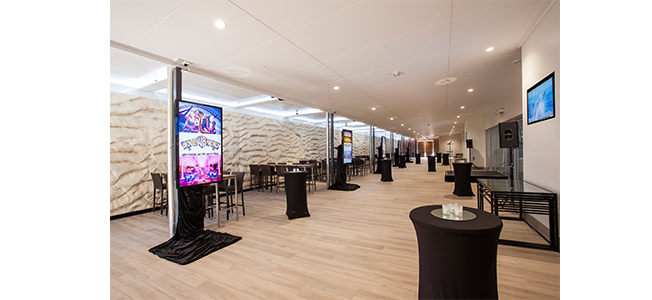 Entrance hall set-up with plasma screens
The room was filled with subtle blue lighting, based on underwater colours and patterns. The tables featured a blue crisp and white stripe runner and a cylindrical vase filled with coral, beautiful shells and star-fish filled with water and placed on an illuminate light box.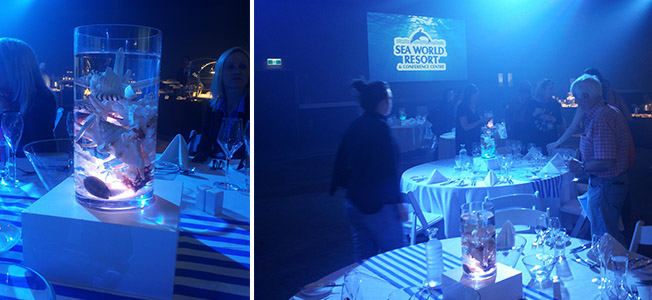 'Ocean' themed table centerpeices with blue wash lighting to enhance theme.
An underwater ocean scene was projected into all screens and overlayed with the Sea World Resort logo, creating a beautiful ambience whist guests wined and dined.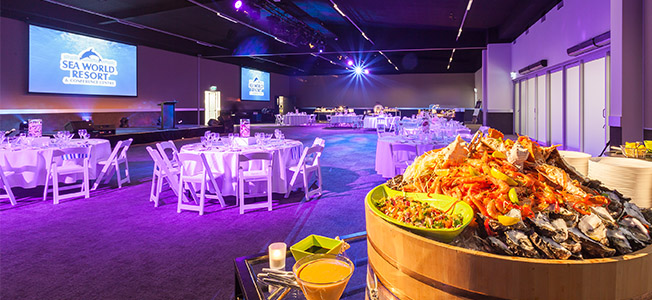 Theme of the night was 'Ocean' with abundance of seafood on offer for guests.
Entertainment included a History of Music routine by "Those Tap Guys" and an impromptu dance routine by the Teenage Mutant Ninja Turtles filled the room with high-energy, leaving guests laughing, clapping and dancing.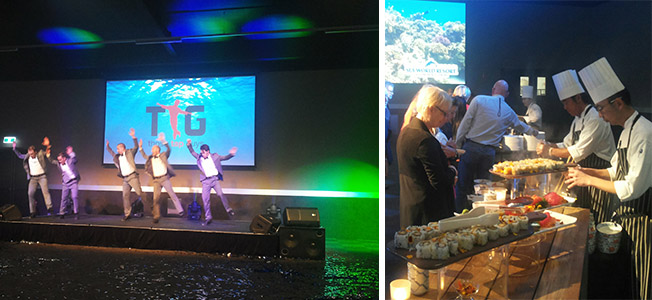 Left: Those Tap Guys performing on stage. Right: VIP guests treated to buffet experience prepared by world-class chefs.
If you are interested in hosting your next event at Sea World Resort Conference Centre please visit Venue Locator.