Encore produced the launch event for the newest Chinese auto company to enter the Australian market at the Carousel Albert Park in Melbourne. The launch event saw Haval Auto introduce three new models, the H2, H8 and H9.
Haval's brief was to impress its dealers with a new way of presenting the cars. The standard launches for the auto industry have been car under cloth reveals, with run music and pretty girls to pull the cloth from the car. Haval wanted to break this mould and show the world that this was no ordinary car launch.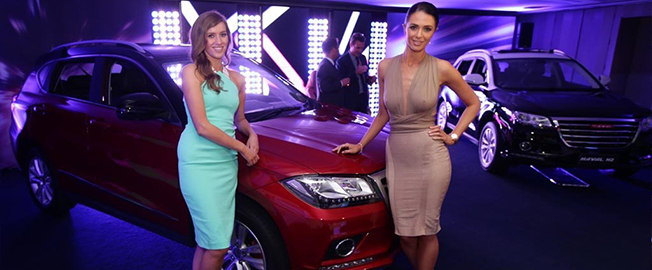 Because each of the three models launched had very individual personalities there was a great opportunity to produce a different atmosphere and theme for each reveal to give each car a chance to shine.
Haval wanted to open up the room to allow the audience to be part of the theme and experience each car's personality.
As well as the car launch, there was also a unique ribbon cutting ceremony by company VIPs to introduce the Haval brand to Australia.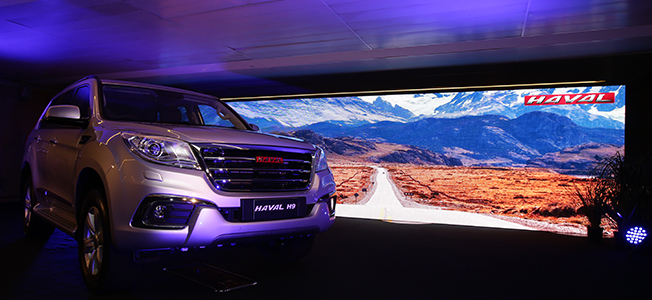 To achieve the three individual themes, the Carousel was split into three areas:
Welcome and elegance – delivering a classic feel, with red up-lit walls, the Haval logo projected and a stylish chandelier, with styling elements in-keeping with traditional Chinese influence. Guests were photographed alongside a huge media wall and encouraged to sign their name on it and encourage engagement.
A dramatic performance of Chinese dancing drummers then commenced.  Presentations by the Haval CEO and team and ribbon cutting ceremony followed, to reveal the new H8 driven by three Bachelorettes (2 pictured above) from the latest season of Bachelorette Australia.
Champagne and oysters were then served while guests viewed the new car.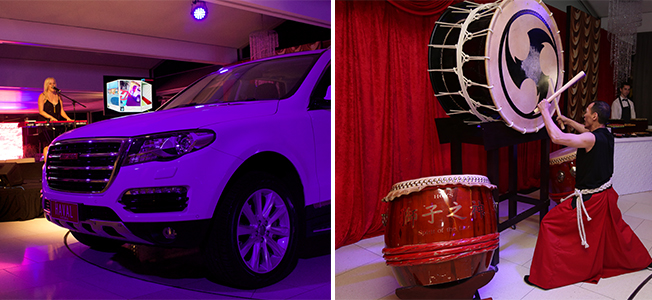 Outback Australia – providing an adventure feel and rugged looking visuals. As the music stopped the soundtrack of adventure grew as a curtain pulled back to reveal he H9 car. The car was spot-lit by floor to ceiling LED walls with a backdrop of mudflats, mountainous peaks, snow clad glaciers and sand dunes. This reveal included food and drink changes an outback feel with roasted meats, salads, beer and wine.
During these reveals, the other side of the room is still dark and covered…
Funky urban jungle – An electrical noise sparks the attention of the crowd. Pixpads blast light through the drape and urban beats starts and the curtain is pulled back revealing a plasma wall showing graffiti multimedia. LED lit furniture is placed around two H2 cars with a Gin and Whiskey bar theme. On either side are city scapes and modern art as a backdrop to the cars.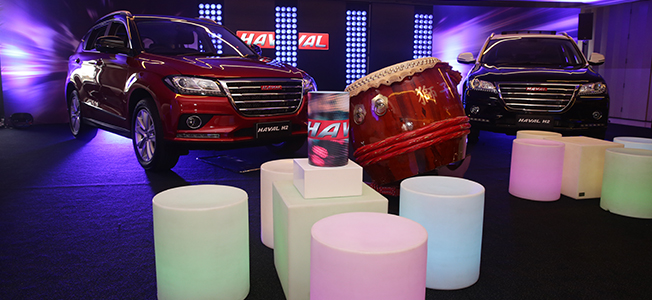 To further engage with guests Event Feed was used so that they could display their tweets, photos and social media posts on large screens throughout the event. (Pictured above next to female performer).
Guests, car dealers and media were enthralled by proceedings. A truly new-age car launch was born, raising the bar for all local car launches.