We unveiled our newest product offerings at an exclusive function for 100 top event professionals and major clients, at the Hilton Sydney. The inaugural Event Masterclass – an evolution of Staging Connections' popular Backstage events – provided an in-depth demonstration of the latest products, services and event trends.
Unveiled for the first time was the newest addition to our digital portfolio – an interactive touch-screen presentation platform due to go to market in 2016.
The team were excited to show clients new technologies that will propel their events to the next level. Whilst Inteli-Touch is yet to officially be released to market, it was exciting to see where event technology is heading and show our clients some of what they can expect to see from us in 2016 and beyond. Our team scour the globe for the most impressive, boundary-pushing technologies, and touch screen displays are just one of the many new solutions we will be adding to our product suite this year.
Set within the Hilton Sydney Ballroom the team showcased the latest screen products available in Australia including a gigantic 27m x 5m curved screen, six modular digital banners (pictured below), and a suspended Event Backdrop.
Paul Hutton, Vice President Operations, Hilton Worldwide was impressed with the technologies on display.

"From the moment we entered the ballroom the effect of the curved screen was overwhelming, it provided the perfect backdrop for the Event Masterclass, and combined with all screens in the room really brought our event to life," said Mr Hutton.
The Event Masterclass demonstrated the latest capabilities of Encore's popular event technology, Event Poll and Event Feed, and the latest in webcasting, 3D projection mapping, multimedia and motion graphics, digital screens and projection. The team's latest work was presented including examples of stage design using state-of-the-art projection mapping for wide and curved screens as well as 3D objects.
One of the most talked about products of the evening was the Event Backdrop which featured two custom printed canvases, one suspended above the other, to create a 3D entrance to a wine cellar (pictured below).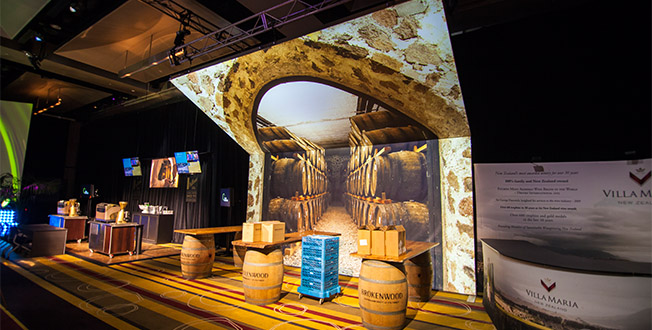 The Event Masterclass coincided with the Hilton Food and Beverage Masterclass – an internal competition for Hilton worldwide to showcase and reward their talent. It gave Encore an opportunity to use their latest products in a real, world-class event environment.

Encore's Sydney Events Team
Our Sydney team comprises some of the most talented design and styling professionals in the industry, offering event excellence across key 4 and 5 star venues across NSW.  If you're looking to host your next corporate event in Sydney, than we're the  experienced events team  you  can rely on. We proudly offer Australia's largest range of event services across audio, lighting, staging, vision and extending to styling, multimedia and digital event solutions like webcasting, live polling and event social media. Get in touch with us today or call 1800 209 099 to speak with one of our event experts.