We're only halfway through the year and the last thing on most people's mind is Christmas. The many months that separate July and December give the illusion that booking a venue and planning a holiday event is not a pressing matter. You, however, are a savvy event planner, and you know that Christmas venues are already being booked up, and the time for planning a knock-out Christmas party is now.
To help you get into the Christmas spirit and holiday party-planning mindset, the team in South East Queensland has released a selection of Christmas party styling themes so you can start planning a stress-free and beautifully enchanting holiday season event. This year, we're offering party planners a collection of fresh ideas and some popular revamped classics. Whatever vibe you're aiming for with your Christmas party, our Christmas themes can help you blow your party's attendees away. Whether it be a sit down gala dinner, held in combination with your annual awards night or a poolside cocktail party, all of our Christmas party themes can be customized to meet the needs of your Christmas event's budget, venue and brief.
A Fairytale Christmas event theme
Fairytales come to life in this beautiful celebration of Christmas. Christmas is a magical time of year surrounded by enchanting tales that warm the hearts of the young and old. This year, we'll be recreating the magic of these tales in our revamped, "Fairytale Christmas" event styling concept.

This theme is all about incorporating rich reds and textured fabrics, like velvet, into your styling and table centrepieces. Add traditional European, medieval-like decorations to your table style to create a luxurious and decadent atmosphere. Ensemble centrepieces of Victorian urns filled with glossy red apples, berries and roses.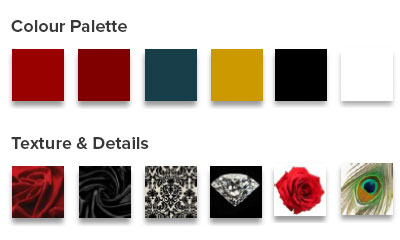 Bring warmth to the table by adding clusters of red ruby glass candle holders throughout the table. This Christmas styling concept works best on long king tables, which adds a regal atmosphere to the decadent affair. If you're looking for an enchanting traditional event style for your office Christmas party then this is the perfect concept for you.
---
Glittery Winter Wonderland event styling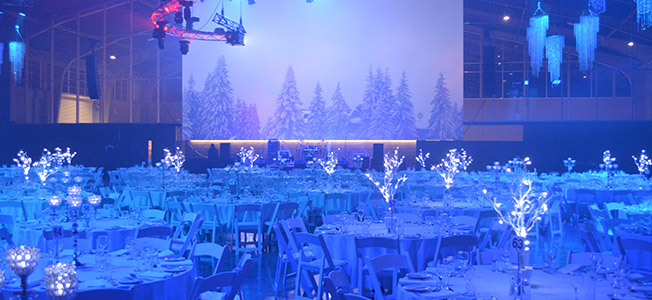 There is such childlike joy in the thought of snow and we so rarely get to experience its delights here in Southeast Queensland. Whether it be for a festive Christmas event or a stunning gala evening, we can create a magical frozen fantasy to transport your guests to a world of winter white and starry nights. Ethereal snowflakes drift around the room, across sheer chiffon draping in the ceiling and walls of black star-cloth, settling upon a landscape of pristine linens in the purest white. Austere, bare branched centrepieces drip with icy chandelier crystals that twinkle in the light creating a sparkling canopy at every table.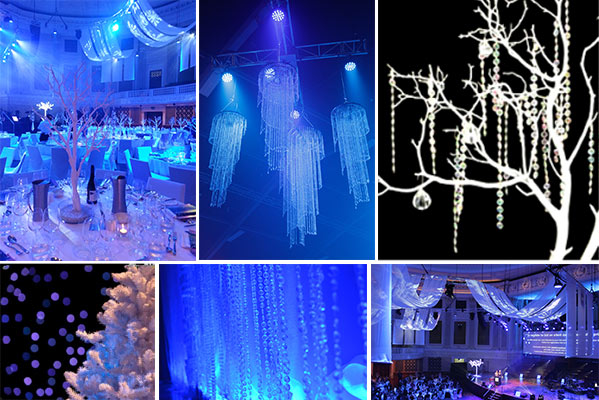 With our Winter Wonderland Christmas party theme, your guests will be transported to a world of sparkling white reminiscent of the gleaming north complete with all the enchanting  trappings of a white Christmas. Enhance this frosty winter theme with a custom printed Event Backdrop of a Winter Wonderland, or consider projecting snowflakes across your venue walls, or display wintery vistas across a set of digital banners or widescreens. With our range of audio visual technology and lighting systems, we are literally boundless with how we can make your event standout and truly memorable for your guests.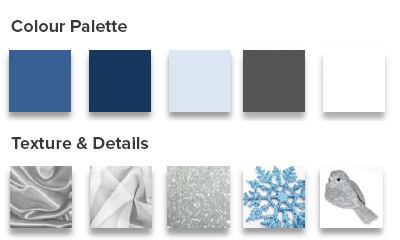 ---
Immerse your guests in our 12 Days of Christmas event theme
Undeniably a favourite Christmas carol, we've brought the '12 Days of Christmas' to life as an immersive holiday event theme. With the application of the latest in digital technology, there are limitless ways to make a real impact at your Christmas party with this theme by turning your event into a live countdown to Christmas.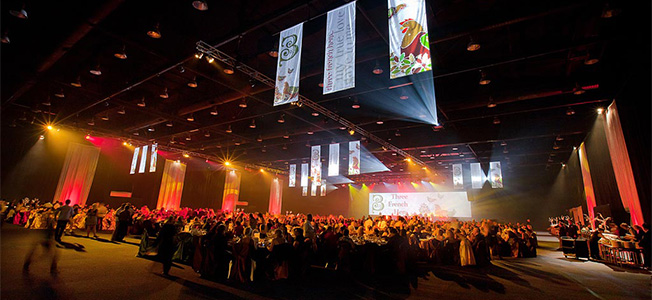 Coordinated graphics can be projected onto screens to create a 'room look' that changes every half hour to the next day of Christmas, eventually coming to rest at the Twelfth day.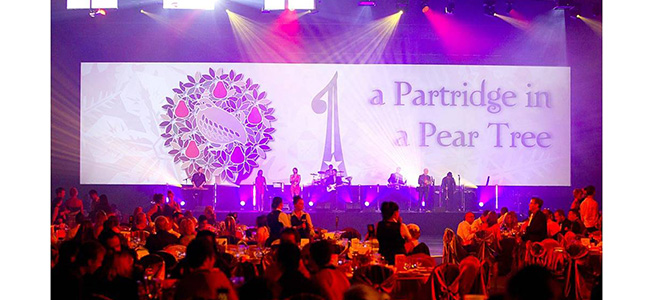 This is a contemporary design concept that celebrates an elegant and romantic Christmas tradition. Festive table linens, in shades of Gold, Cardinal Red and Forest Green, create a luxurious atmosphere. 12 different centrepiece designs depicting the 12 days of Christmas coordinate beautifully with the colour palette.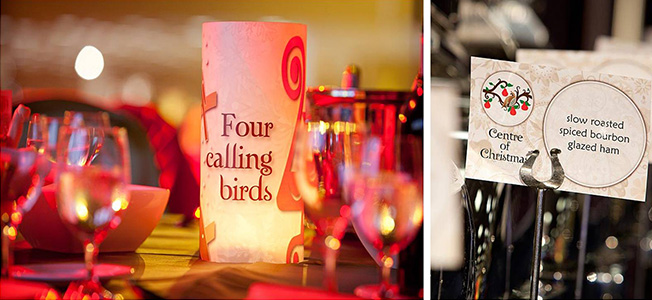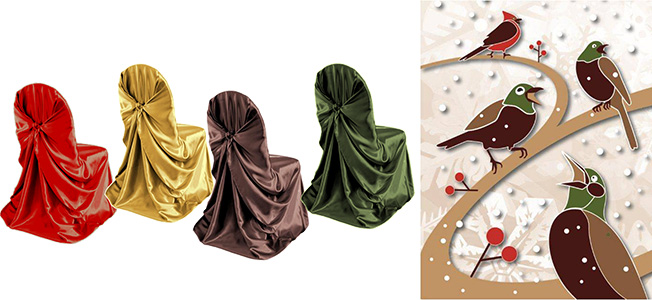 This Christmas, create a tonne of excitement at your Christmas party or holiday event with our 12 Days of Christmas party theme.
---
Platinum Colour Pop
Add a burst of colour to sophisticated and clean styling with our new Platinum Colour Pop concept. Along crisp white table clothes, silver sequin table runners add sparkle and a sense of luxury to this styled Christmas party look. Our beautiful silver Manzanita trees are decorated with silver baubles all with different finishes and textures, accented with bright pops of colour. Chair covers in silver grey are arranged with coordinating 'feature chairs' to match your accent baubles.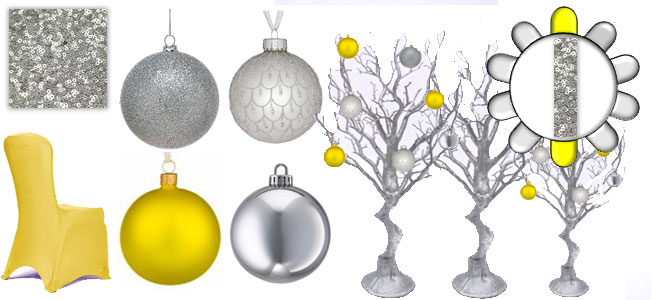 This holiday theme comes with an entry feature or stage backdrop that includes our lovely and very versatile crystal curtains and spiral chandeliers. To complete your holiday party theme, you can include coloured lighting to match your accent colour in order to create a cohesive and impactful look for your Christmas event.
---
Party in a tropical Calypso Christmas event theme

A fun tropical style, the Calypso Christmas party theme is perfect for Queensland's hot Christmas celebrations. Featuring a riot of bright colours in chair covers and chevron print table runners, you can utilize different elements of this holiday party theme to coordinate or clash to give your tables individual flair. Our pair of pineapple centrepieces in Pink, Lime, Yellow and Teal are the perfect centrepiece for a Queensland Christmas!

For an authentic Aussie Christmas feel, you can add our beautiful floating LED orbs in and around a pool area if you have one available, or you can place them on your stage to add a lovely illuminated element to the décor of your holiday event.

---
Christmas Party Styling Top Tips:
Event Backdrop – An event backdrop adds a degree of versatility to your Christmas party. Using our range of Event backdrops is a great way to tie your Christmas party theme together while still highlighting your brand. You can use an event backdrop as a stage background, a media wall or as a photo wall.
Event Feed – A sure fire way to plan a standout Christmas party is to engage your attendees with a live social media feed. Our Event Feed platform software will pull social media posts with your event's dedicated hashtag and display them on a feed.
When it comes to adding drama to your Christmas party, lighting is your best friend. We offer a range of sophisticated event lighting options to ensure your party shines bright. From branded or themed roving gobos, uplights along the venue walls, to moving pin-spot lighting to make your tables come alive.
Change up your seating style – consider ditching the traditional banquet rounds for long king tables, or create a lounge zone at the back of the room, use a mixture of seating options for an eclectic look.
In addition to our beautiful and highly customizable Christmas party themes, Encore Event Technologies has a wealth of event planning experience. We have an event production team that can help you plan and seamlessly execute a Christmas party or holiday event that leaves attendees breathless with enchantment. If you would like to know more about our Christmas party themes, get in touch by calling 1800 209 099 or by sending an online enquiry.
Why you should partner with Encore for your office Christmas party
The Encore South East Queensland team have delivered countless Christmas parties and end of year office functions for over 30 years. We understand that when it comes to putting on a good show, you need creativity, innovative AV solutions and reliable equipment. Backed by Australia's largest range of event services, you can count on us to make your Christmas party a truly memorable one.