Cumulus has been replaced by Encore's new virtual and hybrid event platform, Chime Go.
Learn more about Chime Go here.
Now event planners can easily take their event from onsite to onscreen with Cumulus. The event app gives you and your attendees the convenience of accessing all event information at any time, everywhere they go. In an industry first Encore is offering the app for free when clients use them for their AV and event services.
Available on any internet connected device, Cumulus puts valuable event information in the hands of attendees in real time. Event organisers load and manage all event-specific content to the easy to use content management system.
Tony Chamberlain, Managing Director, Encore commented on the launch of Cumulus.
"Creating this new tool and providing it free of charge to our clients is another way Encore is working to make events more convenient, effective and engaging.
"The event app enables our clients to manage their own content, avoiding the need to use expensive third party app solutions or the need to print conference programs. The event organiser is in complete control of the content, making live changes at any time," said Mr Chamberlain.
Used recently at Grand Hyatt Melbourne, Victoria Damiani, Director of Business Development, commented on the benefits the app can bring event organisers.
"We're delighted to be able to offer a free event app to our customers who host their event at our hotel. We've found that people increasingly expect to be able to use their smart phones at events to obtain key information, and to be able to offer this service free of charge will be a real advantage to event planners who are looking for new cost effective ways to collaborate with their attendees," said Ms Damiani.
Every event planners must-have event app
Cumulus is a must-have app designed specifically for meetings and events. It is easily accessible on the go so all you need is an internet-enable device such as a Smartphone or tablet.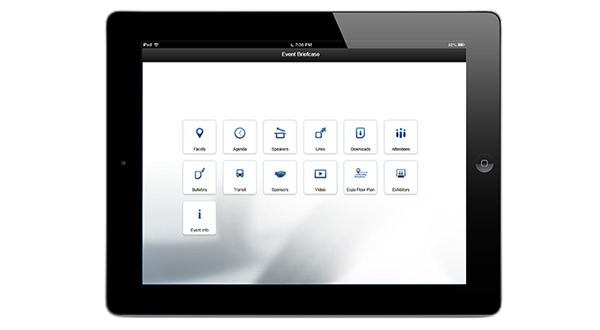 On top of its simplicity is the design flexibility. Cumulus can be designed to mirror your own branding, whilst also deciding which 10 features and integrations you'd like included such as venue details, agendas/session details, speaker bios, external links, downloadable documents, attendee lists, bulletins/updates, transport information,
Note: Cumulus has been discontinued, replaced by more advanced virtual and hybrid solution.