Every year, event professionals, venues, event agencies, and event service providers and suppliers make the pilgrimage to IMEX – the worldwide exhibition for incentive travel, meetings and events. This year, we sent our Marketing Manager, Adele Symonds, to Las Vegas to get the inside scoop on what's hot in the world of events and what we can expect to hit our shores. Below Adele shares her insights and experience after attending this year's event over two action-packed days in October.
IMEX 2016 was big, I mean really big. With over 3,250 exhibitors, 3,200 hosted buyers and 12,000 attendees you could forgive me for frequently getting lost. An event of this size could certainly use a mobile phone app that uses augmented reality to show me where I need to go – think Google Maps for IMEX.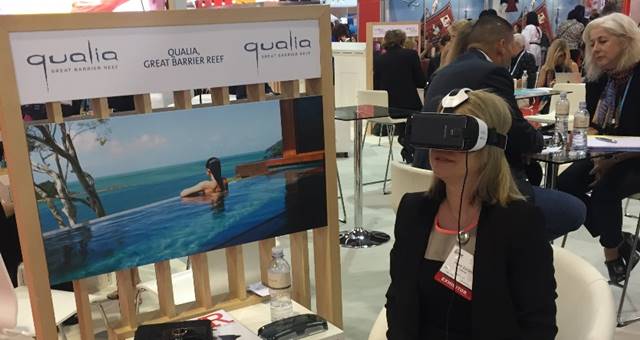 Pictured: Encore Event technologies; Marketing Director, Adele Symonds, enjoying a virtual tour of Qualia Resort at IMEX 2016.
IMEX claims to be the pulse of the meetings industry, and if the technology on show was anything to go by, our industry is set to embrace event technology like never before. Data will continue to be a critically important tool and future technologies will do more than just basic analysis. They will aggregate all the available data, enabling event organisers to understand where attendees went, what sessions they attended, what social media they used and other behaviour to give genuine return on investment reports and help improve future events.
There were four event technology trends that stood out for me:
 1. Wearable Technology for events
Apple Watch, Google Glass, even virtual reality—they're all going to become as common a sight at major events as your co-worker's Fitbit. Smart badges and wristbands will soon replace the name badge and the exchange of printed business cards. Everyone's wearing them already, so why not make them work for your event? These devices can serve not only to track attendee activity, but to market and promote your event as well, by sending messages and posting on social channels.
2. Beacons
Beacon technology is one that I had predicted we'd see more of, but it has been slow to be adopted.
Networking in particular can be greatly improved by using beacons to show users locations, stands and sessions in their area. Aimed at facilitating more meaningful connections, using beacons to connect people can create more memorable events. Particularly events as large as IMEX where connecting with the right people can be tricky.
Beacons assist by recognising attendees in the venue, and letting them join ongoing conversations with other users at the same session or function, enabling a new level of interaction. Tapping into this engagement, organisers can also run in-app polls in real time and drive survey responses from those same users.  Beacons can also be used for to benefit event organisers by tracking how people navigate their way through your event or exhibition. It provide amazing insights about how long on average people spent at exhibitor booths and can provide insight into how to improve your event's layout.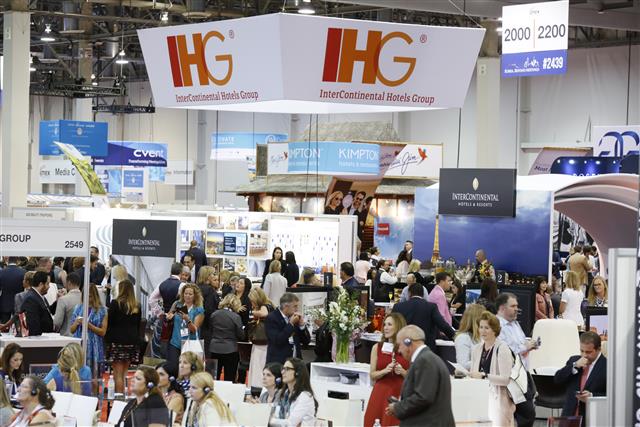 Pictured: Over 3200 exhibitor on show at IMEX 2016.
3. Holograms
I saw some really cool examples of hologram technology on the show floor, which will enable speakers who are unable to attend, the opportunity to connect with that audience. It will offer limitless opportunities for speaker sessions and entertainment.
4. Gamification
Gamification was another key theme at IMEX. I attended a great session 'Gamification is serious business', by Charles Beris from Play with a Purpose. The session investigated how brands can blend psychology with technology to create fun, competitive experiences that drive engagement, loyalty and brand/message recall.
IMEX America was incredibly interesting, exciting and, above all else, it was completely energising. It showed the strength of the global events industry, the creativity of event professionals, and gave an insight into what the future of events will look like.