Audio-visual (AV) itself is a powerful tool, but creative AV is even more powerful. It goes beyond purely communicating a message to creating meaning to the message and its context. In this way, imaginative audio visual solutions can become an event professionals' strongest weapon in their arsenal, greatly improving the marketability of a product or service. Below, we highlight how creative AV was used successfully in a recent event to sell not a product or service, but even a destination – Australia's capital, Canberra.
See how the iconic National Convention Centre partners with Encore Event Technologies to showcase the venue as the leading destination for business events in Canberra.
From 2 to 4 March 2017, Canberra hosted Top Secret, a leading initiative which attempts to sell Canberra as a popular destination for world-class business events through its vibrant events community. Encore was tasked by the Canberra Convention Bureau (CCB) and InterContinental Hotels Group (IHG), to create a dazzling and memorable lunch on Friday 3 March at the National Convention Centre Canberra (NCCC), in the middle of the event for over 40 special guests.
Encore took up the challenge. First, we decided to incorporate things Canberra is renowned for – the Enlighten Hot Air Balloon Festival and the beautiful Autumnal colours of red, orange and yellow. These colours also represent the brand colours of the NCC and the InterContinental Hotels Group, whom shared hosting responsibilities over the 3 day event. Guests of the lunch were greeted by a creative theatrical multimedia display.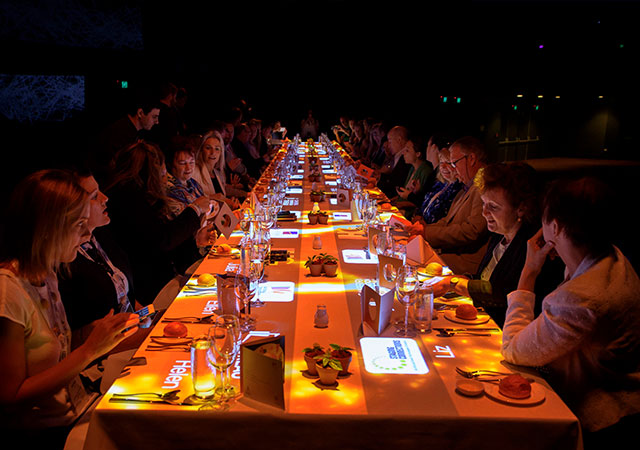 Deciding to opt for a more novel approach other than traditional event screens and event productions, and inspired by the hot air balloons that have become synonymous with Canberra's Enlighten Festival, Encore utilised a 3m inflatable sphere to create a mid-air floating screen. Beautiful imagery and multimedia was projection mapped onto the sphere turning the lifeless object into a stunning 3D artwork.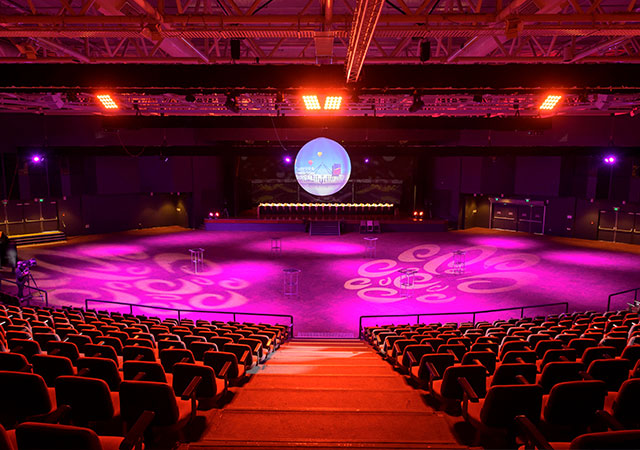 Coloured LED wash lights cast beautiful shades of Autumn's orange, amber and gold around the lunch room, which perfectly complemented the lunch menu. NCC's Executive Chef's, Nikhil Jain's, treated guests to a seasonal inspired menu and classic dish, Duck à l'orange, which was paired with Shaw Vineyard Estate wines to ensure every sense was indulged and payed homage to the local produce. Further captivating guests and adding a unique touch to the dining experience was the high definition projection mapping and multimedia on the table, curved walls, archways and beams, all themed to highlight the light, colour and movement of the Enlighten Festival held annually in Canberra. Tables came alive with colourful animations which changed with each meal, perfecting and highlighting the theme accompanying the menu. Individual dinner plates were also circled with white projection spots highlighting the food while guests' names were projected onto their seats, offering a unique personal touch and making networking easy.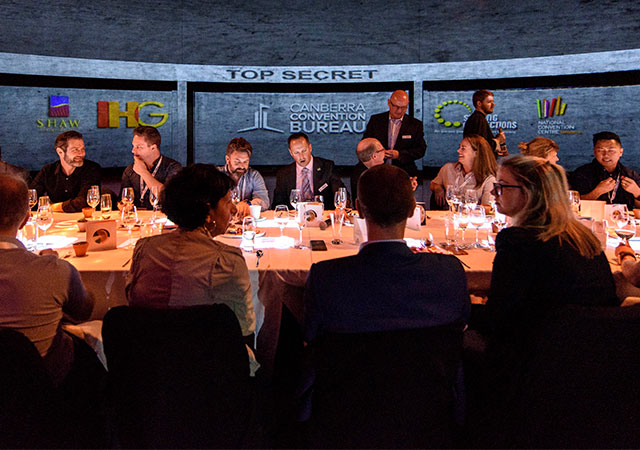 All in all, Encore created a truly enthralling and memorable event for the guests, with the NCC and guests extremely delighted with the outcome. The above successful use of creative AV only serves to prove the point that its use can sell practically anything – from a product or service to even a destination. Its power lies in the ability to (i) accentuate unique features of something or synonymous with something and (b) provide a personalised experience, one that is memorable and takes the audience's breath away.
Partner with the leading AV and event services company for your next event
Ensuring our events are a success is at the heart of everything we do. Whether you want to motivate, educate, inspire or reward; Encore has over 35 years experience delivering successful and engaging event experiences. With the largest range of event production services across Australia, New Zealand and Fiji we have the range and reach to deliver seamless events where ever you are. When you partner with Encore you're partnering with an expert team who specialise in audio visual production, event styling and theming, multimedia and content production and event technology like webcasting, online polling, event apps and more. A great event takes careful planning and the right resources, so don't waste another minute – get in touch with us today to see how we can take your event from good to great!