With winter well and truly on its way, and summery outdoor events drawing to a close we have taken some time to reflect and compile a list of essentials to guide you in planning for next Spring/Summer.
There's no setting for an event that can compete with nature itself.
If you're organising any kind of gathering that could take advantage of the season and a beautiful natural setting, or spill from the confines of a building into manicured grounds, then you should embrace the opportunity. Outdoor events may be casual or formal, held in grounds, parks, gardens or even remote, unspoilt locations. While getting out amongst it can add some logistical and physical challenges, this shouldn't stop you from enjoying the beautiful natural landscapes on offer. All you need is an experienced outdoor event company to take the stress and hard work off your hands. We have the equipment, strategies and processes in place to ensure that your guests are comfortable, entertained and delighted.
Putting on an event outdoors involves several considerations that either don't apply or are simply not an issue inside a venue. Temporary structures such as outdoor stages and rigging for mounting lighting and audio equipment must be assembled and tested by qualified personnel. Most public parks and gardens require special protection of lawn and other surfaces from what can be the harsh effects of wheeling in heavy equipment. Any structure that can conceivably become a sail area in a high wind must be rated to a certain wind speed, and the environment monitored accordingly. As noise restrictions in any outdoor space adjoining a residential area must be strictly adhered to, sound systems must be designed to optimise coverage for your guests while protecting any neighbours from nuisance.
Why you need the right people
Technical directors experienced in outdoor production understand these needs implicitly and work with event managers to ensure that the correctly qualified crew, right protective equipment and workable timeframes are in place to ensure your event goes without a hitch. Trained staff constantly monitor events in progress outdoors, keeping tabs on the guests, weather and equipment to ensure that any environmental problems are dealt with as they arise leaving you focus on other important aspects of the event. While going about these vital duties, it is great if your event staff can blend into the styling or theming. In one memorable case, Encore staff dressed as clowns to monitor equipment spread along the route of the Adelaide Christmas Pageant!
Given that your outdoor event is in the safest of hands, your next step is to determine just what kind of theming, services, lighting and audio your guests will need. Encore's event planners work hand-in-hand with you, drawing on their experience of outdoor events to make sure that everything that needs to be provided is accounted for. Technical experts determine the need for specialised equipment, such a portable power generation, battery backups and wind and weatherproofed audio visual equipment. Provision of AV for an outdoor event can be as simple as providing a small PA and lighting system fitted with rain-proof slip covers, or as involved as running several kilometres of cabling to power loudspeakers along the route of a road race.
Styling Tips for Outdoor Events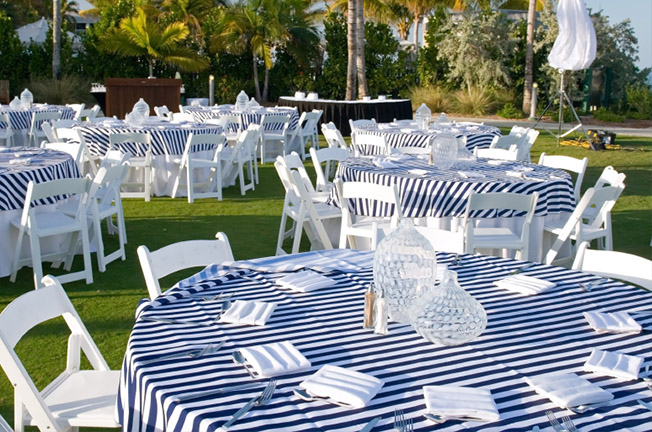 Just because having an event outdoors means you'll need to be more organised, this shouldn't deter you from taking advantage of the beautiful natural settings our country provides. Our stylists have listed a few short tips to help you start prepping:
The spontaneity of Mother Nature is the biggest factor. Without the control an indoor venue provides you need to consider rain, wind and most importantly safety. Consider the possibility of things breaking and any consequential danger involved. Avoid glass elements like vases or votives and tape or blu tak light or fragile items. The best way to prepare is to ask yourself 'What if?' If I want to hang paper lanterns – what if it rains? Therefore do I hang plastic or fabric ones instead?
Always have a Plan B. Always!
Avoid white linen such as tablecloths, napkins, and chair covers. They tend to easily get marked with dirt, leaves, ash from fire. If white is a non-negotiable then opt for a patterned tablecloth or table runner to provide some cover. Even incorporating large charger plates is a nice way of incorporating style to the tablescape whilst protecting the cloths from stains.
Use waterproof LED tea lights with long life batteries as real ones blow out – use flickering ones for best effect
Make sure you're water, wind and weatherproof
Staging an event in the Great Outdoors doesn't mean you have to forego any of the high-impact vision, lighting and sound that we take for granted indoors. Manufacturers of AV equipment have an internationally recognised standard for weather and waterproofing of electrical equipment, known as an IP Rating. IP stands for 'International Protection', and an IP rating on a piece of AV equipment, such as a loudspeaker will feature the letters 'IP' followed by two digits, e.g. IP65. The numbers refer to two tables of standards regarding the level of protection afforded against solids (first digit) and liquids (second digit). In the example of IP65, which is one of the most common ratings for AV equipment suitable for outdoor use, '6' is the highest level rated for solids, meaning 'No ingress of dust; complete protection against contact'. The '5' indicates that 'Water projected by a nozzle (6.3mm) against enclosure from any direction shall have no harmful effects.' The liquids rating goes all the way to 8, which indicates the equipment is certified to be permanently immersed in water up to one metre deep. Video, sound and lighting equipment rated for outdoor use will be quite indistinguishable from its indoor equivalents, both visually and in terms of performance. Most often, it is exactly the same product, with added design innovations that close any gaps or holes, cover any electrical contacts and seal in any point where cables connect. It is entirely practical to build enormous LED screens, concert sized PA systems and a full lighting rig that can operate happily in all but the most adverse of weather conditions. The key thing for technical staff to roll out and monitor correctly in this scenario is power distribution. The equipment most susceptible to interference or damage from the environment on an outdoor gig is usually power cabling, power supply racks and power amplifiers for loudspeaker systems. Staff should be trained in the operations of high-voltage equipment that may be affected by rain or water, and they should always ensure safety is the first priority under any conditions.
Wanting to host an outdoor event? Get in touch with our event experts today!
Love learning the latest in event technology and delivery? Download our range of

free White Papers

today.