Having a theme in mind is one thing. Bringing it all together to create a memorable event is something quite different. One of our favourite event concepts is creating an enchanted garden. The theme gives our event designers the creative freedom to design a magical setting across all elements of the room. And who doesn't love magic?! An enchanted garden or forest is a popular theme because it taps into fond childhood memories where our imagination ran wild. And the goal here is to replicate these warm feelings of nostalgia with subtle triggers thanks to creative event production techniques. 
Our expert event styling and design team have put together these helpful ideas and inspirational tips to make your enchanted garden or forest themed event something to be remembered.
So, where's a good place to start?  Try the entry door.
A Portal to Paradise – An enchanting entry feature
The doors leading into the venue can be just as much a part of the experience as what's behind them.
Inviting entrances are key to creating a sense of initial excitement and setting the tone for what's to come.
More traditional forest themes would see vines creeping up the doors along with foliage real and artificial coupled with lighting to evoke mystery.
For something a bit different you may want to go with the not so obvious.
Think Narnia. The wardrobe was the entrance to another domain. Take inspiration from any of these kinds of fictional stories to create any entryway seemingly unassumingly.
Your guests' interest is piqued from the start.
Who knows? Behind those doors may be another world.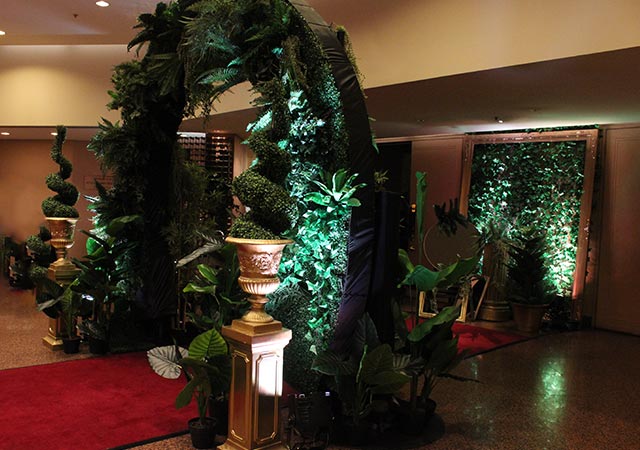 An enchanting entry way featuring lots of lush foliage, ornate mirrors, golden urns and a red carpet.
Sound and Vision – Creating a magical event atmosphere
Bring everything together as one. Designing an event that feels cohesive and seamless is the ultimate goal of an event designer and can be done with some thought and incorporation of great audio visual solutions like the following.
Use warm colours to accentuate the magical feel of an enchanted forest. Fairy lights are your best friend, as are star covered cloths. The use of gobos will add movement and create layers of texture and ambience. Chandeliers add extravagance and enhance the sense of a setting being something quite opulent. Candles or tea lights always work well to soften and create a mood and add warmth to your table styling.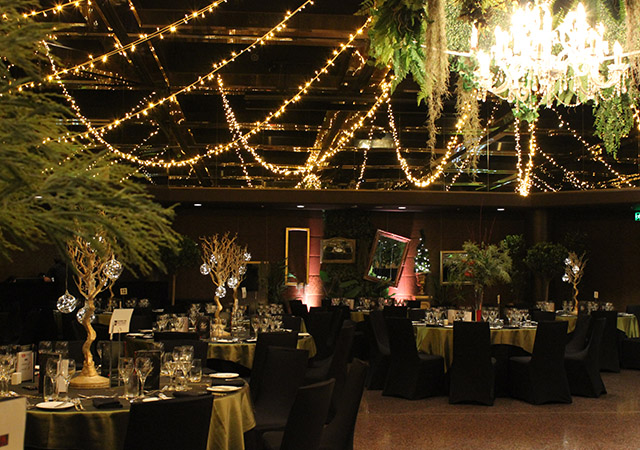 Fairy lights and chandeliers offer warm and elegant lighting options for enchanted themed events.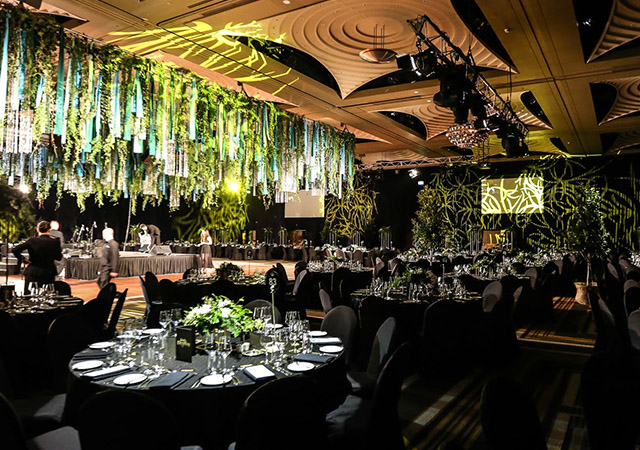 Green,amber and gold lighting and decorative gobos are clever ways to fill the room with a magical atmosphere.
The appearance of lowered ceiling height will create a sense of intimacy. A warmer more magical feel can be created using draped fabrics, low hanging vines, florals and even tiny twinkling lights. Real foliage, ferns and leaves will add authenticity.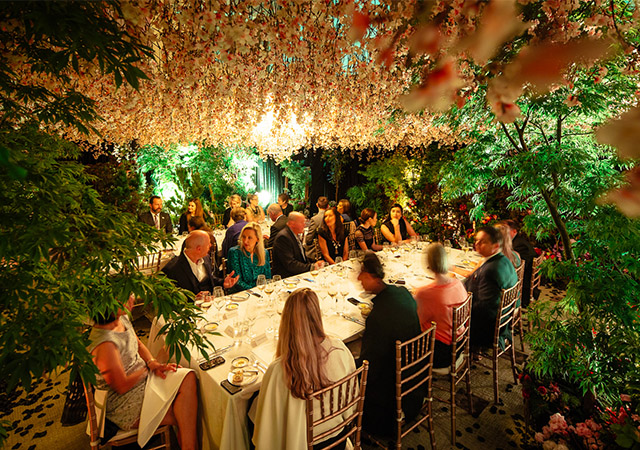 Floral installations are a great way to create depth and make the space feel intimate.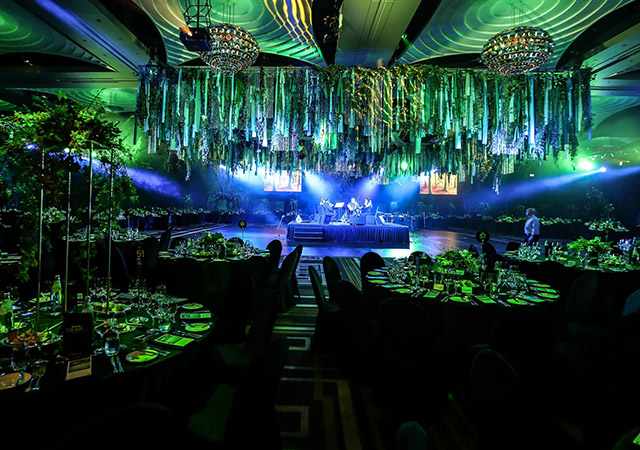 This garden ceiling installation was created using a mixture of real and fake foliage, green fabric and crystal beading.
Any stage can be transformed into a raised clearing on the edge of your enchanted forest with beautifully designed event backdrops. Walls of plants used purposefully with other greenery props and golden ornamental mirrors.
Giant screens depicting forest creatures, or scenic imagery with cameras panning from the tops of trees to the forest ground.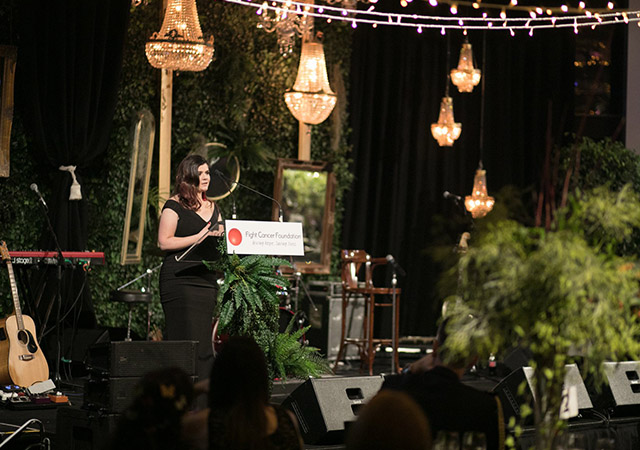 Dressing the stage with greenery, mirrors, chandeliers and gold decor creates a an elegant, enchanted look.
This is where you can transform your guests. We are all visual but our sense of hearing can be our most powerful sense so combining your event audio and sound FX with your visual elements will complete the picture for your guests. Whistled breezes, animal sounds both sweet and alarming, or rain beating on leaves will have your guest stop and listen and transport them to your magical world.
Think about your guests when considering your centrepiece design. Obscured vision can be an oversight and dramatically affect a guest's experience. Decorate with a purpose to have the seating blend in with the rest of the room. Branches, ferns and vines can all create the right feeling.
Let's not forget about the scent of the forest. Tea lights and scented candles are an option where individual table adornment is preferred. Incorporate natural materials like woods, and twisted willow branches and avoid potent fragrances. Subtle works much better.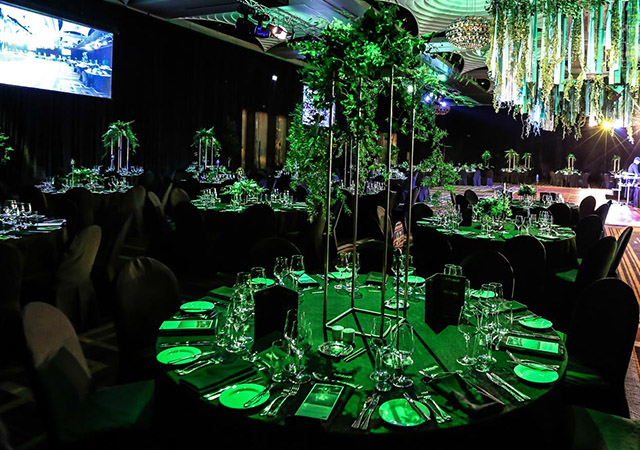 Green foliage for table centrepieces are a go-to for an enchanted garden look. Remember line of sight is key for guests so consider tall vases or structures to hold the greenery.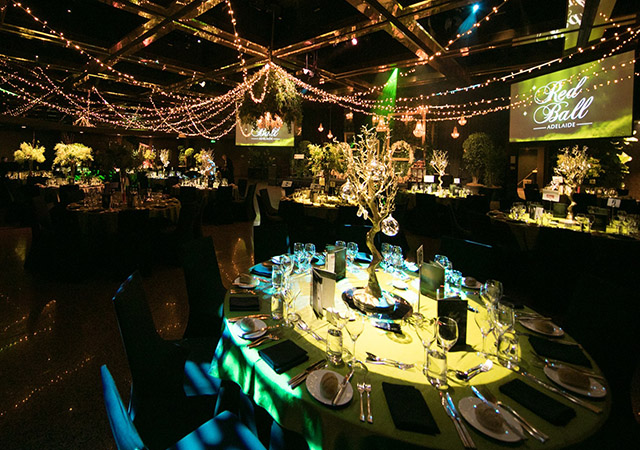 Twisted willow trees decorated in glass ornaments are another great centerpiece option for an enchanted garden theme.
Performance Matters – Performance ideas for events
For an enchanted forest setting, roaming entertainers play a large part in creating the right atmosphere. Wolves, deer, fairies, real and even mystical creatures can set the event apart. A successful theme will show them to be in their natural habitat.
Remember the performers should flow and be unobtrusive.
This is another world your guests have entered. Allow them to be in a place where they are free to leave reality at the door.
The types of performances you choose is limited only by your imagination. From roaming acts, to magicians, aerialists to choirs and ballet acts. Anything goes.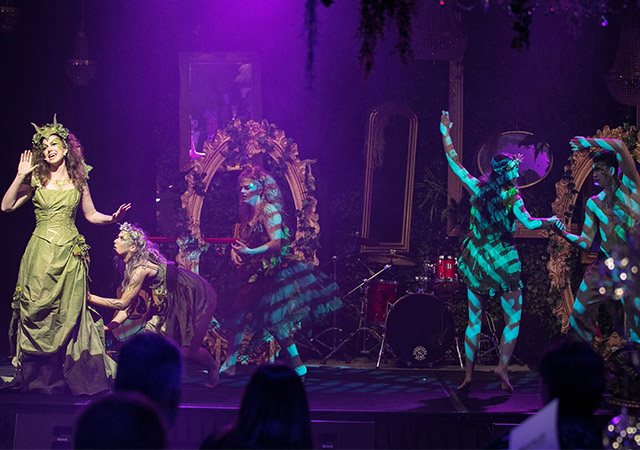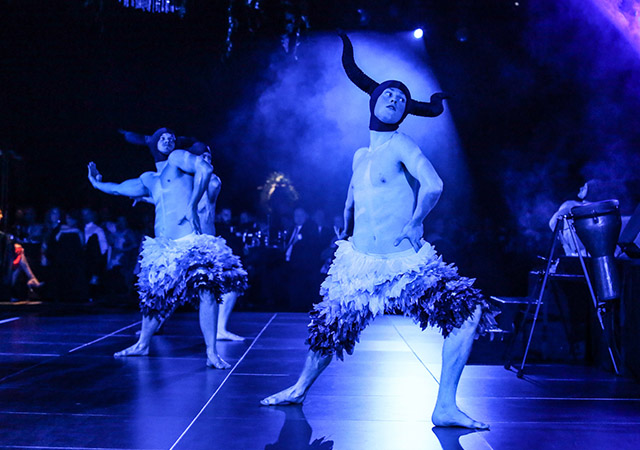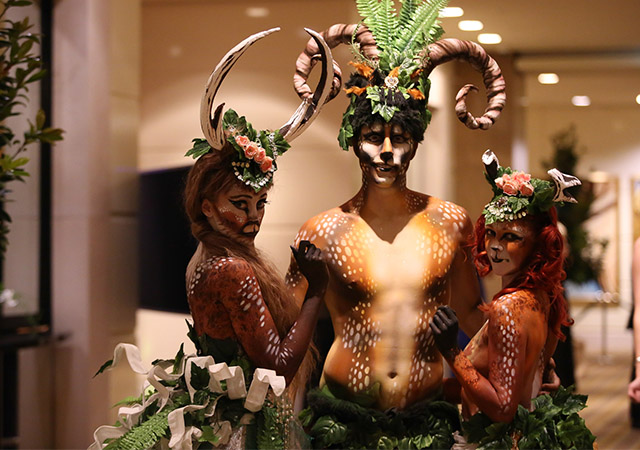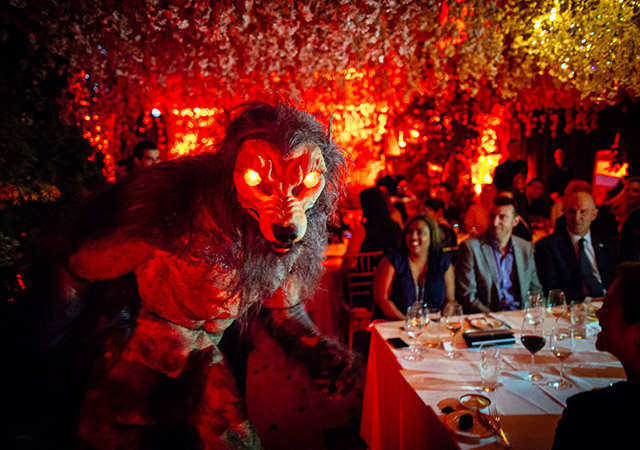 Design a visual story
Connect with your guests from the very beginning. Set the stage and create a start that will be remembered well past the event date.
What you can't create in the room, you can on-screen. Design a presentation that carries the theme and continues the story. Imagine a huge screen backdrop with a pack of wolves running through the forest or gigantic treetops filled with twinkling fairy-like creatures. These powerful visuals can pull the event together and keep your audience's attention on stage all night. Encore boats an incredible in-house team of multimedia designers who can turn your presentation slides into dynamic visual stories.
With this immersive mindset, you have the capability to transport people somewhere far away, to affect their senses and create an unforgettable experience.
It's the subtle art of connection through ambience and tone.
That's a very powerful thing.
Partner with the creative story tellers
Transforming a blank canvas into a magical world takes creativity, the tools and a lot of skill.  An experienced event production and technology company, with the knowledge and talent, will take your ideas and bring them to life.
Encore Event Technologies have had the pleasure of transforming spaces into enchanted forests, kingdoms and gardens for clients around the Asia Pacific. It's one of those event concepts that you can never get tired of. If you are looking to transport your guests to a magical world, we have the ideas, the production solutions and the experts to make your event the success you imagined.
Make your enchanted garden event a reality with the help of an experienced audio visual and event production company. Get in touch with us today so we can start discussing your event requirements and share ideas on how to bring it to life – Send us an online enquiry and one of our team members will be back shortly.