Nothing brings an empty function space to life like a custom set design. Working with the theme and identity of the event, the physical limitations of the space, and the functionality needed for the show will bring your creativity to the fore, and ultimately achieve stunning results for your next big night.
Custom designing your stage look
If you have the ability to custom design your stage set for your gala dinner – you definitely should. However, not everyone has this luxury, as whilst there are many advantages it also tends to be more expensive. In saying that, with the stage being the main focal point of the event and likely to feature in every photo taken, it should definitely take a large piece of the budget pie. You should build a custom set for your gala dinner or awards night because it immediately transports the audience to somewhere new and exciting, grabbing their attention and focussing it onto your presenters and content.
The look of your stage communicates your brand, ideas, and values. It could be 'cutting edge', pulsing with light and technology, or 'old world', oozing luxury from a golden past – whatever suits your goals best. You can literally surround your audience with your stage, bringing them completely into your domain.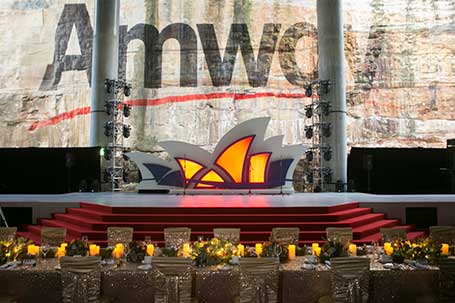 Where do I get inspiration for my set design?
The goal of your set design is to be a branding device for your gala dinner or awards night. Its shapes, colours, structures, and purpose can derive their identity with inspiration from your logo, colour palette, existing marketing material and the theme of the night. Think about what kind of message you are sending – are you rewarding excellence and aspiration at an awards night? Are you celebrating a major milestone at a gala dinner? What kinds of shapes, colours and movements come to you when you think about those subjects? Beyond the conceptual, there's also the practical nature of your custom set to consider – is there a requirement for lots of performers to enter and exit at once? Will there be a lot a large screens needed for camera feeds of the presenters and video material?
What's physically possible in set design?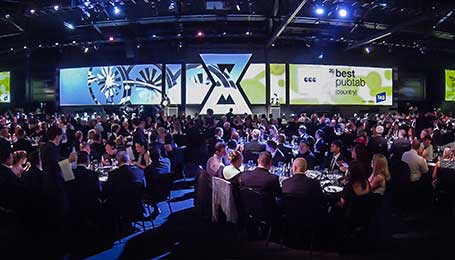 A stage design doesn't have to be a flat rectangle, and a custom set doesn't have to be a variation on a box. Consider multiple shapes and layouts for your stage. You could utilise thrust stages and catwalks, round stages, or a giant central cross with the audience surrounding it for a gala dinner.
A set can be a distributed structure with physical elements throughout the venue, or multiple elements that fly in and out, changing through the awards night with the action on stage. Circles can be made with truss, used as rigging for visual elements, or house a screen be projected onto. You can further enhance your set design by incorporating Digital Banners and Widescreens, as well as traditional printed Event Backdrops, rigged and flown.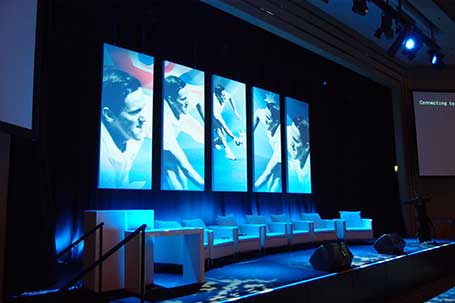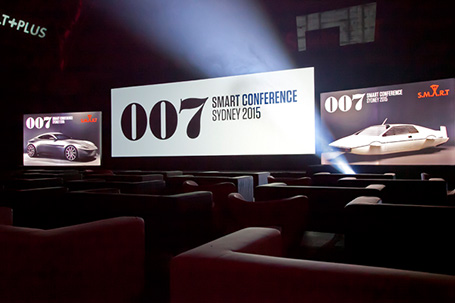 What technical details does a stage design have to consider?
All custom set designs need to take in account the venue's tolerances for weight and height, its capacity to rig and fly any necessary event production equipment, and other all relevant safety issues like access to fire exits.
Your set design needs allow lighting fixtures to be rigged so light can be directed where it's needed. The PA needs to cover the audience for your awards night or gala dinner without interfering with or being obstructed by set elements. Any projectors you are using for image live cameras or video need to be able to cover their targets without hindrance.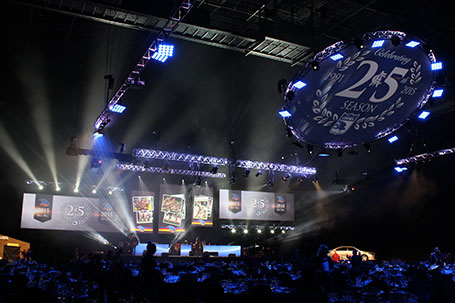 How to use screens in your set design
Screens are a major consideration in a custom set. Whether for branding, information, video playback or camera feeds of your presenters, they're likely to be not just prominent, but essential part of your event production. Large projection screens for big venues can be built in to your set, or flown in when needed. On a smaller scale, multiple flat panel displays can be built into sets as an artistic element, and used to display content independently of each other, or together as one large fractured 'canvas', using video wall technology.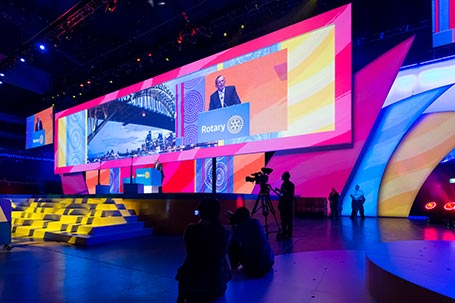 Using lighting as part of your event design
Lighting can be more than colours, effects, and highlights; it can also be a feature of the set design itself. There's a whole family of new LED lighting fixtures that can not only wash a stage with colour, they can be sent videos and animations. Imagine dozens of panels around 30 cm long and 10 cm high embedded throughout your custom set. When dormant, they look like black bars, when activated, they can act together, pulsing and swirling with light. When sent video, their individual LEDs act like the pixels on your TV, with each bar having 12 or more 'pixels' in it. This is called 'pixel mapping', and adds striking textural effects to your set design.
Using projection mapping to animate your custom set
You're not limited to movement and light to create change and interest in your set design – there's also the ability to project video onto any or all of it. The possibilities with projection in event production are huge, from using multiple projectors to create one giant image across your stage ('edge blending'), or projecting and warping video onto an object to seemingly animate it into life ('projection mapping'). Inspiration for projection mapped video content to suit your awards night or gala dinner stems from the same source as the rest of your set – its tone, subject matter, and the theme of the event.
Pictured: Projection mapping used for the AHA NSW Gala Dinner stage set.
Styling your stage design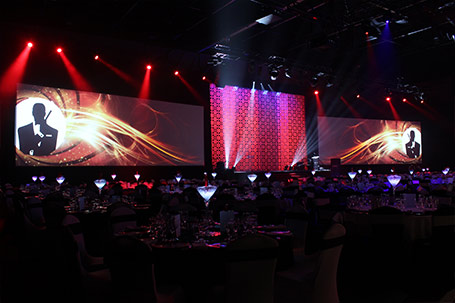 Set design is all about layering. The final piece of the puzzle is stage set styling. Professional set dressers can provide extra flair to really make your set design 'pop'. With access to huge collection of props and decorations, they can work with you to make sure your branding is consistent, keeping your signature colours and logos harmonised across both physical media like printed backdrops and digital media such as screens and projections.
Pictured: Stage set styling use fleur screen at a gala dinner in Adelaide.
Render to Reality – preview your set design
Encore can help you throughout the design process for your dream set. Our creatives will be able to show you exactly what your event will look like with our 'Render to Reality' service. We use the best CAD and pre-visualisation software available to provide simulated but ultra-realistic three dimensional images of your set in your venue, including animated walk-throughs. This is a 'What-You-See-Is-What-You-Get' principal so no surprises on event day! On the night, what you saw in our studio is exactly what will appear in front of your audience. It's invaluable peace-of-mind.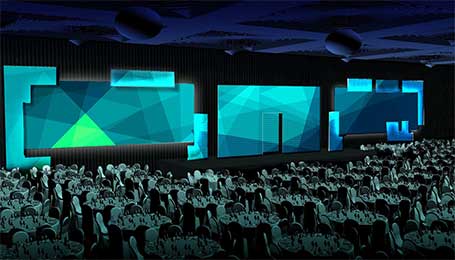 Discover your event stage's potential with our set design team
Encore Event Technologies has been designing spectacular stage looks for over 30 years. Whether you want to create a city skyline, an iconic landmark, or bring your logo to life we have the people, the ideas and the tech tools to make it happen. That's why renowned brands like Amway, ANZ, Auto & General and Amway chose to partner with Encore to deliver their gala dinner. With all eyes on your stage for the entire event, it's important you give it the attention it deserves. Find out more about our Set Design services or get in touch with us to see how we can work together for your event. CALL 1800 209 099 or Send an Enquiry