What does a "money can't buy experience" look like in 2017? When this brief hit the desk Encore Event Technologies' Sydney team went into action to provide a turn-key event solution for Honda Motorcycles India's Dealer Incentive.
—
Earlier this year, Honda Motorcycles India hosted an action-packed Dealer Incentive for over 1000 employees and dealers at the iconic Sydney Showground on February 14. The extravaganza included a cocktail function, business session and concluded with a lavish gala dinner where guests were invited to network and dine on a scrumptious buffet while celebrating their annual dealer awards.
Engaged by Encompass to deliver the entire event, Encore (previously Staging Connections) was tasked with delivering an event which upheld Honda's company values and spoke to the theme of RAW 6.0 (Reach, Acquire & Win). A key component of the Dealer Incentive event was to showcase the new range of Honda motorcycles as capable of transitioning easily from city to outback.
The Encore team worked tirelessly in the two weeks from confirmation to show-day and provided all event services from AV and lighting to entertainment and production, to give guests a money can't buy experience, proving Honda to be a world class company.
In order to engage with the theme and the diverse range of guests present from around the Asia-Pacific, the team made sure each phase of the event – from the pre-function to the gala dinner – had clearly defined styles while still adhering to the RAW 6.0 theme.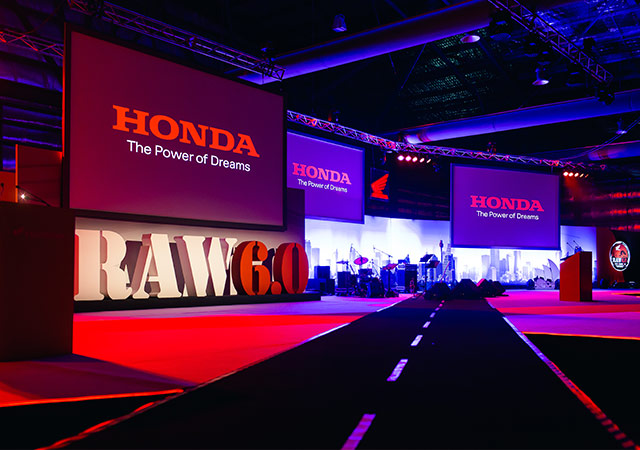 Pictured: Custom built stage set designed in line with RAW6.0 theme.
The end look of the event was developed taking a literal approach to the 'Raw' theme. The event was centered around a huge 48m x20m 'V' shaped stage which split the room into two distinct landscapes – city and outback – two key components of theme.
Decorating the stage with bushland and a city skyline provided the perfect setting on which to display the the motorcycles. The stage was framed by a stunning illuminated backdrop spanning 55mx3m, casting a silhouette resembling the Australian outback and city.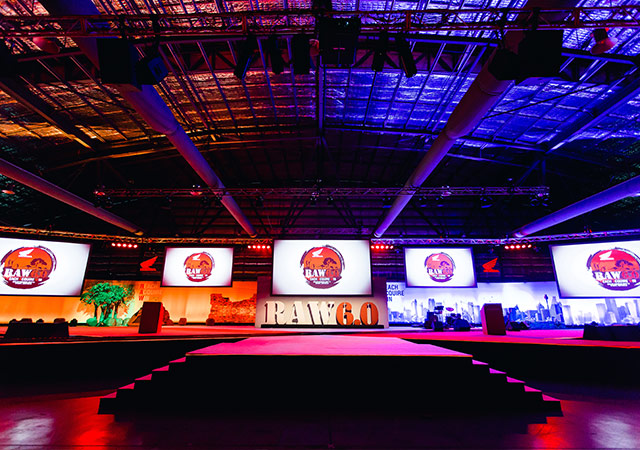 Pictured: Entire event production delivered by Encore.
The impressive stage was further emphasised by five giant screens ranging in sizes which were positioned on different angles to maximise the audience's engagement and impact throughout the event.
The carefully constructed silhouette transitioning from outback Australia to city skyline, along with the road carpeted stage, lighting and props, made the feature of the room a stunning interpretation of Honda's values.
The evening's entertainment was provided by Japanese drummers Taikoz featuring Nupur Dance Group Junkyard Beats, an innovative and original percussion group combining rhythm with movement, using unique and original instruments.
Karaoke was incorporated into the evening's entertainment to ensure the client and delegates were excited and actively participating in the dealer incentives programs.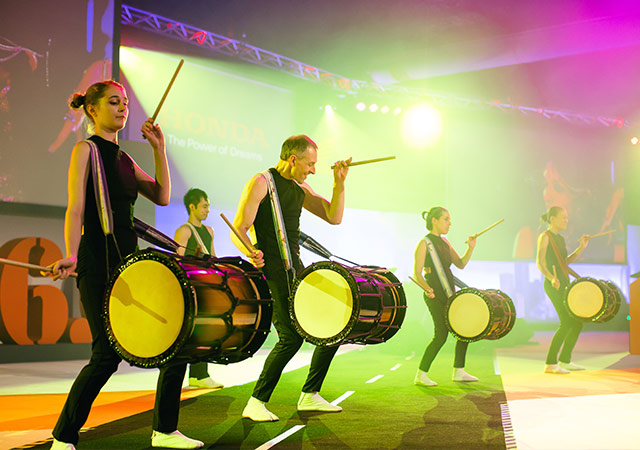 Pictured: Japanese drummers Taikoz featuring Nupur Dance Group Junkyard Beats
What did the client say?
This was the first time that Encore was asked to work on this event. The team provided a truly memorable experience and delivered a successful event with only a short lead time.
The team handled all aspects, from the cocktail pre-function to the gala buffet dinner and entertainment, creating an exciting, new and diverse atmosphere for all employees and dealers, to get involved in the new products being showcased.
"Thank you and your wonderful team for all the help and support at our Honda event. The production was great, the set looked amazing and the welcome arch was my personal favorite. A big shout to all the guys from your team who worked so hard to put up a fantastic show for us and for keeping up with all our last-minute requests. We look forward to collaborating again."Randeep Singh, Encompass
Partner with the leading events company for your next incentive event
Encore has delivered countless large destination incentives across Australia, New Zealand and Fiji for over 35 years. We specialise in creating an engaging incentive event environment through the latest AV solutions, event technologies, imaginative styling and theming solutions. Operating both within our venue partners and at various locations around the Asia Pacific, we are the trusted event services provider you can count on to deliver an unforgettable experience for your guests. We pride ourselves on our commitment to exceptional customer service so you can expect a seamless, stress-free experience when you partner with us. If you have an event to plan, we have ideas to share! Get in touchwith us today to see how we can make your event vision a reality.
–