Hologram technology is now well within reach for creative even planners looking to make an impact at their next meeting, event, or brand experience. The ways to use holograms are only limited by the imagination.
Here are some favourite examples of the holographic mesh screen in action which our technical teams have created.

Holographics used for Presentations
Add excitement to a presentation with both 3D illusions and interactivity. At the recent Top Secret Dinner at Canberra's National Convention Centre Canberra (part of the InterContinental Hotels Group), Encore used a holographic mesh screen to create the illusion of a hot air balloon, synonymous with Canberra's Enlighten Festival, hanging above the stage. Later in the evening, the presenter interviewed himself as a hologram. These illusions perfectly showcased the NCCC as a destination for events and conferences with state-of-the-art technical capabilities.
You can use this technique to bring a speaker onto the stage who can't attend in person and have them present as a hologram, how cool is that?! It also has the added advantage of not paying for transport and accommodation for the speaker, plus they only have to be available for the time it takes for their presentation.
Holographics can be used to enhance any presentation; add a hologram of the product being released, project videos by guest speakers, showcase projects, or animate simulations. Even data and graphs could be made engaging with 3D computer animation!
Performances enhanced with holographic technology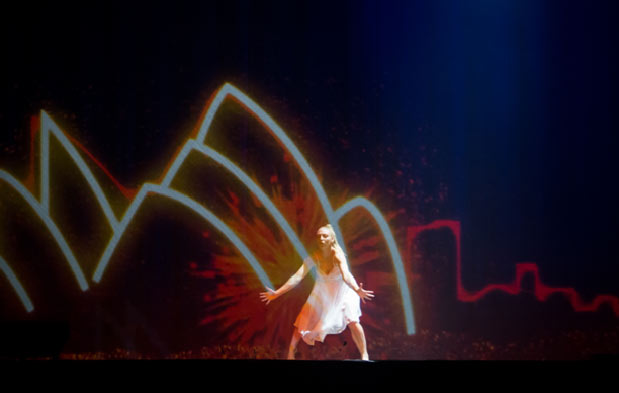 As recent concert tours and AV shows attests, holographic technology is perfect for an amazing performance. One of Encore's most impressive uses of the technology used a combination of holographic mesh, real-time motion tracking, projection, and dance. At the Australian Hotels Association annual awards, a dancer performed a duo with herself creating an amazing effect. Her movements were captured on camera and motion tracked, with a computer turning her outline into a 3D animated graphic in real-time, which was then projected onto the holographic mesh.
Set Design using holographics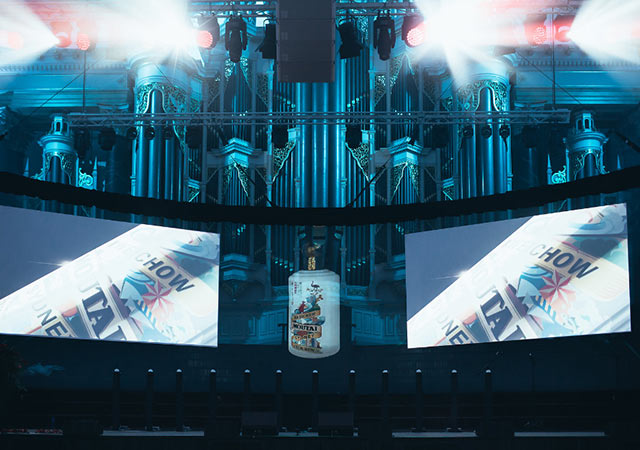 3D animations and images can be incorporated into any set design. Deploying at almost any size, anywhere, you're only restricted by lighting and background.
Encore have created custom set designs using holograms for companies such as Moutai China, who were treated to the illusion of a giant bottle of Moutai spirit hovering in mid-air on a 20m x 5m holographic screen.
The technique can also be used for events like product launches or trade shows where oversized holograms would be ideal so that it can create a larger-than-life effect of the product being promoted.
Speak to the event design experts about a holographic experience
Holograms open up a huge range of creative possibilities to amaze your event attendees. You can use it to bring your brand to life, entertain, enhance stage performances and bring remote presenters on stage in an amazing visual way.
Advances in technology and manufacturing mean that holographics are not just for big budget events – they're with the reach of nearly any event producer's reach.
Encore have adopted the most flexible, creative mode of holographic tech available in the event market; send us an online enquiry to find out more or talk to your Encore representative today about how to get your event into the Third Dimension!