Encore delivered a spectacular Hollywood Night theme for the Shangri-La Hotels & Resorts annual Hotel of the Year Awards gala dinner held in their ballroom, complete with elegant décor and lavish surroundings.  The lobby welcomed guests, and prepared them for the excitement that lay ahead with two curved black lampstand chandeliers dripping with black crystals, the focal point upon entry.
Adding Hollywood glamour with event styling and centerpieces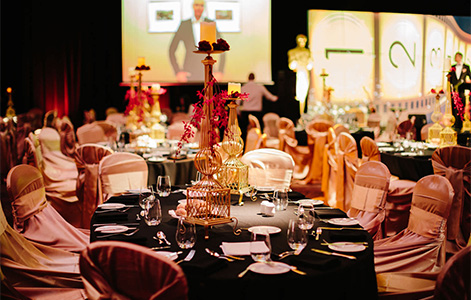 Exuding luxury, elegance and style, the Ballroom was decked out in black and gold soft furnishings to achieve maximum impact. Oval tables were laden with plush finishes; black table cloths, gold satin tie-back chair covers and a tall and short wrought iron gold candleholder sat as the centrepiece on each table, filled with flowering red orchids. Decorative panels sat on either side of the ballroom, and these were lit up in bright lights to further emphasise the 'tinsel town' event theme.
Designing a simple, yet impactful Hollywood awards stage
With the award winners the real heroes of the event, the stage design needed to draw the attendees' eyes from their luxury surroundings to the front of the room. To do this and create real impact, the Encore styling and design team used one of their most versatile products, an illuminated Event Backdrop with a customised graphic print, alongside two gold Hollywood Showbiz statues.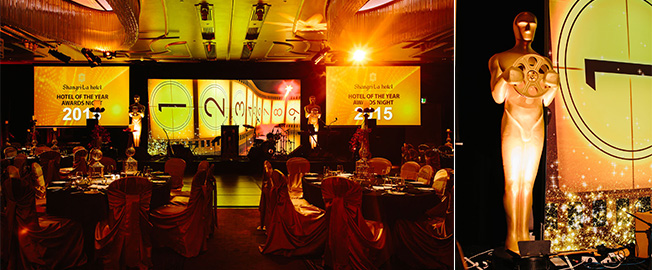 It's not a Hollywood event without social media buzz!
Wanting to get maximum engagement from the audience, and spread the messages of the event further, Event Feed was utilised to enable attendees post photos to Instagram and tweets on Twitter using the event hashtag. These were displayed in real time across the large screens around the ballroom. Of the 250 attendees, 50 photos were posted to Instagram and the tweets reached a further potential audience of 183.
The Encore  AV team went to work producing double projection graphics and moving lights shaped with gobos. The room was illuminated with Colourblaze, a high-performance linear LED fixture for washing large areas with far reaching, rich, saturated colours added to the theming. Clear audio for the band up on stage was managed seamlessly, ensuring everyone got into the swing of things.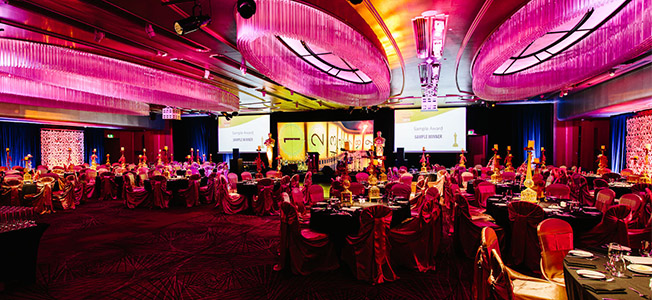 What did the client say?
Guests enjoyed being transported to tinsel town for their night in the spotlight. Encore received lots of praise for their creative yet seamless operation:
"The Encore team were wonderful to work with. They were professional and courteous making me very confident that the event was going to be a success. The team were attentive and creative making our awards night better than we could have ever imagined!"
"The Event was a resounding success! Encore has done it again and how! From the perfect re-creation of a Black Tie Awards themed event to the expertly directed lights, sounds and display production. Thank you so much to everyone at Encore for an unforgettable evening."
Robert Belicena, Director of Events Management, Shangri-La Sydney
Partner with leading event services company for your awards night
There's a lot that goes into creating an unforgettable awards night. As all of your most important stakeholders are in the room and with so many individual elements, you'll need an experienced AV and event company specialised in delivering awards nights and gala dinners. Encore has been the name behind some of the largest and most technically demanding live events to hit Australian soil. Having been in the events business for over 30 years, our experienced team of technicians and event directors understand what it takes to deliver to this scale and profile. We only use brands we trust; we take a tailored approach to every brief using everything from the latest in AV, lighting and staging through to event styling and engaging digital and social services for events; and we work with you every step of the way so there's no surprises. If you're interesting in finding out what Encore can do for your event, get in touch with us today by calling 1800 209 099 or by completing our event enquiry form.