Australia's first Top 100 Restaurant Awards made a huge splash on the awards circuit earlier this year. The star-studded event brought Australia's foodies, restaurateurs' and celebrities alike onto Melbourne's Crown Towers' pool terrace for the highly anticipated event, proudly co-hosted by Crown Resorts and Fairfax Australia.
Event Brief
Encore was approached by Crown Resorts and Fairfax Australia to assist and design a concept for the launch of the first Australia's Top 100 Restaurants Awards. The challenge being – it was to be staged over the Crown Towers pool and house 450 plus guests. If that wasn't a huge logistical challenge in itself, we also had to consider the pool terrace was on a roof top, surrounded by potentially hazardous wet zones and was also open to the public. This challenged the team to get creative by putting our imaginative and technical minds together. Encore presented a solution which ended up becoming an elegant and bespoke concept which was show cased in the media from celebrities and industry veterans.
Audio Visual Solution
Upon entry guests were welcomed with an extraordinary edible Tourism Victoria chocolate food display, a custom designed red carpet arrangement and 6m wide media wall, awaiting the media to capture their 'Kodak' moment. Once through the pre-function area, guests were ushered onto the pool itself which was temporarily covered with clear acrylic decking, allowing the 450 plus guests to see straight through to underneath water.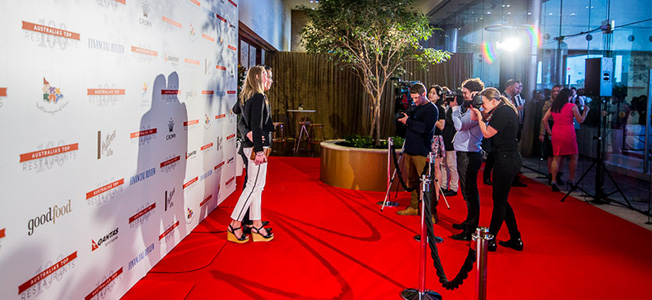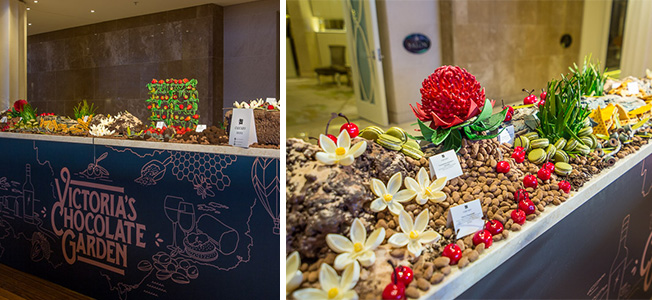 Vision was a key factor in designing this concept.  As most awards nights tend to utilise vision as their main source of presenting awards, a large screen was required that needed be viewed from all angles of the space.  We needed to come up with a winning solution to allowing Fairfax to have their vision content count down from 100 logos down to the number one winner – Sepia.  We faced issues of multiple floor-to-ceiling pillars blocking sight-lines and therefore projection was not an option.  We designed and presented a record sized 25m wide x 4m high LED Screen in a 4mm pixel – high resolution screen.  All floor mounted, this screen was the hero of the night. Encore presented a concept which was a perfect solution to showcase all vision content at a high resolution scale, which allowed us to take up as little real-estate as possible.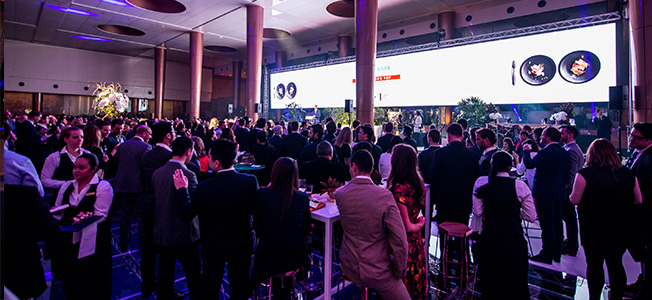 To bring this event together styling and decor elements where added into the space, over the temporary decking over the pool, existing floor areas and into the pre- function zone.  As the event was all about the food, the team designed seven bespoke food & bar stations.  Including a fun and quirky Gelato Station, ice chilled Salmon and Oyster stations, Champagne & Espresso Martini Bars and a 360 degree rustic Cheese station.  This allowed all chefs's to showcase their canapés and food in a variety of ways.  Copper, white, green organic elements dressed the furniture and table centrepieces, along with additional potted fresh ferns and planter boxes to compliment the existing environment and surroundings.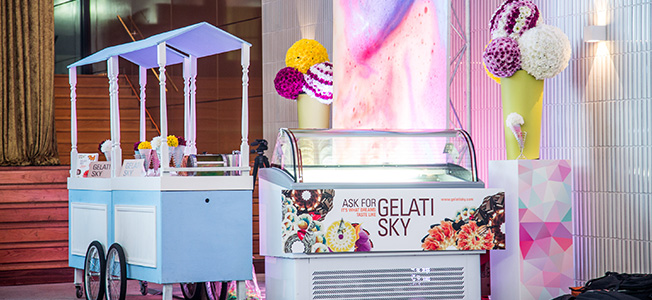 Melbourne favourites, Mad Hatters, and roving dancers performing in zorb balls over the water created exciting entertainment for the night. This would not at all be possible without current technology, state of the art sound systems and creative lighting effects.  All which complete this over all look and feel of the night.