Encore is taking the guess work out of how your event will look as we return to live events with event rendering software.
Right now everything is uncertain. It feels like uncertainty has become the new norm, especially for the events industry which has been struck with the full force of COVID-19's might. As restrictions ease and confidence grows, we're seeing more businesses returning back to normal, albeit slowly. But one of the biggest question marks is what does that look like for events? With social distancing measures in place, capacity limitations, strict new hygiene measures and all sorts of tracing and detection devices being rolled out there's a lot of unknowns for how events are supposed to look or run.
Well, what if we said there's a way to see what your event will look like, down to the colour of your napkins? Enter, 3D rendering.
At Encore, we've found our clients have benefited from seeing a life-like render of how their event will look, giving them confidence and reassurance that still with COVID measures in place, the event will achieve its goals and ROI.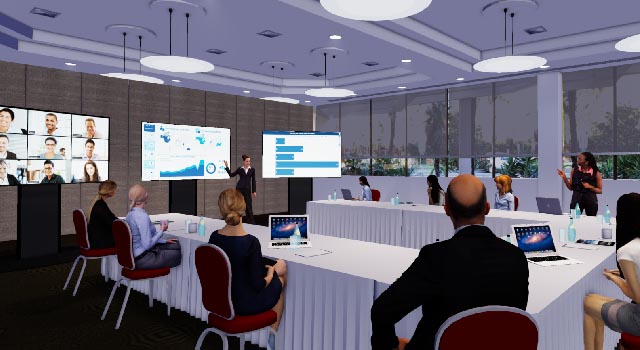 3D Render of Small Hybrid Boardroom Meeting with Social Distancing Applied.
What is 3D rendering for events?
3D rendering is the process of using graphics software to convert 3D models into 2D images on a computer. 3D renders may include photorealistic effects or non-photorealistic styles. Thanks to advances in technology and hours of practice, 3D renders can be highly detailed including textures, styling elements such as florals, lighting hues and even include a variety of people in action.
What events can be pre-visualised using rendering software?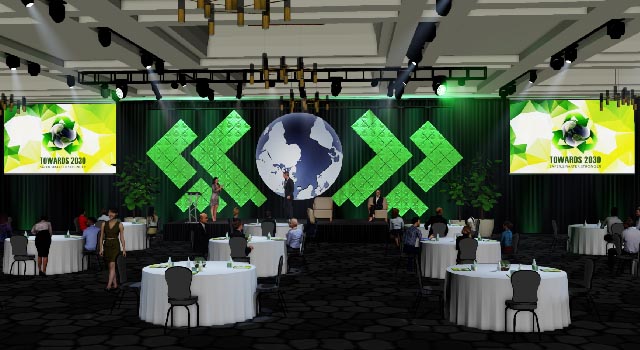 Renders are predominantly used to pre-visualise larger and more complex events with special concepts. These of course can be any type of event. From conferences to boardroom meetings, award nights and even large scale tradeshows  – Encore's in-house design team have developed an expertise for creating realistic event renders. In fact, we've even taken it further to create 3D rendered videos which we fondly call 'fly-throughs'. As the name suggests, these videos give viewers the perspective as if they're 'flying' through the space which we can set the height level. It's incredible to see the level of detail captured in the renders and allows the event planners to navigate around the room and explore the event design from every angle.
Fly-through 3D render of a corporate event with MeetSAFE guidelines applied to cabaret seating.
"When we have a large event with lots of elements or a concept that needs visualisation, our 3D renders help explain our vision. During the design process they allow me to really investigate how different elements will fit into the event landscape. I can move elements around, look at it from every angle, try different colour combinations and work through all the possibilities that my imagination can dream up," Encore's Lead Designer, Georgia.
View renders via a 360 Degree Virtual Tour
Similar to how property inspections are allowing virtual tours, we can even stitch together still images of the renders so you can enjoy a 360 tour of the event or venue. We've found these 360 Virtual Tours offer a lot of benefits over the video 'fly-throughs' as they offer a level of interaction and we can load several options of renders to choose from with seating styles, lighting options, as well as different parts or stages of the event.  As they're accessible via a link, they're also easily shareable without the need to download huge files to view.
On the upper left-hand side of the screen, we can load several options for you to experience in 360 degree.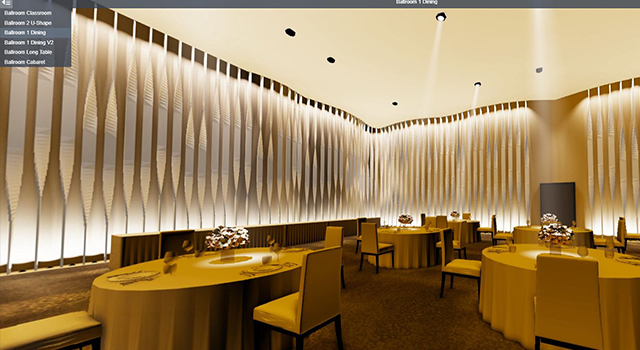 Here's an example of a 360 Degree Virtual Tour of a Conference we mocked up.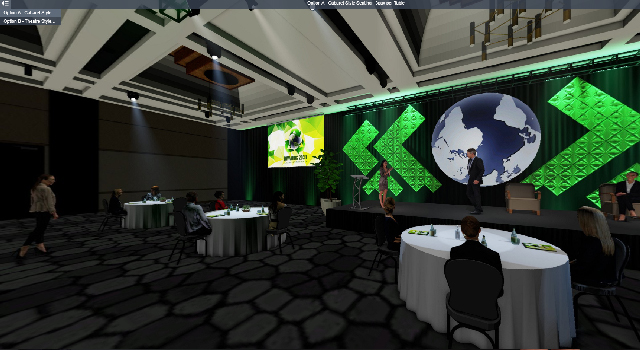 Click here to experience the 360 Virtual Tour Online
Visualising social distancing for events with rendering software and our MeetSAFE guidelines
Encore lead the way in the return to live events by producing MeetSAFE, a comprehensive set of guidelines which addressed the restrictions regarding social distancing and healthy work practices to ensure event attendees are safe. These guidelines were provided to our venue partners to give them the confidence that events at their venue will be delivered to the highest safety standards. Depending on the event's concept or requirements, our teams can produce a rendered image or even a 3D video of how the stage, seating, distancing and directional flow will look while complying to the guidelines.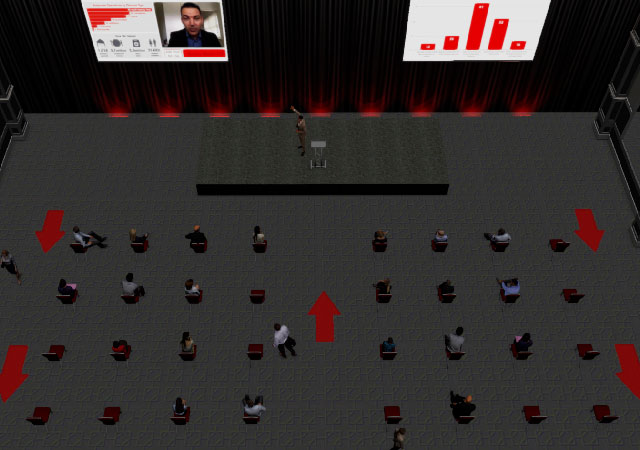 3D Render of conference with theatre style seating showing application of MeetSAFE's traffic flow and social distancing guidelines.
For a large conference for example, we have the ability to create a render showing sufficient social distancing in place when seating is arranged theatre style. Our teams can even render a conference split into multiple breakout rooms with live streamed presentations to ensure all of the intended audience can view via multiple locations. For a gala dinner with several elements or a really unique stage look, our teams can help the event planner visualise the event via an illustration of the floor plan layout with adequate distancing, guests per table and how the directional flow of the room will work.
When the concept is complex, we found event planners gained peace of mind from these guidelines and practices, but benefited even more with the knowledge of how their event would look with the safe practices in place. This can be a great selling tool for when event planners need to showcase their event vision to clients or managers who need a little more help visualising the idea. Our venue partners also benefited in that they could be confident in how the practices would work at their venue and that the Encore team could deliver seamless, safe events at any event space in their hotel.
Help deciding on the perfect venue
Only 16-percent of event planners say they're "extremely certain" of their venue when they begin the planning process, according to the latest Global Planner Sourcing Report from Cvent. This stat means the vast majority of planners face a time-consuming process of evaluating proposals and visiting venues for fly-throughs. In this new COVID world, this can be time-consuming task. Encore has been busy working towards creating an entire library of content of our venue partner spaces including floor pans, renders and fly-throughs, and even 360 photos. This allows event planners to explore and review numerous venues from the comfort of their office. Whilst pre-visualisation content will never replace actually seeing and experiencing the space in person, they are the next best thing.
3D render fly-through showing social distancing applied to small hybrid boardroom style meeting.
Experts in 3D event rendering images and videos
As we return to in-person and hybrid events, event planners may find it difficult to visualise how their event will look. The new normal means reduced numbers of attendees, physical distancing, directional instructions for moving around a room and many other measures.
Rather than tell you our idea, let us show you. Encore has been perfecting our event rendering techniques over the past few years and have come to master the creation of rendered images as well as 'fly-throughs'. Visit our event rendering page to register your interest and find out more.