Do you think you've seen it all before? Think again.
Performances at events are common place. From dance troupes, magicians, quick-change acts to aerialists, bands and more. It can be a challenge finding the right entertainment to re-energise and captivate your guests. And thanks to social media, the challenge of discovering a new experience is only amplified as anything worth sharing is shared; to hundreds, thousands and millions of people in an instant. So what's the answer?
Creative technical production to cast a new light on these performances, elevating them from something you've seen before to something never experienced.
Are you ready?
The Point of Engagement
So, why does your event need enhanced performances?
If you've held events before, you've figured out putting on a great display goes beyond a disco ball and a spotlight.
The connection between an on stage performance and what's going on in the background has the powerful ability to build excitement in the audience and confidence in the performer.
When it's done right, performers will thrive on what's happening around them, while the guests are left with an experience they won't expect.
Any venue can become a part of your presenter's performance, not just simply accommodation for a captive audience.
Below are some ideas on how event producers are building this connection between performers and the event environment using a combination of audio visual greatness and a healthy dose of creativity.
The Fine Art of Light and Sound
In terms of event planning, delivering something unexpected for guests has become increasingly difficult as each year passes. The good news is new technologies and the latest in crowd-pleasing AV techniques give us a vast number of ways to deliver something extraordinary.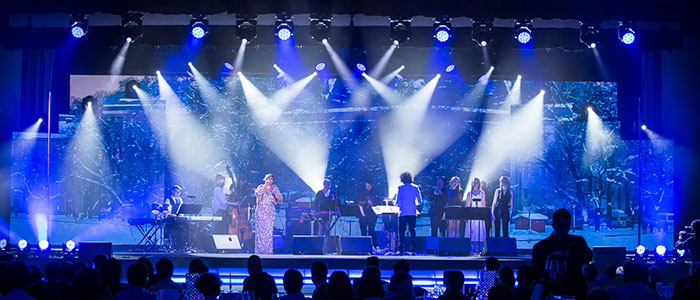 Lighting design with flair
Lighting creates mood. Actually, it has the ability to alter mood, which is a very powerful thing, when you think about it. When it comes to performances, the effect of lighting goes far beyond simply shining a light on them.
Clever lighting design can shape a performance. There are a myriad of lighting equipment and techniques to set the tone of a performance such as static and moving pinspots, ballyhoo, uplights, hazy smoke effects and more. Combining light and colour can alter a room's ambience, synchronising seamlessly with the performance for dramatic impact. And sometimes, no lighting at all at the right time during a performance can have the biggest effect of them all.
They all have their place.
Enhance the atmosphere with sounds
Music and sound also have the ability to transform. There's not too many of us who don't have memories attached to certain sounds, music or a particular song.
The right combination can create the perfect atmosphere to complement any performance and take guests on the journey.
Set the Stage and the Performer
Imagine a room where you can be transported into the eye of a storm, a sea filled with jellyfish, or even a rainforest. The same room can take your guests back in time with large scale imagery of days gone by. Your set design can give your performances the backdrop they need to elevate their impact. We've created wide vistas of jungles for rope artist performance, of the Italian coastline for a Bond themed dance and custom designed a set to replicate a large ship for a dance performance as part of an HMAS themed gala.
Lighting that moves
Kinetic lighting is new addition to our lighting arsenal. By using a combination of mechanics and lighting, movement prevails, synchronised and relevant to your events theme or your soundtrack. Kinetic Lights are a lighting system that is rigged to the ceiling and turns any vast space into a dazzling light display. The lights are programmed to change colour, flicker, glow and can be choreographed to move up and down in sync with a performance. We've used them to enhance an aerialists performance, a band and even to amp up the crowd for high-energy opening act of a gala dinner.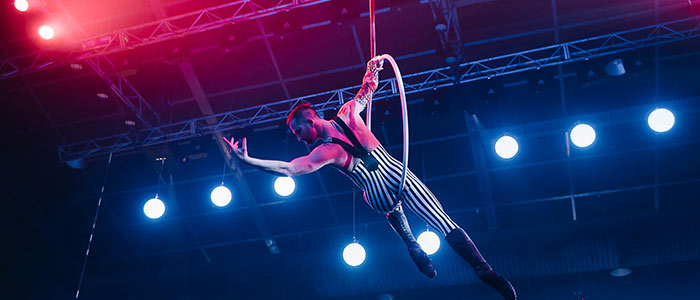 Wall to floor imagery
If large screen TV's are your thing, then you'll love the latest in wall to floor LED screens allowing for an incredible 3D experience. Latest LED screens allow content to seamlessly extend from the wall down to the floor creating an immersive 3D effect. This is the perfect backdrop to transport your performers to distant places, back in time or underwater – any setting is possible with our team of in-house designers.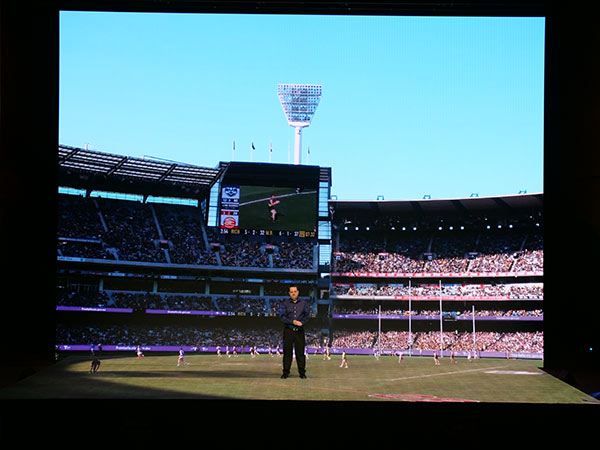 But wait, there's more.
Mind-bending illusions with projection mapping and holographic technology
Want to change the appearance of the performer's outfit to blend in with the background?
You can, thanks to projection mapping.
Depending on the type of performance, projection mapping 2D and 3D content onto the stage set or another object they interact with, is another way to enhance the performance and tell the story. Our team in Sydney used projection mapping to change the outfit of an aerialist for a gala in Sydney. We've turned a static stage set into a moving alien world for performers to interact with at the launch of a new video game. We've even used projection mapping to change the backdrop behind performers, continually transporting them to different spaces as the performance transpired.
What about creating a holographic-like experience to have a performer appear to be swimming in underwater? For a large destination incentive, our team created an entertaining game simulation of an underwater treasure hunt made possible using a range of AV techniques, collectively referred to as blended reality. The journey saw a live performer participate in the underwater adventure using layered multimedia with a holographic mesh screen, LEDs, and choreographed robotics show.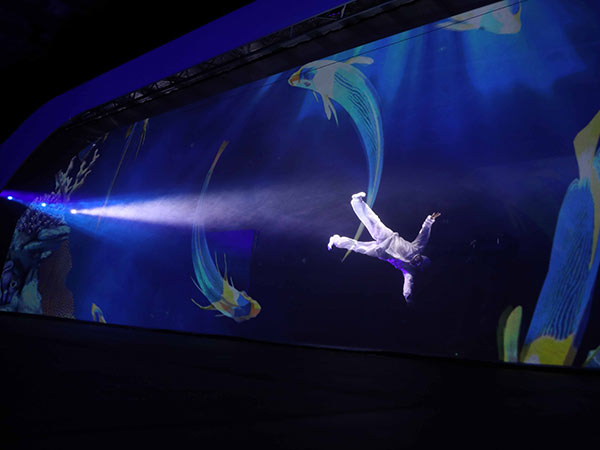 Holographic mesh screen & Holograms enhance the event by offering the once thought impossible. In Canberra we used the holographic mesh screen to make the presenter appear on stage interviewing himself as if there were actually two of him.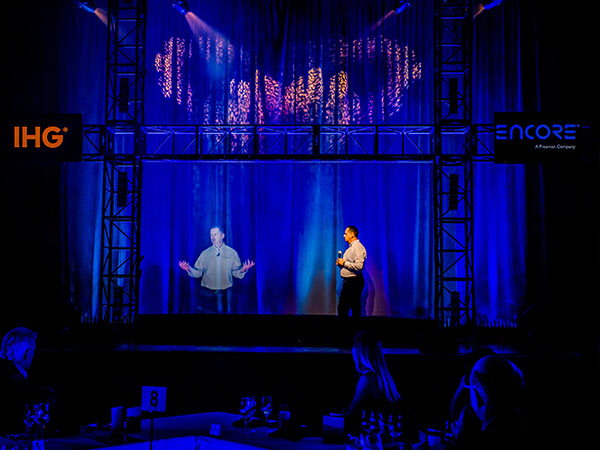 This holographic effect can even be used for dance performances. Dancers projected onto a backdrop, with the help of sensors, can interact and even mimic what's happening on stage, making it appear as though their shadow was dancing.
Immerse your audience in the performance by combining these innovative solutions with creative lighting design and sound FX.
So how is it done?
Smartly. Creatively. Intuitively.
Leave Everyone Wanting More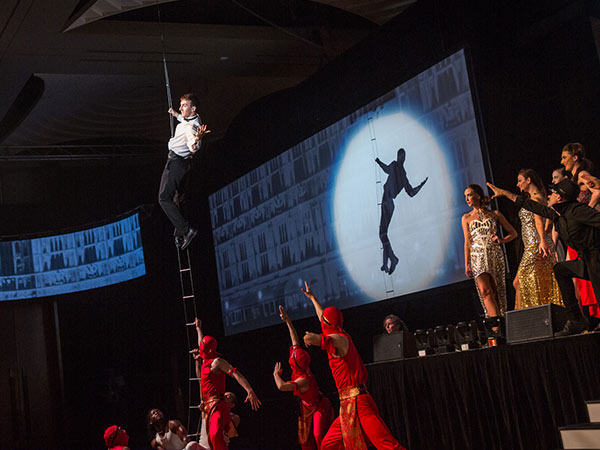 This is not about distracting your guests from what's happening on stage, but rather soaking them in the entire atmosphere and transporting them to another world, even if it's only for a few hours.
A performance supported by the right creative production goes beyond something you witness to something you experience. And that's where unforgettable moments resonate.
From a return on investment point of view, if you're spending big dollars on getting the big names to perform at your event, give them the experience that even they'll never forget with creative production.
See for Yourself: Speak to the AV experts for your next event
At Encore, we understand how long it takes to plan and organise the type of events that become the talk of the town. You want the lighting to be perfect, the visual messaging to be strong, the audio to be mesmerizing, and the live performances to truly shine.
There's no room for half measures, especially when your audience is comprised of individuals who've been bombarded by all kinds of media and have likely seen it all. The only way to impress them is with an all-encompassing solution that consists of the most cutting edge AV technology and techniques available.
Bringing the right solutions to your brief requires expertise. That's exactly what Encore Event Technologies has in abundance.
Contact us to have your ordinary event transform into an extraordinary experience.