With in-person events beginning to return, meeting organisers are proceeding cautiously and looking to their event services partner to deliver events safely and responsibly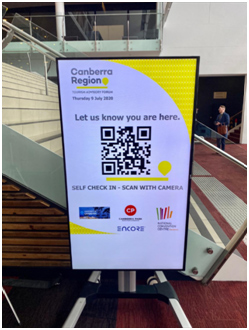 Encore recently partnered with the Canberra Region Tourism Leaders Forum Group and delivered their Tourism Advisory Forum for 90 attendees at the National Convention Centre Canberra (NCCC). The group were focussed on delivering their event while minimizing the risk of COVID-19 for industry delegates.
The Encore team utilised a contactless, QR code scanning, check-in product to minimise infection risk from close contact with standard check-in systems.
The contactless system delivered a fast and seamless experience for attendees while checking in, to avoid long lines and close contact with others. It required attendees to scan a QR code located on a poster or LCD screen at entrance points, which then linked to a landing page for entry confirmation. Attendees took on average just 10 seconds to register at multiple locations!
The on-site team at the NCCC also delivered the event in accordance with Encore's MeetSAFE guidelines which were developed with key areas of focus in mind: event design, room layout, traffic flow, technology enhancements, and cleaning guidelines.
Carla Huetter, Director of Sales & Marketing at the NCCC commented, "We feel very strongly in collaborating with our industry partners to achieve the very best results for all delegates trialling new technologies. It's an opportunity for true innovation as the meetings industry reshapes in the current circumstances".
"The check-in system gave us the piece of mind that attendees would be safely distancing, which was our priority. The technology was quick and easy to use and worked brilliantly. The team did a great job of delivering the event in a safe way giving our delegates the peace of mind that the venue was clean and all measures were in place for social distancing."
Stuart Buchanan, General Manager ACT at Encore commented,
"Contactless Check-In worked perfectly. Not only was it effortless in execution, it also delivered in speed and ease of setup, while security on who was attending was easily monitored by our onsite team who acted as VIP concierges, monitoring via tablets. We could see who was onsite and who was yet to arrive."