After a partnership of over 15 years with Destination SA and the Adelaide Convention Bureau, we were given the task of designing and producing the significant Destination SA showcase dinner for 120 guests held this year at Sprout Cooking School and Health Studio.
Our brief was to design an exciting and engaging event for guests, highlighting Sprout as a function venue, while providing a great platform for dining and networking amongst the stunning natural surrounds.
The theme of the evening was 'organic modern with a burst of colour', furniture, centrepieces and lighting needed to enhance the existing space and cooking school, the Adelaide team proved their styling expertise and met the brief by contrasting key industrial, colourful pieces with organic textures and natural greenery.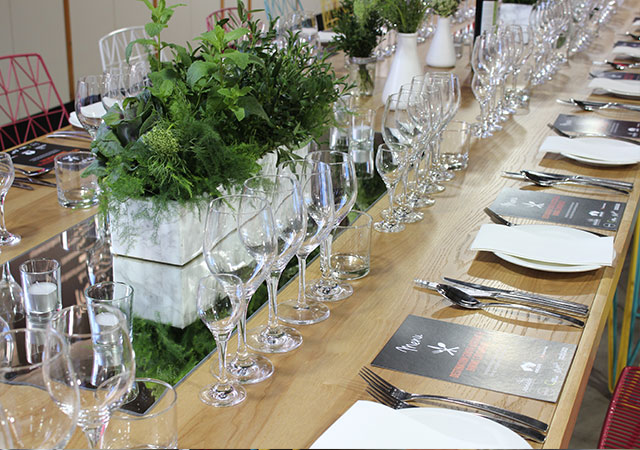 Long, wide timber tables provided ample space for the delicious food and exquisite Penfolds Estate wines, while marble planters filled with foliage and centrepieces of local herbs tied in the unique Cooking School venue, adding a sensory element to the experience. Coloured metal industrial chairs gave a modern edge, and strategically-placed mirrors and scattered tea lights added a warm ambience to the space.
The lighting and AV set-up was a real highlight – Sprout chefs prepared the three-course meal exhibiting SA's local produce as a live cooking demonstration, made possible by large television screens around the room switching seamlessly between supplier logos, stunning SA landscape shots and the live footage from multiple pan/tilt roof mounted cameras. The audience were informed, engaged and thoroughly entertained the entire evening.
Destination SA is vital for South Australia's events industry, marketing the best of SA's venues, suppliers and producers with a range of dinners, cocktail events, hotel tours, local tourism and featured event spaces.
Helen Hobbins, Adelaide Convention Bureau's Events and Sponsorship Manager, commented, "It really did look amazing! So many comments this morning from clients and all really positive! Please pass on my thanks to the whole team – great job!! Hope to work with you again in the future."
—
See more recent event work
Get in touch to start planning your event