In April 2016, Perth played host to the world's largest global liquefied national gas conference, LNG18. Held over four days at the Perth Convention and Exhibition Centre in Western Australia, the conference saw over 6,000 LNG industry professionals register to attend the conference and exhibition. Amongst those in attendance were CEOs from Chevron, Shell and Woodside and even attracted Australian Prime Minister, Foreign Minister and other Heads of State.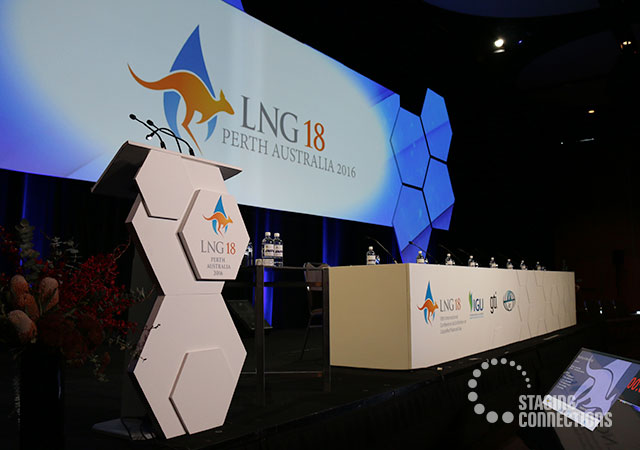 We were proud to be appointed as the official audio visual provider for the conference, delivering all audio, vision, set design and staging, lighting and multimedia content for all events over the 4 days. This included the main Opening and Closing Plenary Sessions, the daily plenary sessions in the main theatre and accompanying breakout rooms as well as AV for several ancillary keynote events that ran alongside.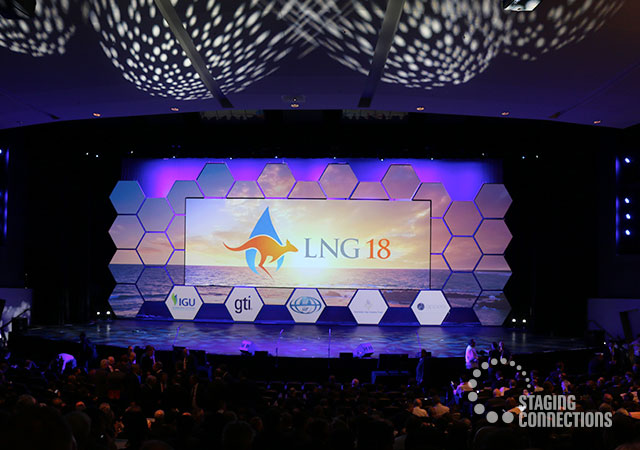 Contemporary set design using the latest in projection mapping
A hero feature of the conference was the spectacular stage set designed by our talented team of in-house designers and technicians. Inspired by a contemporary, industrial look and isometric shapes, the hexagonal shaped set spanned the entire length of the main theatre stage, standing 7.5m high by 20m wide. A scaled-back version was also created was the breakout room, standing 3.5m high by 15m wide.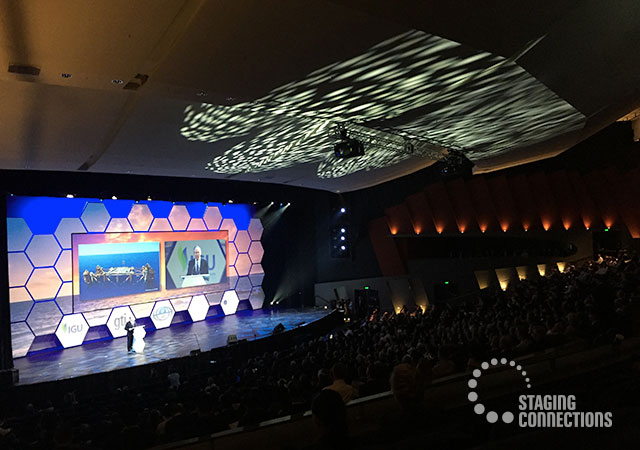 The hexagonal shapes created a perfect canvas for projection mapping stunning scenery of Australia's landscape and integrating vision of current and future LNG projects.  This was projection mapped onto the hexagonal shapes and surrounding stage screens using 12K Panasonics in the breakout theatres and 18K Christies in the main plenary theatre. Watchout software was used to manage the vision playback whilst a Spyder was used as the vision switch control. The stage set was designed with this in mind and the combination of the shapes, scenic content and on-stage performances made way for a very impactful stage experience.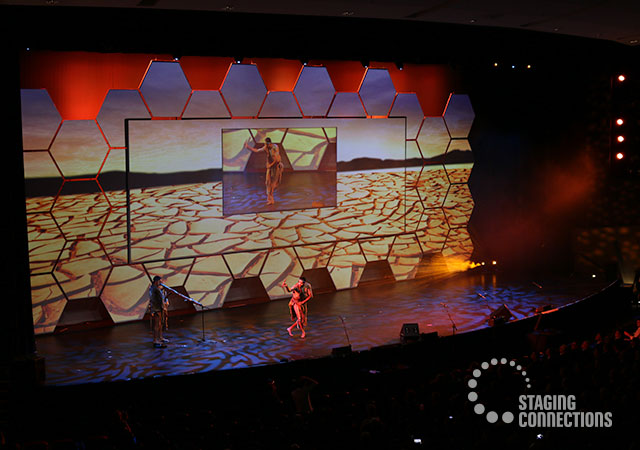 LNG18 also gave Encore Event Technologies the opportunity to showcase our multimedia production expertise, having produced all on-screen content for the plenary and breakout sessions as well as captivating videos for the opening and closing ceremonies and sponsor loops.
Inteli-Touch – bridging the gap for exhibitors
Making it's debut at the conference was Encore's latest digital offering – Inteli-Touch. Inteli-Touch is our answer to "what comes next after PowerPoint and Keynote?" –  an interactive touch-screen presentation software that unlocks many opportunities for a seamless presentation experience. Inteli-Touch was utilised by Exhibitions & Trade Fairs (ETF) who delivered the huge scale exhibition at the event. ETF needed a solution that enabled them to display floor plans with the added capability of securing bookings for the 27th World Gas Conference in Washington. It was important that their stand stood out from the other grand scale exhibitions and our touch screen technology, Inteli-Touch enabled them to do just that. The interactive technology enabled visitors to filter floor plans based on their needs, for example stand size and view the available positions in detail. They could then either send an enquiry, or book directly from the ETF exhibition stand.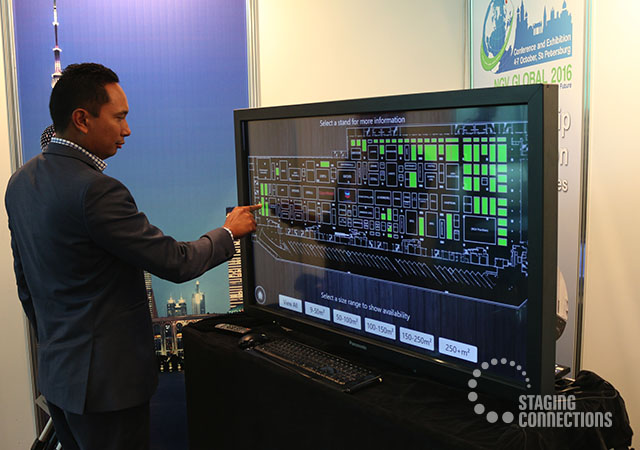 Rodney Cox, Event Director at ETF, said, "Inteli-Touch was really beneficial to be able to show prospective exhibitors of the next LNG exhibition including the available stand positions in real time. The technology also enabled exhibitors to secure a booking immediately, right from the stand. We loved the interactivity of the Inteli-Touch system. Exhibitors were clearly impressed by the state of the art touch screen. So I'm sure it positioned us at the forefront of technology."
Delivering LNG18 from Staging Connections on Vimeo.
Partner with Encore Event Technologies for your next conference
Encore Event Technologies has been the name behind some of the biggest national and international conferences in ANZPAC for over 35 years. We're the preferred event services provider for corporate events due to our proven-track record for first-class events as well as our unrivaled breadth of event services and in-house venue partnerships. Speak to an Encore representative today to start planning your next corporate event by calling 1800 209 099 or sending an enquiry.