Every year in January, cycling enthusiasts from around Australia and the world make the pilgrimage to the rolling hills of Adelaide for the Santos Tour Down Under. For the 19th consecutive year, Encore Event Technologies (previously Staging Connections) has worked collaboratively with Events South Australia, producing spectacular event services over the nine-day cycling event. Producing a mix of events, from gala dinners to street parties, Encore has helped to create an incredible atmosphere for riders, visitors and locals.
The Event Brief
Encore's Adelaide team was tasked to provide the prestigious event with audio visual services over the nine-days; with outdoor LED screens and audio systems lining various sections of the routes; vision and audio for all start and finish lines and team presentation stages.
Delivering exceptional solutions for events such as the opening night concert – Classic Stage Concert, Tour Village in Victoria Square, media rooms and tour parade cars; Encore dazzled all who attended, ensuring that the events were worthy of the world-class event.
Our Tailored Audio Visual Solution
Technical audio and vision experts supplied both large and small audio systems to accommodate basic commentary, vision systems for TV commercial playback, sponsor recognition, image reinforcement, broadcast of highlights and live footage of the race, and cameras for interviews and commentators, music reinforcement, outdoor concert production, public address systems and information systems.  
Birds of Tokyo, and DJ Havana Brown who performed for visitors for free over the first two days, Saturday 14th and Sunday 15th, were accompanied by a spectacular light show with complimentary audio and lighting special FX executed across the two music concerts.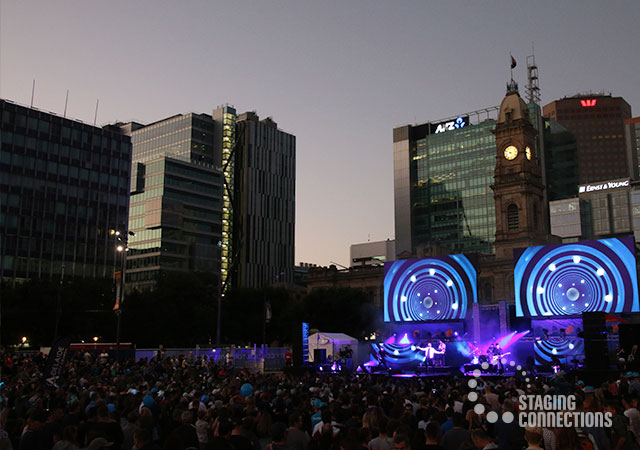 Pictured: Birds of Tokyo playing at Opening Concert of Santos Tour Down Under 2017.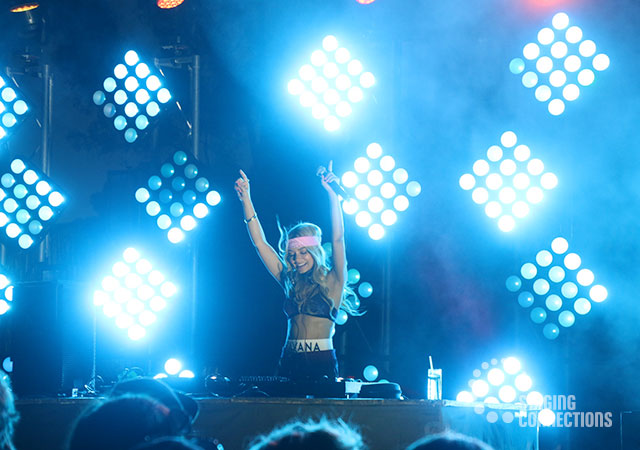 Pictured: Australian DJ Havana Brown setting the tone for the adrenaline-fueled Santos Tour Down Under.
For an inclusive visitor experience, and to add to the festival atmosphere, one of the large LED Screens in the Tour Village was used to broadcast all social posts from fans, teams and the organisation. Enhancing the Santos Tour Down Under branding, our multimedia team designed and delivered a variety of animated holding slides and sponsor reels to support the official broadcast, which ensured there was a strong brand presence throughout the event.
Special Event Touches
Encore supported Wednesday's Stage 2 race leg from Stirling to Paracombe, as the naming rights sponsor. As a special feature, the Stirling Loop provided opportunities for the assembled crowd to view and cheer-on the riders 5 times before they set off to tackle the next challenge of a hill top climb.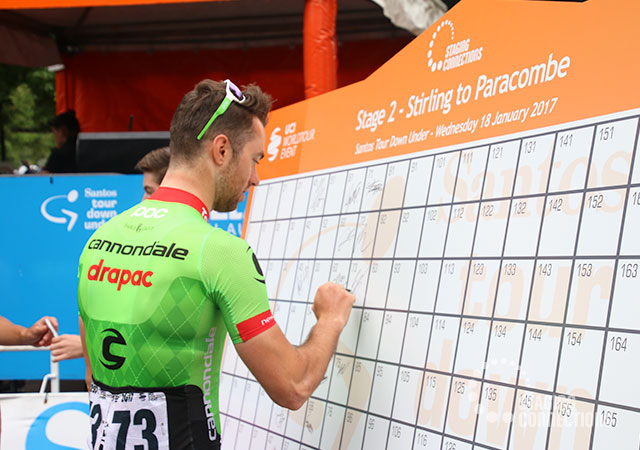 Pictured: Cyclist signing the Encore (previously Staging Connections) Stage 2 Board
A custom made trophy was designed using recycled bicycle chain into a bowl and covered in custom decals and a naming plaque. It was presented to Stage 2 winner Richie Porte from Team BMC who then went on to win the overall classification for the Santos Tour Down Under! A custom LED screen was mounted to the top of a Subaru XV for the Subaru Tour Parade, revving up the crowd lining the race routes 30 minutes prior to the peloton building excitement playing the Tour Down Under anthem "Feel The Rush."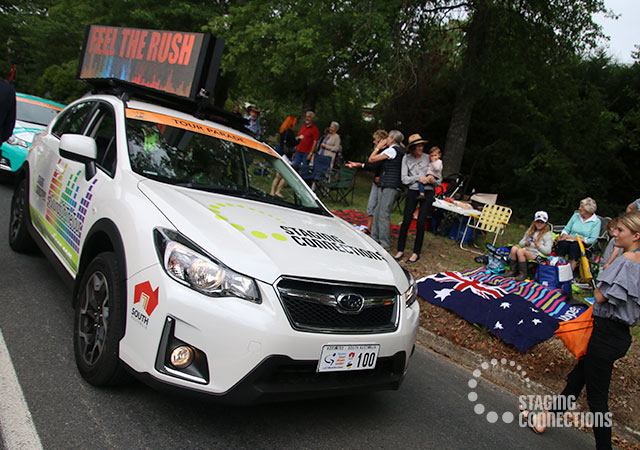 Pictured: Encore (formerly Staging Connections') custom Subaru parade car with LED "Feel the rush" signage.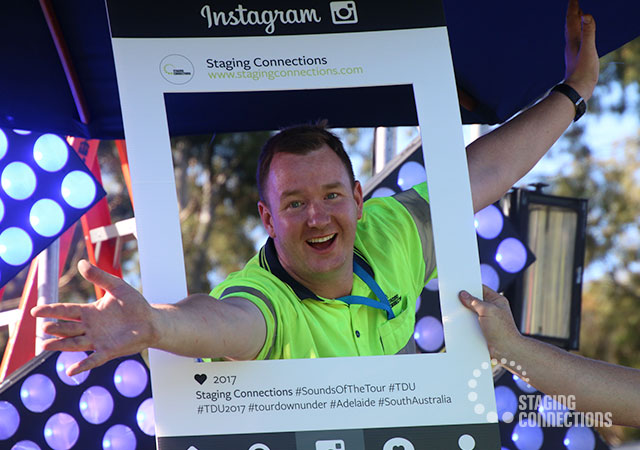 Pictured: Spectator poses in Staging Connections' Instagram frame promoting the event.
We collaborated with Presentation Event Manager, Big Fish Events to mix and broadcast all events to spectators via large LED screens and street lined PA systems, custom television commercials for sponsors, as well as highlights and expert commentary from two dedicated commentators at each finish line; ensuring all fans were up-to-date on the coverage, sponsors and announcements.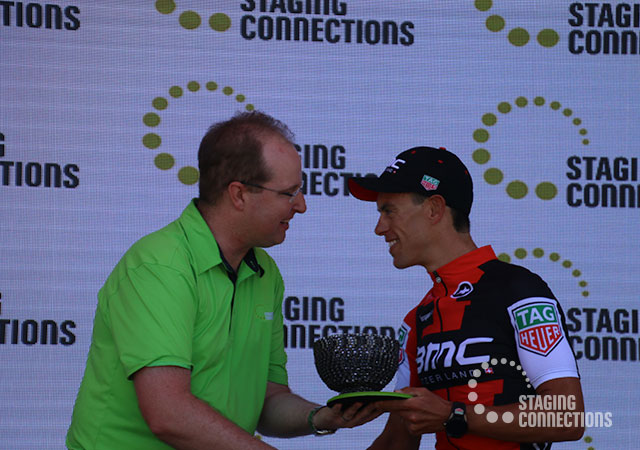 Pictured: Custom Staging Connections Stage 2 trophy presented to cyclist .
Uncover your event's potential with the AV experts
Planning an event takes a lot of time, experience, creativity, skill and patience. With over 30 years experience delivering world-class events, Encore has mastered event production. Using our unrivaled range of event services, we turn ordinary events into extraordinary experiences. Our creativity lies in turning your vision into a reality and we do this by working with you every step of the way. Discover how Encore can make your event the best it can be by getting in touch with us today.