Distance, varying time zones and the cost of accommodating travellers has led event managers and meeting planners to rethink how they bring people together. If a business is to stay connected, forging new paths is essential for retaining and maximising relationships without the need for a traditional face-to-face.
It can be done.
Video conferencing offers a solution. It's the next best thing to being there, without the stress or expense.
For events large or small, we've got you connected.
Venues are recognising the need to accommodate this rising demand in video conferencing and as such all of Encore's venue partners now have the capability to offer dedicated video conferencing platforms both for meetings and large events such as conferences.
What is Video Conferencing?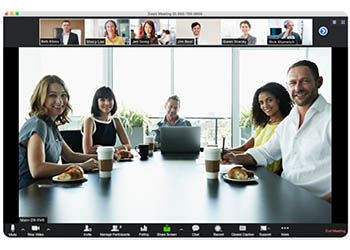 Video conferencing is the technology that allows you to hold online meetings with several participants who are located in different places while seeing and talking to them in real-time. It is different from simple video calling, which is normally one-to-one video communication. It can also be used for remote presenters at events to present to the audience from another location.
What does it mean for you? If you're are an EA or the one in charge of meeting arrangements, we've got news for you and it's all good.
Meetings can now be pre-planned over months or be instant and on-demand. For the large event organisers, this means you can overcome travel expenses or unexpected delays for your presenters by using video conferencing for them to present via.
Here are our top reasons to embrace the business-minded benefits of video conferencing.
Benefits of Video Conferencing for Events
We're busier than ever and more spread apart, but the need to stay connected has never been stronger. With more keynote speakers doing the international circuit event planners need a solution to overcome conflicting schedules and travel costs incurred with getting them to your conference or corporate event.
The best video conferencing solutions strive for and deliver that sense of connectivity, conveniently and support you to ensure a professional, stress-free connection.
Encore Connect can beam in your presenter in full screen from any location at a fraction of the cost it takes to bring them in from interstate or from all over the world.
Your panel of experts need not even leave their desks for a truly collaborative experience.
Use a professional service to take travel problems away.
The unforeseen doesn't have to ruin your event. The reality is people miss planes, get delayed both interstate and overseas. The expense can be a huge burden. Having to accommodate people in hotels, reschedule flights and make further travel arrangements need not be a concern any longer.
What makes presenters the most nervous? The great unknown.
Unfamiliar platforms or high-tech equipment can have people distracted from their purpose.
Remove the anxiety with a video conferencing partner that understands you need your presenter to be focused and the audience to see and hear them perfectly.
Take advantage of Encore's exclusive first-of-its-kind rehearsal and on-boarding service with one of our expert technicians. This means you or your remote presenter can ensure you're set up correctly, solve any vision or audio problems and confidently use the platform. You can't ask for more peace of mind than that.
Benefits of Video Conferencing for Small Meetings
Today's work environments have undergone some of the most progressive thinking since the invention of the humble office chair. With global companies offering workers varied locations and working arrangements, the need to communicate effectively and instantly no matter what the geographical location is essential.
Smaller meetings can also benefit from video conferencing. No longer is it necessary for a business to go to the expense of bringing people in for a one-off conference, meeting or a one-day workshop.
Diary conflicts? No problem.
EAs and event planners don't need to spend hours finding a future date that suits all parties which can often push important decision-making meetings out by weeks. Now all parties can run the meeting online from wherever they are, exactly as they would have done face-to-face.
Small meetings aren't exempt from the same complications of organising large ones. You may still need to overcome travel expenses, or deal with unexpected delays. You may need to organise the meeting instantly for those important decisions… all of which can be facilitated seamlessly with video conferencing.
The convenience and quality of live video conferencing technology for small meetings means workplaces can be more productive and move faster. With Encore Connect, you and your colleagues can share ideas while seeing each other in HD quality. And with nearly 100 locations across Australia, New Zealand and Fiji, finding a venue with Encore Connect is easy.
Why Choose Encore Connect
It's no longer a matter of if you will use video conferencing software, but when.
With the help of an experienced conferencing company, presenters are beamed in from any location, in real-time and fully versed in the technology they are using
Thankfully businesses are not alone with conferencing venues recognising the demand to accommodate changing needs. Encore's venue partners have the capability and the know-how to offer dedicated video conferencing service for any event.
An all-in solution with no sacrifices.
Sound good?
Contact Encore Event Technologies for the best video conferencing service for your business. Our venue partners have the capability and on-site Encore team to offer a dedicated video conferencing service. Large or small, interstate or international, we've got you connected.
Send an online enquiry or speak to us right away on 1800 209 099.