For this year's Automotive Brands Group annual gala dinner, aptly  themed Australiana, we custom built a magnificent  26 metre by 4 metre high curved screen with a multi-projector blend stage backdrop as the room feature.
Background and The Event Brief
Event Type: Gala Awards Dinner – Australiana Theme
Venue: Pavilion Ballroom, Jupiters Hotel & Casino, Gold Coast
Client: Automotive Brands Group
Date: Friday 22nd May 2015
Automotive Brands Group hold a bi-annual store and supplier convention which in 2015 was on Queensland's Gold Coast. The event consisted of an Expo, Conference and four special event dinners which culminate in a Gala Awards Dinner on the final night.
The Encore team were challenged to design, create and manage a compelling Awards dinner that engages the audience ensuring that the finale is an extravaganza that creates a memorable evening that will be reminisced over the next 18-24 months until the next convention, while ensuring dynamic recognition for the over 600 store owners and suppliers of Automotive Brands Group.
The Audio Visual Solution 
Our event design originated in our desire to bring the wonderful images of Australia to life using a custom built 26 x 4.5 metre curved screen which hugged the width of the Pavilion Ballroom. This panoramic vista was created utilising four Christie 18k HD projectors blended to fill the magnificent cyclorama with beautiful, animated content, commissioned and created by our talented multi-media team.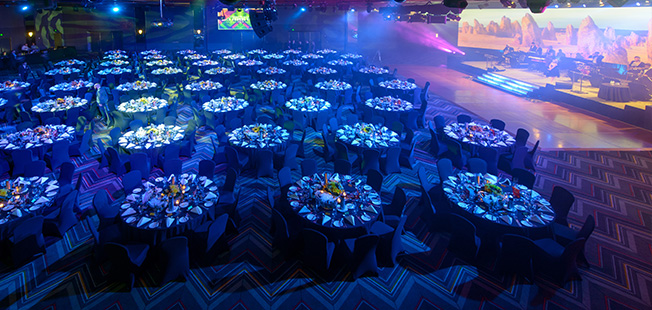 Content including sky views, city skylines, images beaming across the iconic Australian landscape encapsulating our wonderful floral and fauna that highlights the natural beauty of Australia. An array of Intelligent lighting was set in the Ballroom to synchronise with the different stages of the sun rising and setting while also symbolising the different elements of our Australian landscape, green, blue, red and yellow for Rainforest, Coastal, Outback and Sun/Beach.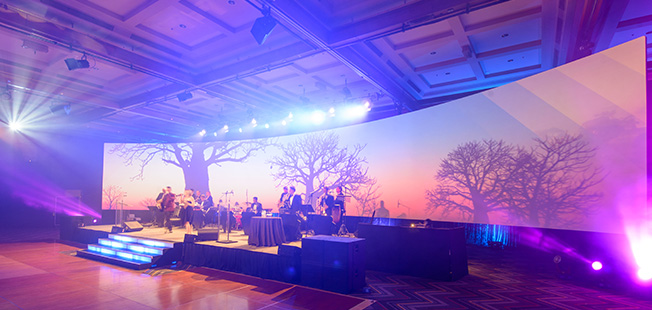 Award winners and finalist were celebrated with ballyhoo and walk-up stings, to highlight their great individual achievements.
The styling was a delicate balance to complement the magnificent curved screen with 58 dramatic yellow and red floral centrepieces symbolising the overarching Australiana theme, with these set on mirror plates and tea-light candles bringing movement and life, to the scented table bouquet. The black linen had hints of glitter in the table-runner bringing a subtle elegance to this gala setting.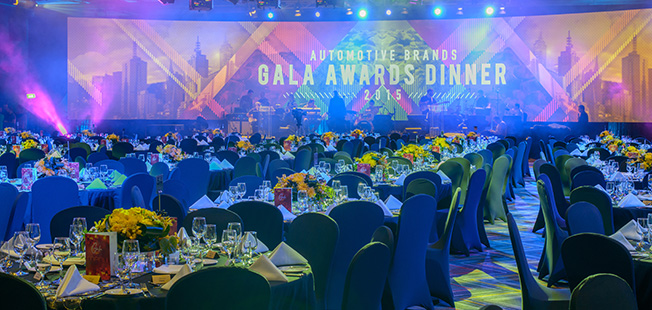 The combined elements resulted in an elated client, describing the event as "a benchmark for their industry, a highly professional and slick Gala Awards Dinner, which ran like clockwork – a real showstopper".