It was a decadent black and gold affair for this year's annual gala dinner for Morris Corp. The mining and construction asset management service provider hosted the annual leadership conference and gala dinner at QT Hotel on the Gold Coast and engaged Encore Event Technologies (previously Staging Connections) to bring the event vision to life through set design and styling for 165 guests.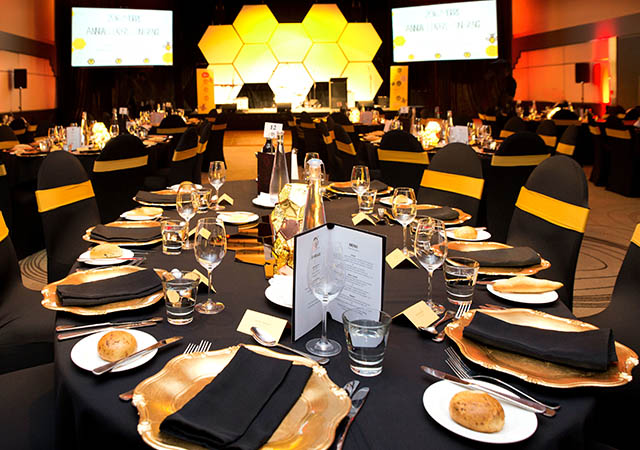 Keeping in line with the black and gold theme, the stage set was custom designed using an array of hexagonal shaped panels arranged in a honeycomb configuration and rigged from the ceiling. A combination of rigged Mac lights and uplighting by fusion bars installed below the stage set stage panels really made the hexagonal panels pop and made a superb backdrop for the gala dinner formalities.
The table styling and centrepieces were a brilliant showcase of the local Encore team's ability to create a beautiful table look in line with a specific theme.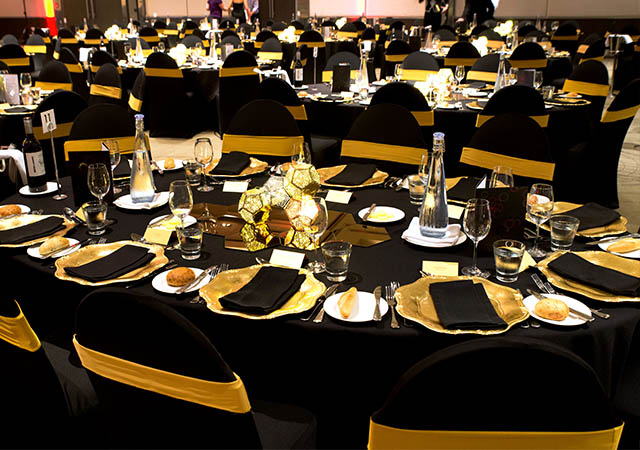 The tables were cloaked in a black table cloth, and upon this lived elegant centrepieces created using gold and silver hexagonal mirrors, underneath geometrical hurricanes in a mixture of silver, gold and copper. These wire hurricanes were then filled with tiny copper bud lights which cast beautiful reflections off the mirrored bases. The black and gold theme was continued through gold charger plates , black table napkins and gold chair sashes.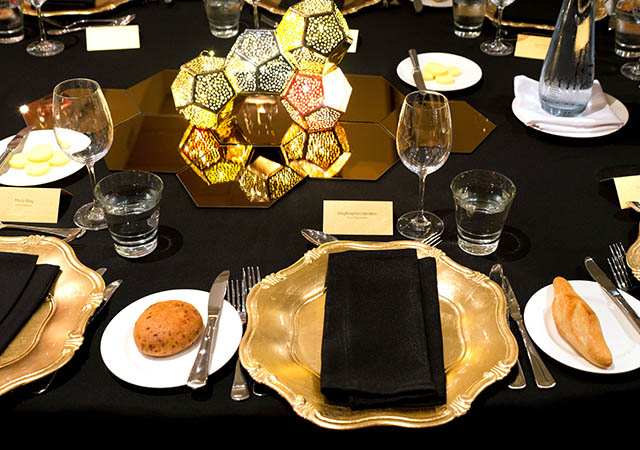 Partner with the leading events company for your next conference or gala dinner
Encore has delivered countless conferences and gala dinners across Australia, New Zealand and Fiji for over 35 years. We specialise in creating an engaging conference environment through the latest AV solutions and event technologies, which then get transformed into stylish gala dinners with imaginative styling and theming solutions. Operating both within our venue partners and at various locations around the Asia Pacific, we are the trusted event services provider you can count on to deliver an unforgettable experience. We pride ourselves on our commitment to customer service so you can expect a seamless, stress-free experience when you partner with us. If you have an event to plan, we have ideas to share! Get in touch with us today to see how we can make your event vision a reality.