The team in Perth were engaged by long time client of 17 years, Australian Hotels Association – WA (AHA WA), to deliver their annual NAB WA Hospitality Suppliers Awards and Toxfree gala Dinner for 350 guests. As with every year, the AHA WA look to design a memorable awards night and opted for "an elegant starry night" theme for this year's event. 
Stage design using Digital Banners and custom multimedia
To bring this vision to life, Encore used an array of audio visual, staging and styling solutions including a custom stage stage made from our range of Digital Banners with a circular cut-out in between. This unique design created the perfect stage set, which we projected custom designed awards categories and winner announcement videos onto. Whilst clean and simple in design, constructing the stage set in this way created real impact and became a talking point of the night.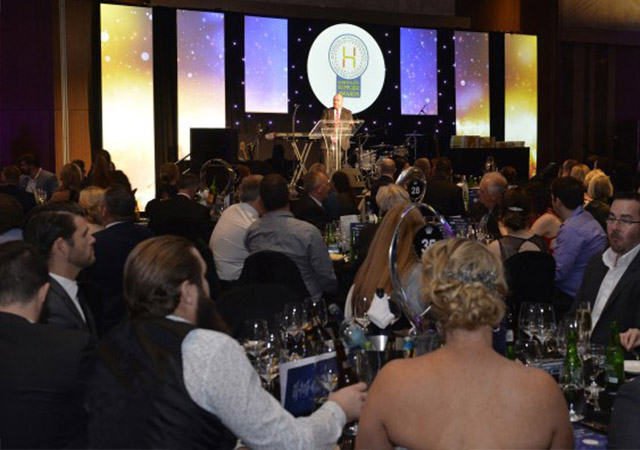 Designing the stage set using Digital Banners also gave our in-house multimedia team the chance to custom design a spectacular opening sequence which really set the tone for the event. Below is the video which was projection mapped across the array of Digital Banners.
The styling team answered the brief with our range of elegant Eclipse centerpieces, on a black table cloth and paired with black chair covers. Styling the tables in this way complemented the room design and centered the focus to the unique stage design where the winners were being presented.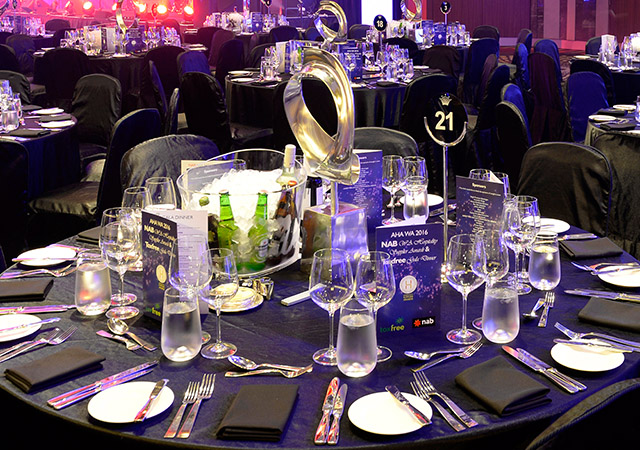 "The AHA has worked with the team on countless events over the last 17 years. At every event we are blown away by their professionalism, dedication and creativity. The rooms always look spectacular and work synonymous with the audio visual aspect. We'd like to extend a huge thank you to the team  for all of their consistent hard work over the years." Bradley Woods, CEO of AHA WA.
Partner with Encore Event technologies for your event
Encore have been delivering spectacular awards nights and gala dinners for local and international companies for since 1986. When it comes to delivering an unforgettable event, we are the events team you can count on. With Asia Pacific's largest range of event services, we have the tools, ideas and people to turn ordinary events into extraordinary experiences. This means we are your one-stop-shop for all event production services from the audio visual, staging and lighting through to styling, multimedia and digital engagement tools. Our work speaks for itself so please view our Recent Events Portfolio to see what amazing experiences we're curating every day around the country. If you're interested in speaking with an Encore representative about your event, give us a call on 1800 209 099 or by sending an online enquiry.