Encore Event Technologies was engaged by Auto & General to create a gala dinner that was a work of art, celebrating and honouring its 1,200  guests. Transporting guests into a fantasy world of crystals and Vanity Fair inspired parties that surprised and delighted them. Utilising the symbol for a 15 year partnership, crystals were selected as the basis of the event creative concept.
Venue: Brisbane Exhibition & Convention Centre

Event: 15th Anniversary Gala Dinner

Guests: 1,200

Client: Auto & General

AV: Encore

Styling: Encore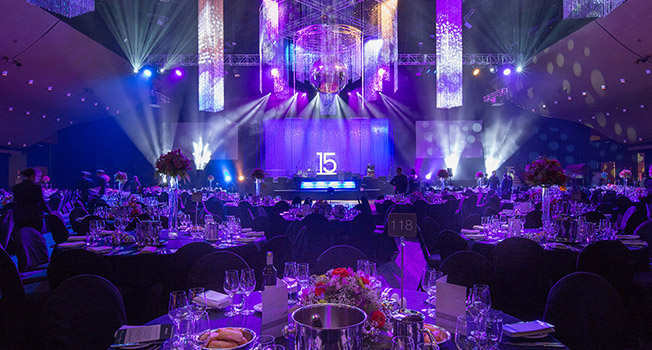 The grand entrance was created using red carpet flanked by bollards and rope and a custom branded media backdrop for photo opportunities. Once guests entered the main room, they were greeted with a stunning 'Vanity Fair' style Event Backdrop covered entirely in lush greenery and featuring white 3D lettering of '15 years'. Several custom Event Backdrops were designed for this event to incorporate the insurance brands under the Auto & General umbrella – ComparetheMarket.com and Budget Direct. The provided guests with the perfect opportunity to pose for a photo against these iconic brand personalities.

The hero room feature was the giant mirror ball surrounded by 6m long crystal beaded chandeliers, and when lit cast thousands of moving sparkles around the room.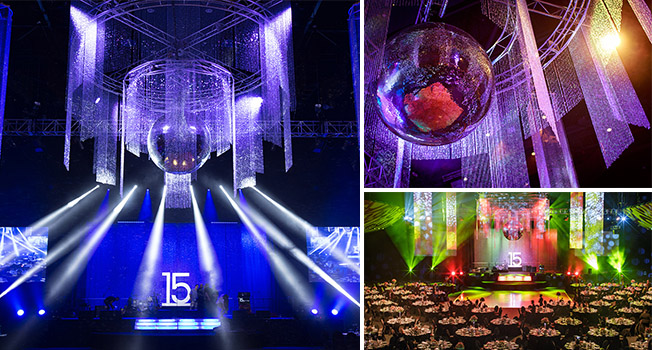 As a special treat for the guests, they were treated to a flash mob performance by several Auto & General employees and finished with Captain Risky. 
Our unique concept included a lovely 12m wide x 6m high beaded 'crystal' curtain used as the backdrop for the in house stage.  This allowed a grand entrance for the star performer at the end of the night; Guy Sebastian.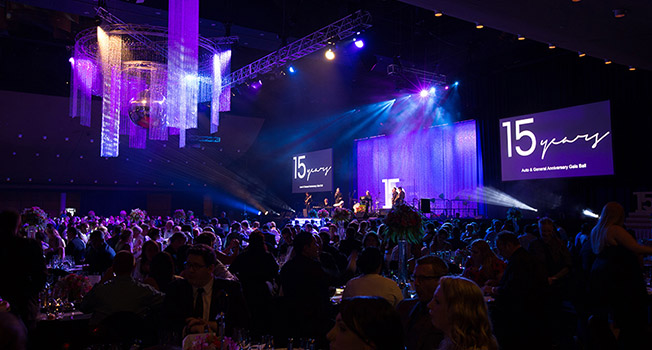 Event Feed
was used to increase engagement throughout the night and give guests the chance to feature on the big screen. All Instagram and Tweets with the hashtag #myAG15 were displayed on screen, sharing their messages and moments with the entire room. It was a great way to spark conversation between guests and provide entertainment all night long.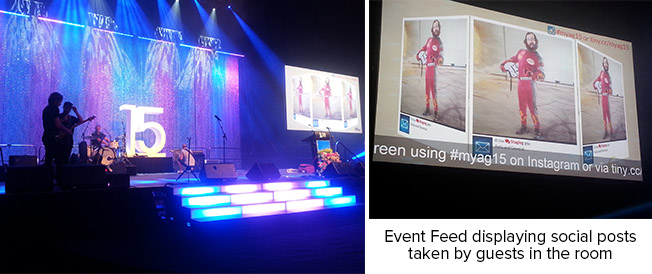 What did the client day?
"Every staff member I dealt with was amazing. They handled everything so professionally and allowed me to step back and enjoy the night rather than run around and stress over if things were going to plan or not."
Jodie Taylor, People & Culture Consultant, Auto & General Holdings