What magic lies in the make-up of a spy theme that makes it so popular with event planners and attendees? How is it that one character, has managed to captivate audiences for so many years?  Perhaps we all secretly yearn to be a suave secret agent or the girl who catches his eye. Whichever one you are, find out how we took this popular event theme to a whole new level.
To live up to the heightened expectations that come with a spy themed gala event, Crown Melbourne's brief included four key objectives to create an immersive experience to delight guests at their two Palladium VIP Events:
To create a spectacular and  innovative visual, lighting and multimedia production

To create connection between  performances and multimedia

To creatively utilise over 520 LED panels throughout the production

To develop animated content for over 520 LED panels 
As the in-house AV team at Crown Melbourne, Encore has produced this event annually since 1996 and in 2015 was set to exceed the client's expectations like never before!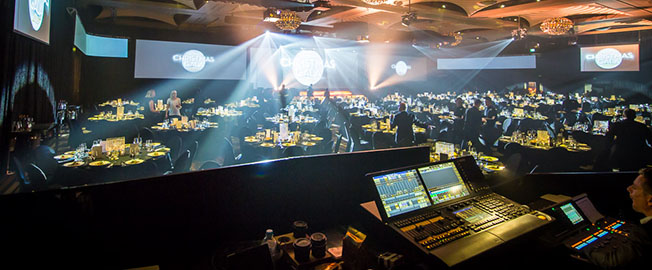 Producing an immersive Spy themed VIP gala dinner

The team produced two exhilarating events using world-leading audio visual, lighting and multimedia production to bring the thrill of a spy themed movie to Melbourne. . As the doors to the The Palladium opened, the 650+ VIP guests were immersed in a James Bond adventure.
A grand entrance to the event was designed using 64 LED panels suspended from the roof, arranged to form four arches which together, created a tunnel effect. The LED archway was brought to life using motion graphic content of iconic James Bond opening sequences. Guests were invited to walk beneath the canopy and into the main area for the gala dinner. This made for a dramatic start to the evening and set the tone for what was to come!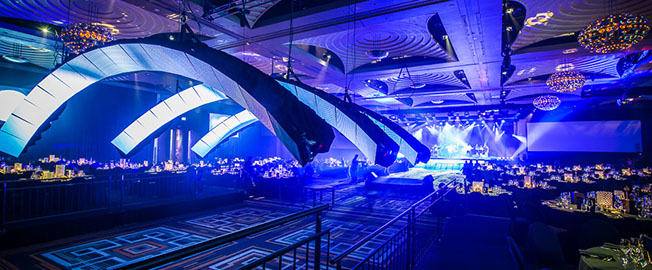 Once guests were seated, James Bond himself descended from the roof via a pre-installed foot loop to surprise guests, while Ninja's abseiled down from the ceiling at different points around the room. At the conclusion of the opening performance, Kate Cebrano appeared from behind a 15 metre Kabuki drop reveal that doubled as the scenic backdrop for James Bond's opening number. Behind Kate Cebrano on the main stage, stood a magnificent 15 meter LED – one of the newest products to Staging Connections' vision portfolio.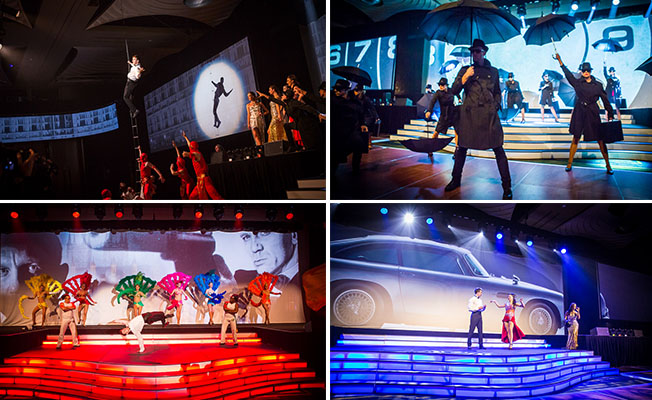 Our talented Melbourne event stylists chose to use sophisticated yet minimal event styling so the sweeping stage design, LED archway and AV remained the hero elements of the night. They created beautiful table centrepieces with crystal beaded chandeliers and beaded wired cylindrical votives as the hero features. The beaded chandeliers and votives beautifully reflected light around the room and added to the drama and grandeur of the 'Spy' theme.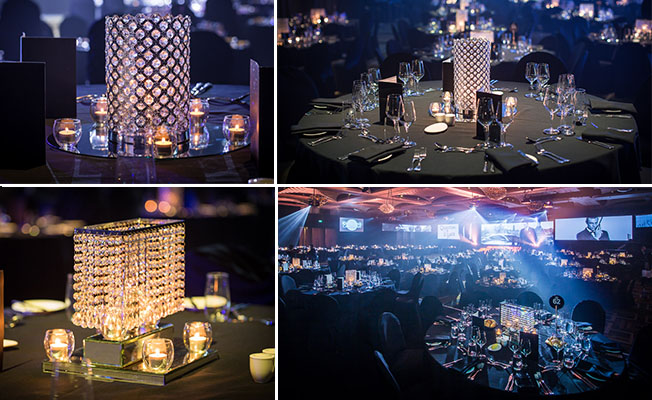 Using the latest AV and motion graphics to enhance the Spy event theme
Performances of iconic James Bond theme songs by Kate Cebrano and Sally Cooper, were enhanced with bespoke animated content, lighting routines and wind machines for additional effect. A total of 75 moving head and 55 static light fixtures accentuated the mood of each performance with dramatic colour changes.
Throughout the evening, beautiful scenic vistas from various Bond movies were showcased across 180 LED panels that combined to create a 14 metre panoramic screen across the stage. This was further enhanced by two additional 30 metre x 10 metre drop screens with 18k Christie projectors. Accentuating the theme, 340 LED panels were artistically used across the venue with LED totems on stage, 4 metre LED strips at the front of the room and four LED arches that welcomed guests at the door.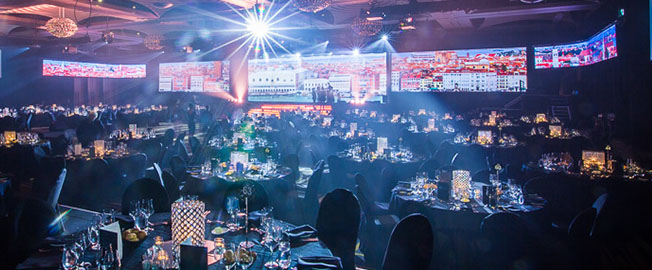 Staging Connection's digital media team created all themed content for the evening, including six custom animations and over 30 scenic stills that used the Ken Burns effect to create running movement. Overall, the content stretched over 12,000 pixels wide, well beyond the normal capacity of 1920 pixels.
Our team responded to the client brief bringing world class technology to life for maximum effect. Crown Melbourne was delighted to treat their VIP guests to two spectacular events that left a lasting impact on all attendees. 
Our Melbourne Events Team
Our Melbourne team is proudly led by Haig Walker and comprises some of the most talented design and styling professionals in the industry, offering event excellence across 7 key venues.  If you're looking to host your next corporate event in Melbourne, than we're the  experienced  events team  you  can rely on. We proudly offer Australia's largest range of event services across audio, lighting, staging, vision and extending to styling, multimedia and digital event solutionslike webcasting, live polling and event social media. Get in touch with us today or call 1800 209 099 to speak with one of our event experts.