A stunning awards night for Mercedes Benz at Crown Melbourne
For the latest in styling and theming of events, one can't go past the use of clever lighting and design to create a sophisticated and engaging environment, perfect for celebrating the VIPs of a brand.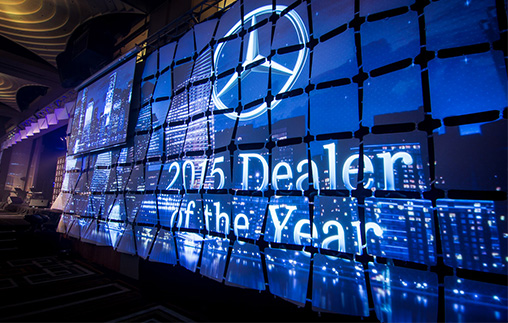 Encore teamed up with Rush Events to create a glamorous and immersive event for the Mercedes Benz Dealer of the Year Awards (2015). Held at the gorgeous Palladium at Crown, the spectacular event had everything; from acrobats, to an 18 piece big band, to a car reveal that was shown through a smoky haze and to top it all off, an incredible wave wall made by joining individual panels. The wave wall featured projections by powered by a 6 projector blend, giving the audience a huge wall of vision of the brand's logo, its colours and large background images of a glistening city skyline. It was a real talking point for attendees and showcased how smart multimedia content and clever projections can enrich events.